5TH ANNUAL TAMPA NOLES EPCOT FOOD & WINE FESTIVAL BUS TRIP 2018
Description

THE TAMPA BAY SEMINOLE CLUB PRESENTS:
5TH ANNUAL TAMPA NOLES EPCOT FOOD & WINE FESTIVAL BUS TRIP
NOTE: T-SHIRT ORDERS HAVE ALREADY BEEN PLACED, WHICH MEANS ANYBODY BUYING A BUS TICKET FROM NOW ONWARDS WON'T GET A T-SHIRT!
Saturday, October 13, 2018 departing Irish 31- Hyde Park Village (1611W. Swann Ave. Tampa, FL 33606) at PROMPLY AT 8:45am. (Parking is free in back parking lot and garage across the street).
BUS WILL RETURN BY 11pm. (BUS WILL LEAVE EPCOT AROUND 10PM).
Destination: EPCOT, Walt Disney World, Orlando, Florida
Bus ride is about 60-90 mins depending on traffic.
TAMPA NOLES CHARTER BUS : $25
---
The Tampa Bay Seminole Club is using ESCOT BUS LINES to transport us to and from EPCOT on Saturday October 13! ESCOT is Tampa's luxury charter bus service and we'll be transported in a clean, on-time, wifi-equiped, BYOB-friendly bus! Cost for the Tampa Noles motor coach is $25, which includes Tampa Noles SWAG! (draw string bags, momentum items, to name a few) (OBVIOUSLY this bus fee DOES NOT include admission to EPCOT - see below for details on EPCOT admission)! THERE ARE 40 SEATS AVAILABLE ON THE BUS. IF THEY SELL OUT, THERE IS A 10 PERSON WAITLIST. TAMPA NOLES SWAG IS ONLY FOR BUS RIDERS ONLY.
---
THERE ARE ONLY 40 SEATS AVAILABLE ON THE BUS - IT SOLD OUT LAST YEAR AND IT'LL SELL OUT THIS YEAR!! If you're thinking about joining us on the bus, MAKE YOUR PLANS AND RESERVE A SEAT NOW!
If you decide to not ride the bus but still want to meet us at Epcot, call board member Camille Gomez at 813-817-1985 to see where the group is. Bus should be arriving around 10:30am. Meet us near entrance. Just look for all the Noles! If you arrive later, call her or check in with our Facebook event page for any updated location posts.
EPCOT TICKET - $129 PER PERSON (INCLUDES TAXES)
You will need a ticket to enter EPCOT (unless you have an Annual Pass). You can purchase your ticket at the enterance to EPCOT for $129, from a AAA office, or online from Disney through this link.
---
**THERE WILL BE GAMES/CHANTING/SWAG/NOLES BONDING GOING ON AT EACH STOP! OUR TEAM MEMBERS ARE STILL PUTTING TOGETHER SOME FUN THINGS. STAY TUNED FOR MORE INFO.**
2018 GUIDE MAP COMING SOON. BELOW IS LAST YEAR'S MAP.
The Guide Map has been released!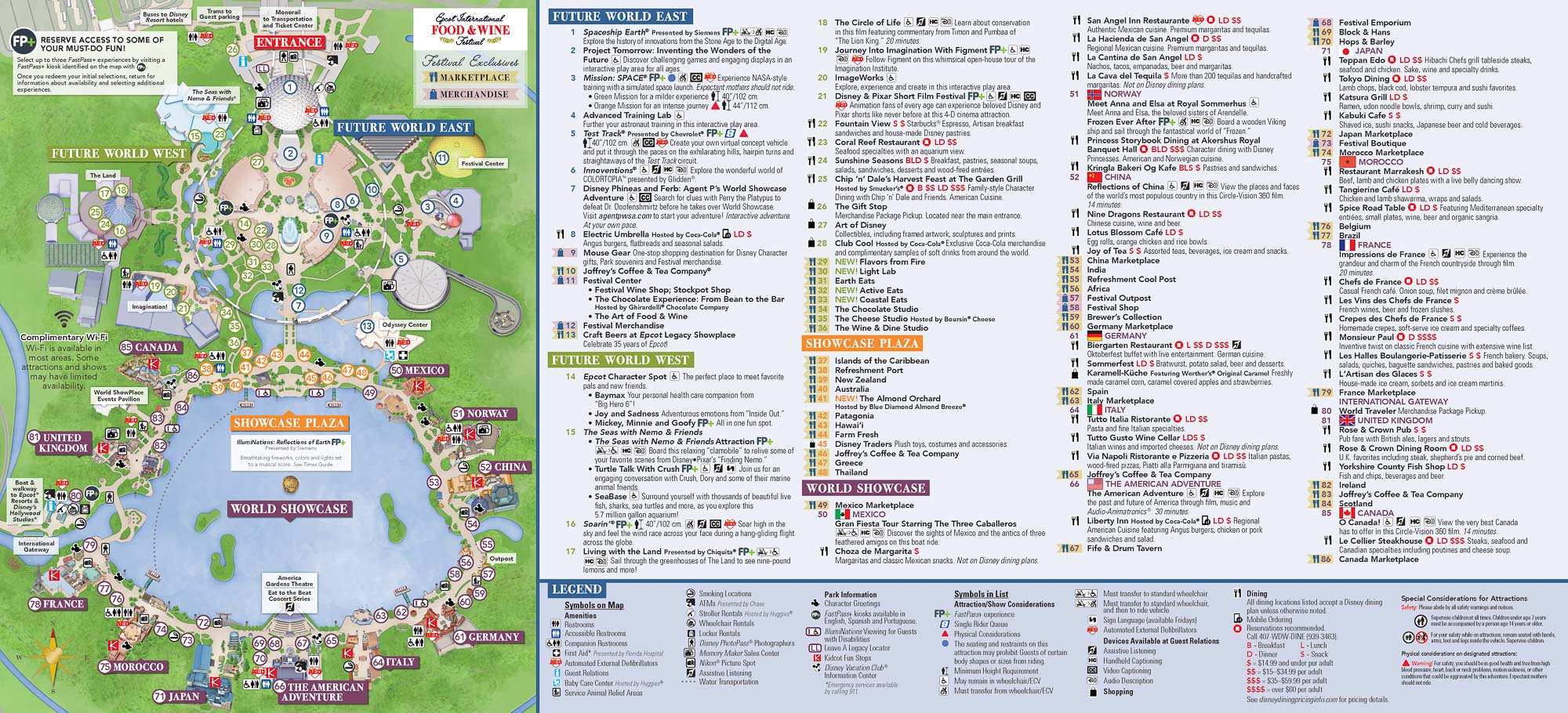 Below is an incomplete listing of last year's EPCOT's F&W Festival offerings (courtesy of www.wdwinfo.com - check out their page HERE for more details!). Most are priced between $4-$8 each, and sold a la carte style.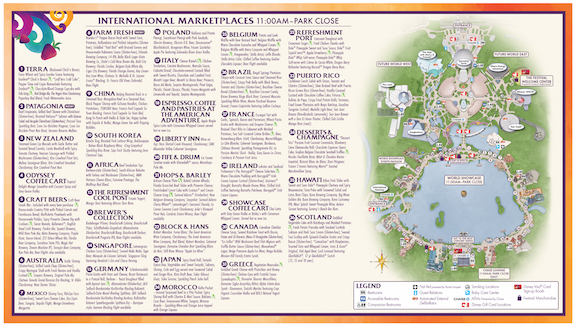 HERE ARE SOME PICTURES FROM THE PAST 4 YEARS. WE GET A GREAT TURNOUT!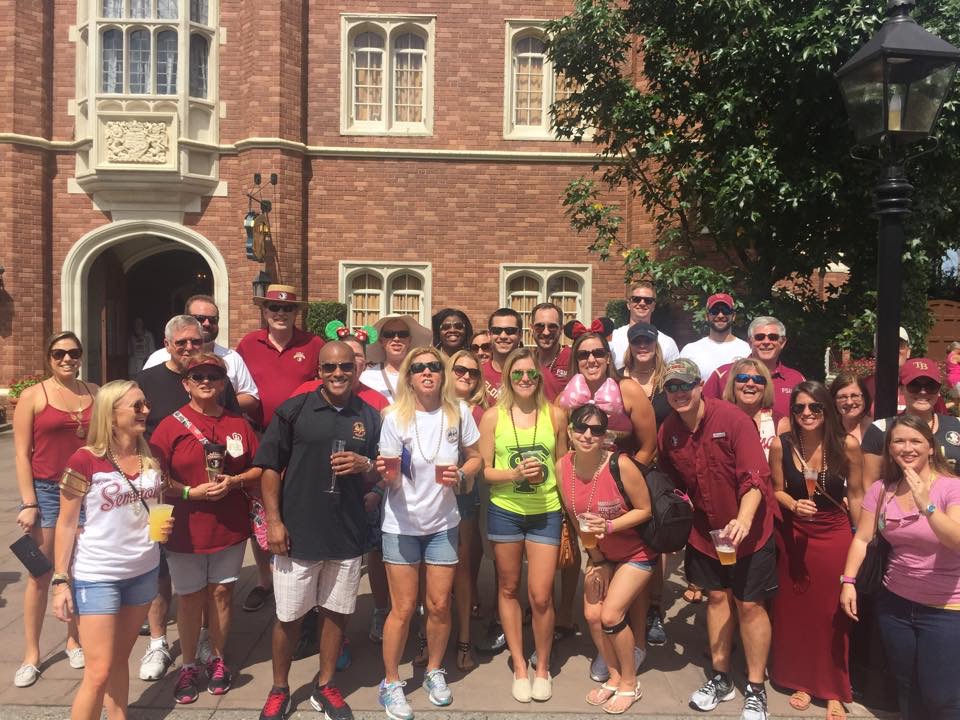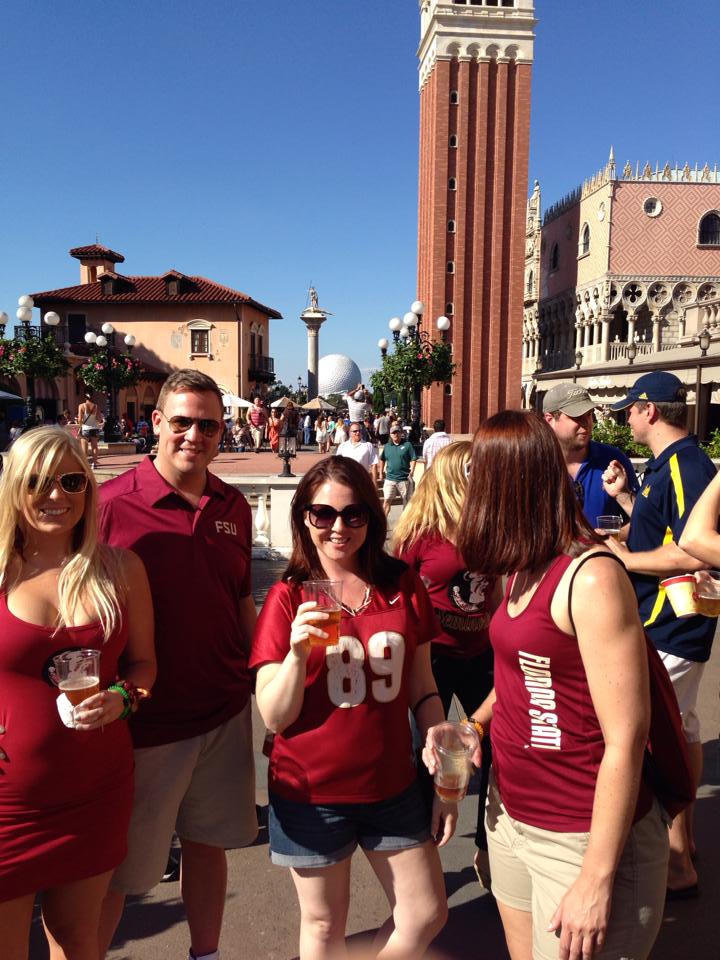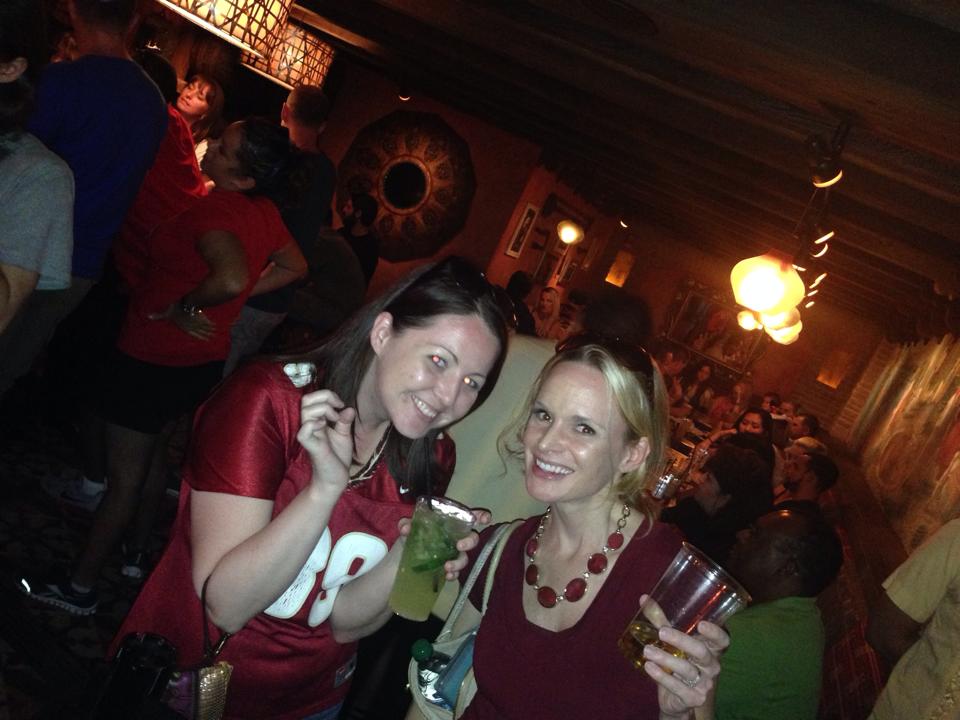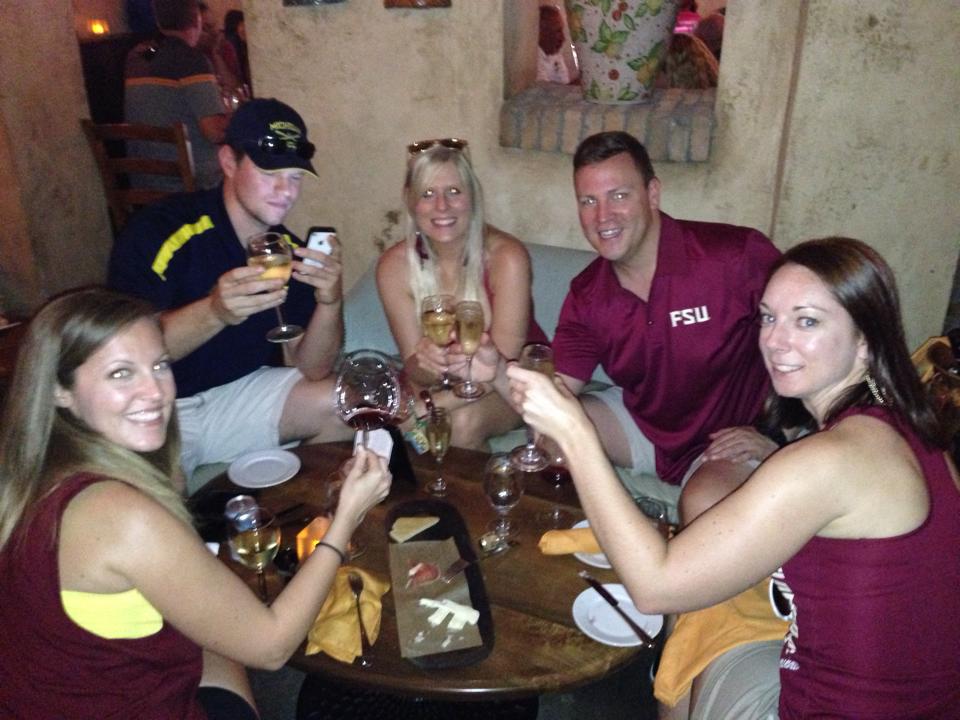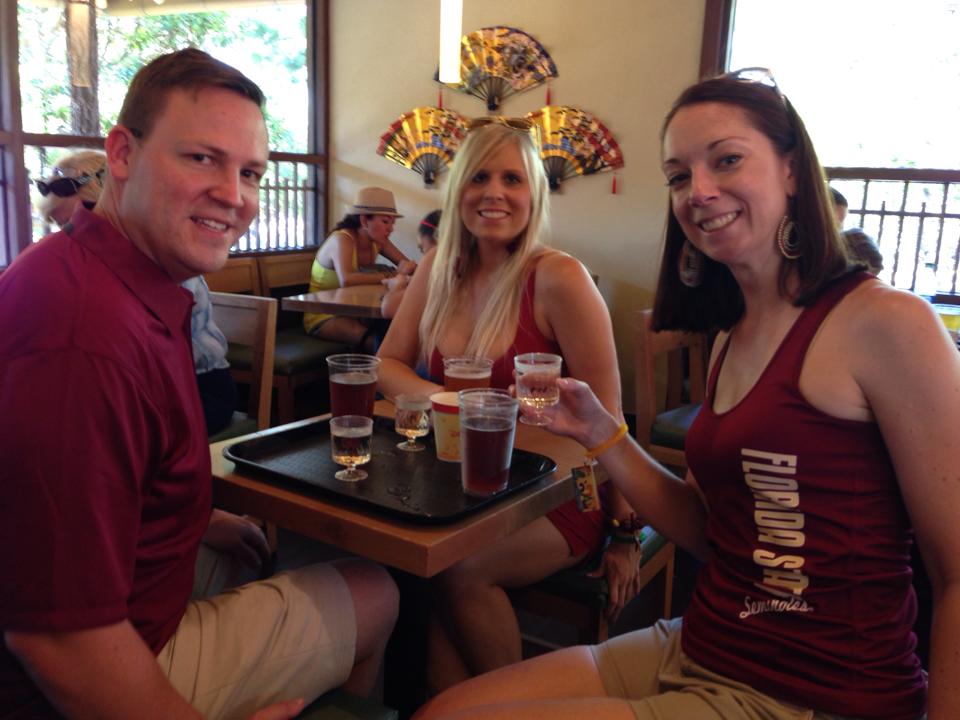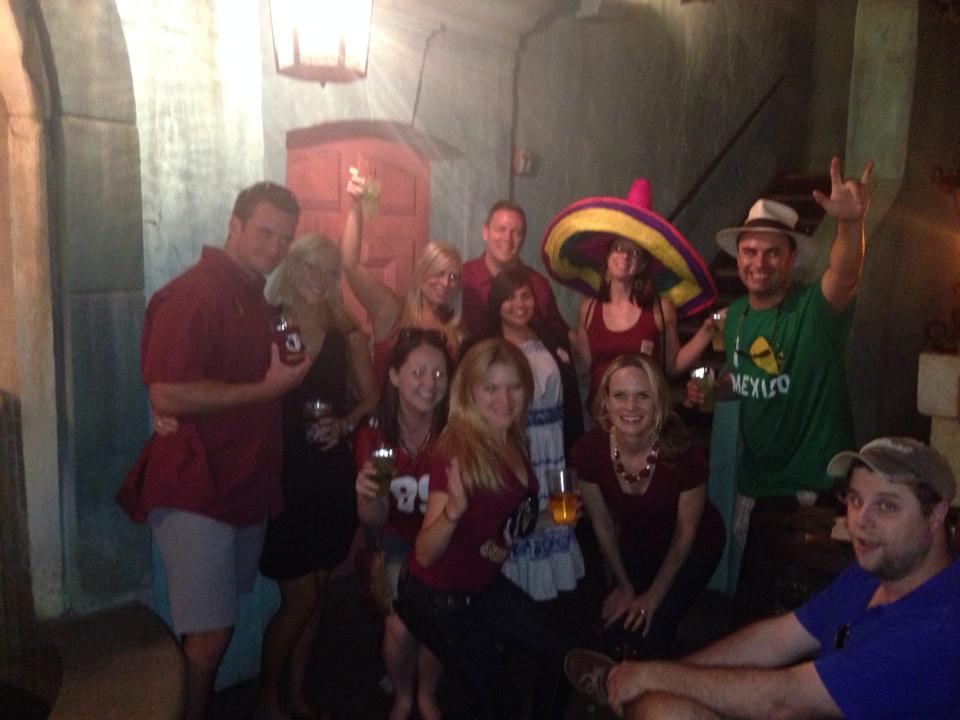 Legal Stuff and the Fine Print
DISCLAIMER CLAUSE - THIS IS IMPORTANT! BY PARTICIPATING IN THIS EVENT YOU GIVE UP IMPORTANT LEGAL RIGHTS, INCLUDING THE RIGHT TO SUE THE TAMPA BAY SEMINOLE CLUB! PLEASE READ THIS CAREFULLY!
The Tampa Seminole Club, including its officers, directors, volunteers, members and representatives (collectively the "Tampa Noles") are not responsible for any injury, loss or damage of any kind sustained by any person while participating in this event ("EVENT"), including injury or loss or damage.
The Tampa Noles are not affiliated in any way with EPCOT or any of its affiliated companies, and neither EPCOT nor the Tampa Noles are sponsoring, hosting or otherwise responsible for this EVENT or the behavior of people at or participating in this EVENT. Tampa Noles does not supervise the EVENT and is not involved in any way with the actions of any individuals at this EVENT. As a result Tampa Noles has no control over the identity or actions of the individuals at the EVENT.
In consideration of your participation in the EVENT, you acknowledge that you are aware of the possible risks, dangers and hazards associated with your participation in the EVENT, (including the possible risk of severe or fatal injury to yourself or others). These risks include but are not limited to the following: a) the risks associated with travel to and from the EVENT and location(s) to be visited during the EVENT, including transportation provided by commercial, private and/or public motor vehicles; b) intoxication and/or alcohol poisoning from the alcohol you consume whether voluntarily or through coercion; c) the possibility of bodily injury (broken bones and soft tissue damage) including dental damages from falling down, injuries incurred while getting on or off (in or out of) the mode of transportation being used for the EVENT, being knocked down or being involved in a physical confrontation whether caused by yourself or someone else; d) the risks associated with returning to your residence.
In return for the Tampa Noles allowing you to voluntarily participate in the EVENT and related activities, you agree: 1. TO ASSUME AND ACCEPT ALL RISKS arising out of, associated with or related to your participating in the EVENT; 2. TO BE SOLELY RESPONSIBLE FOR ANY INJURY, LOSS OR DAMAGE which you might sustain while participating in the EVENT; 3. TO HOLD HARMLESS AND INDEMNIFY THE TAMPA NOLES: a) from any and all liability for any damage to the personal property of, or personal injury to, any third party resulting from your participation in the EVENT and all related activities; and b) f rom any and all claims, demands, actions and costs which might arise out of your participating in EVENT.
Registering for, or participation in the EVENT constitutes your acknowledgment, acceptance, and agreement to this disclaimer, waiver of liability, and indemnification. You agree that this is binding upon yourself, your heirs, executors, administrators and representatives, in the event of your death or incapacity. If you disagree with this disclaimer, don't buy a ticket or participate in the EVENT!