About this Event
NOTICE: THIS EVENT HAS BEEN POST PONED. WE WILL RESCHEDULE AS NEAR IN THE FUTURE AS ALLOWABLE. ENJOY NATURE AND STAY TUNED!
2020 APLD SUSTAINABLE GARDEN TOUR
SAT, APRIL 4, 2020
Showcasing gardens from Woodland Hills to the Hollywood Hills, this year's tour will inspire designers, plant-lovers and homeowners alike and showcase sustainable garden practices using the Watershed Approach. These gardens' innovative and cutting-edge designs will prove that there is no compromise necessary to protecting our environment and that every garden can make a difference to climate change.
The gardens included in the tour feature:
Mid-Century Modern home gardens that have been returned to their former design sensibilities with a modern twist
Organic soil building that can sequester carbon
Bioswales and rain gardens that capture rainwater runoff from the roof, absorbing the water into the water table
The Hügelkultur method of gardening
Native plant restoration
Fruit and vegetable production in a residential setting
Spectacular succulent gardens on sloped sites
Designers will be on site at the gardens to answer any questions.
Garden descriptions and plant lists will be available at our website soon.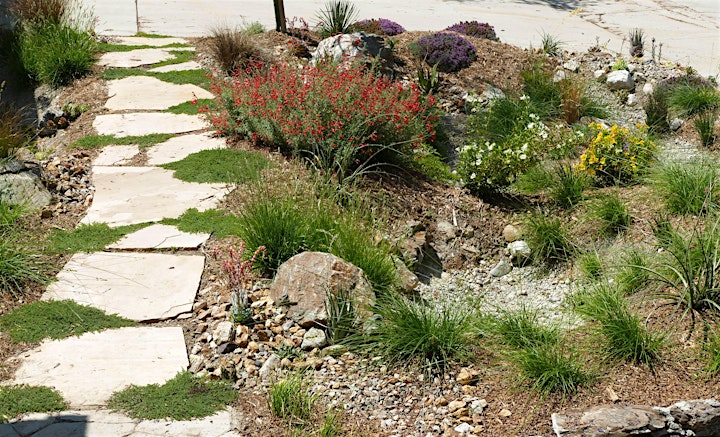 PLANNING YOUR TOUR
APLD's Sustainable Garden tour is self-guided. Your tickets allows you into all of the gardens on the tour, light morning refreshments at the first garden, and a closing reception at a beautiful Hollywood Hills estate. Tour hours are 9:00am to 3:30pm. The reception begins at 3:30pm. Tour addresses will be emailed to you the week before the event.
The gardens are located from Woodland Hills moving east to Hollywood Hills.