5th Annual Step Into Success Job Fair
Description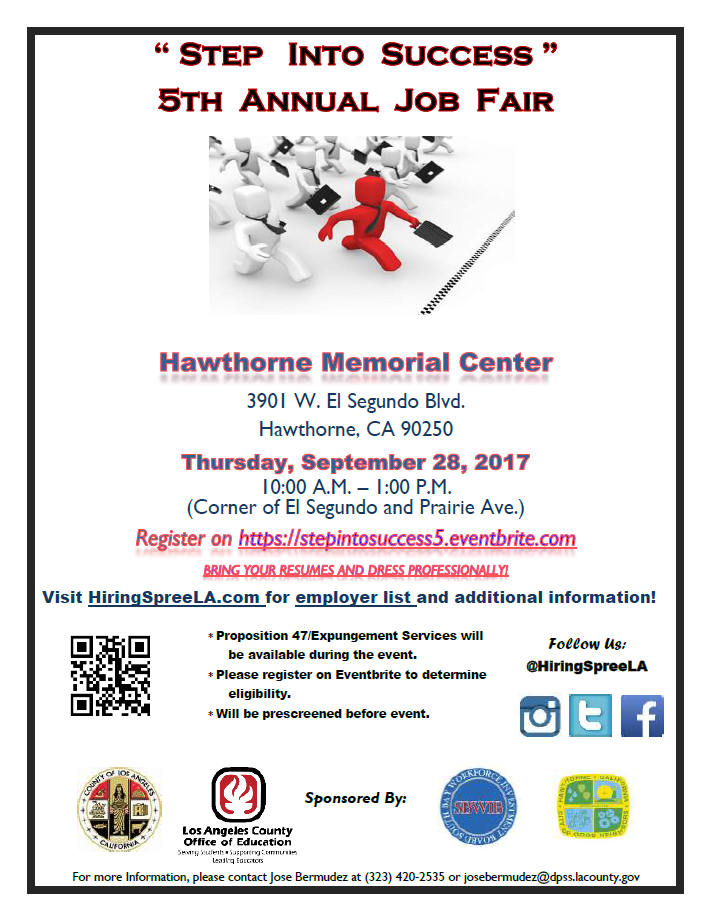 The City of Hawthorne in collaboration with The Los Angeles County Cluster Collaborative comprised of Department of Public Social Services, Los Angeles County Office of Education, and South Bay Workforce Investment Board, invites you to participate in the "Step Into Success" Annual Job Fair on Thursday, September 28th, 2017. This event will be held at Hawthorne Memorial Center, 3901 W El Segundo Blvd, Hawthorne, CA 90250 from 10:00 A.M. to 1:00 P.M.
The Los Angeles County District Attorney will be providing expungement services for certain misdemeanors and Prop 47 cases. Please list your phone number so we can contact you to determine eligibility when registering for the expungement servcies.
We are expecting 50 employers representing over 1000 local jobs. To view the employer list and additional job fair information please visit www.hiringspreela.org or click on this link.
Please contact Joanne Varga 310-665-7738 or Jose Bermudez (323) 420-2535 if you require additional information.