About this Event
Join us for the 5TH ANNUAL SHACK UP - 2 day indoor/outdoor event packed with live music from 11 bands. HUGE outdoor stage, local beers, delicious eats and all the best people in one spot! Cheers, RVA! For more info visit: www.TheShackUp.com.
*NOTE - Re-Entry allowed until 7pm on Saturday*
SCHEDULE!
Friday Schedule:
Doors: 7:00
The Northerners: 8:00 - 8:45
Mo Lowda & the Humble: 9:05 - 10:35
Jouwala Collective: 11:00 - 1:00
Saturday Outside:
Doors: 2:00
Weekend Plans: 3:00 - 3:30
Landon Elliott: 3:50 - 4:20
Bennett Wales: 4:40 - 5:20
Vegabonds: 5:40 - 6:20
Shack Band: 6:40 - 7:45
People's Blues of Richmond: 8:15 - 9:45
Saturday Inside:
10:00 - 11:00: Holy Roller
11:30 - 1:00: Fear of Music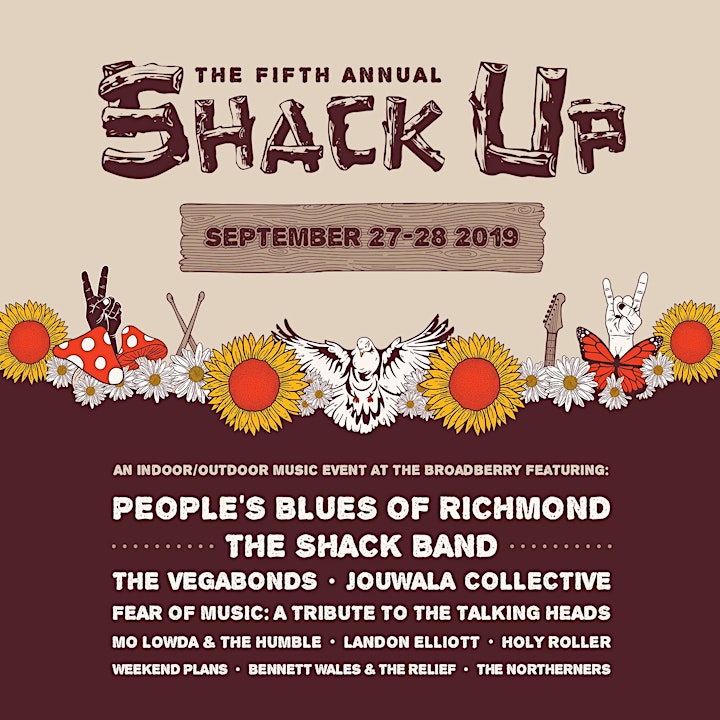 T I C K E T S
-------------
★𝐕𝐈𝐏 - $50 (limited availability)
VIP access to both Friday and Saturday night to include: drink tickets, meal voucher, ability to skip the lines, access to premium viewing area & swag from our sponsors!
★𝐓𝐖𝐎 𝐃𝐀𝐘 - $15 **VERY LIMITED**
★𝐅𝐑𝐈𝐃𝐀𝐘★ (prices increase as each tier sells out)
GA Tier 1 - $10
GA Tier 2 - $12
GA Tier 3 - $15
★𝐒𝐀𝐓𝐔𝐑𝐃𝐀𝐘★
GA Tier 1 - $15
GA Tier 2 - $18
GA Tier 3 - $20
T H E L I N E U P
----------------
𝐅 𝐑 𝐈 𝐃 𝐀𝐘- September 27
Doors 7pm, Music 8pm
Jouwala Collective
Mo Lowda & the Humble
The Northerners
𝐒 𝐀 𝐓 𝐔 𝐑 𝐃 𝐀 𝐘 - September 28
Doors 2pm, Music 3pm
OUTDOOR STAGE:
People's Blues of Richmond
THE SHACK BAND
The Vegabonds
Bennett Wales & The Relief
Landon Elliott (solo)
Weekend Plans
INDOOR STAGE:
Fear of Music
Holy Roller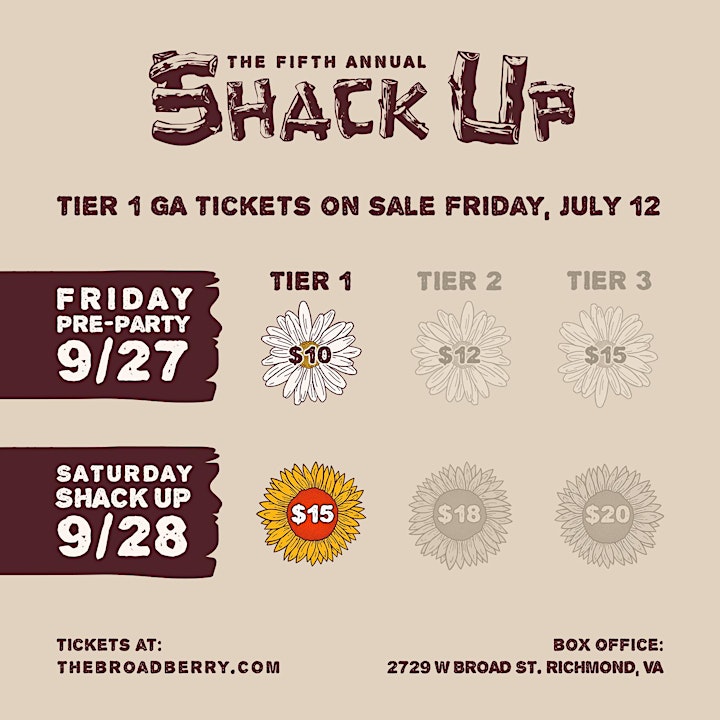 IMPORTANT VENUE INFO:
-No re-entry after 7pm on Saturday
-There will be NO RE-ENTRY for any patron under 21, at any time.
-No chairs
-No dogs
-No outside food or drink
-Children are welcome but anyone over 3 years of age must purchase a ticket.
-This event is rain or shine. No refunds.
-No Smoking/Vaping permitted anywhere inside venue
-Bags/purses will be checked at the door.
-Must have ID for entry
-If you do not have access to a printer, we can scan ticket from your cell phone. Be sure to have your brightness turned all the way up at the door.
-Children under 3 years old are Free.
-Kitchen is open during all hours of operation.
-Appropriate clothing required at all times (tops and bottoms covered).
Performers
Date and Time
Location