5th Annual Seedy Saturday: Edible Landscaping (+ Mushroom Workshop)
Description
Event-day update: tickets remain on sale online here till 12:30 today (Saturday the 21st) or get one at the door (check, or cash). See you at the Grange.
Fifth Annual Seedy Saturday
to benefit Friends of Taconic State Park
March 21, 2015, 1:30-5:00 PM
at the historic Copake Grange, 628 Empire Road, Copake, New York
Welcome spring, talk seeds and edible gardens -- fruit, vegetables, herbs and even mushroom-growing -- shop for organic seeds from Hudson Valley Seed Library and Turtle Tree Seed, and garden goodies from Hillsdale General Store. Last year 100 gardeners joined us for shopping, networking, and social time.
Shops open at 1:30

Our shopkeepers are expert growers, so come prepared with your questions!

2:30 PM slide talk on "Edible Landscaping:

How to Have Your Yard & Eat It, Too,

" by author and noted edible-landscape designer

Michael Judd of Ecologia Design

.

Details below.

…followed by reception and more shopping till 5:00.

ALSO: Michael is giving a hands-on workshop on "Backyard Mushroom Growing," from 9:30 to noon (separate ticket; limited to 20 participants).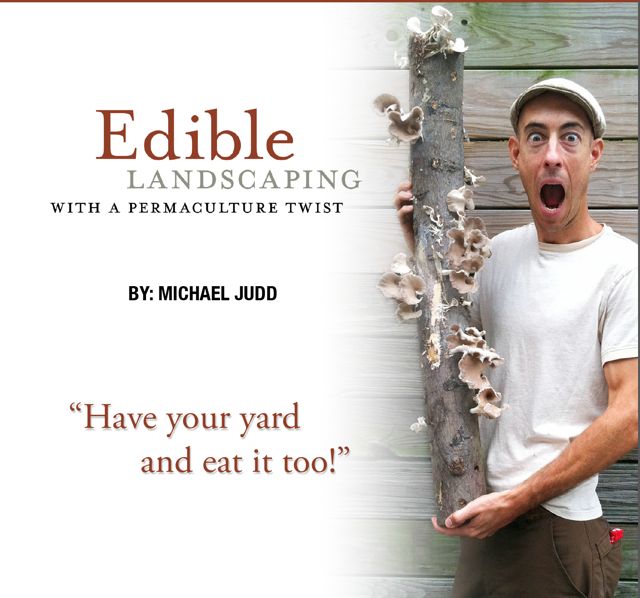 2:30 PM LECTURE
At our 5th Annual Seedy Saturday, we'll go beyond growing from seed only, and talk about all manner of edibles, and how they combine into a garden that is a feast for all senses, and sustainable, too.
"Edible Landscaping" is a lively, inspired presentation for both budding gardeners and experienced ones. Prepare to come away with a new way of looking at the form and function of your outdoor environment. Michael will offer dynamic ideas for easy-to-follow, ecologically sensitive projects, and guide you to having your yard and eating it, too. Edible landscaping projects he'll showcase include:
building herb spirals

creating a food forest

carving raised beds that harvest rainwater

growing tasty outdoor mushrooms (the ultimate shade perennial that also mitigates pollutants)

discovering uncommon fruits that match your site

installing an earthen oven, and more...
9:30 AM-NOON MUSHROOM WORKSHOP
"Wild About Mushrooms:" Take a mushroom log home that you inoculated, after participating in edible and ecological landscape designer Michael Judd's most popular workshop, on growing delicious and nutritious culinary and medicinal mushrooms in your own garden or landscape. Learn to inoculate logs for shiitake and oyster mushrooms (like the one Michael's holding, above) and to grow wine cap mushrooms on wood chips, while improving your garden's health. (Margaret Roach recently interviewed Michael on some of the basics in this story.)
The class will also cover the basics of mushroom science, and how fungi functions in nature and how to work with fungi to help restore our local ecologies.
Location details will be sent to each registrant; the workshop takes place in Copake Falls, New York, about 5 minutes from the afternoon seed sale and lecture venue. Morning coffee and baked good will be served on arrival at the workshop, to be held rain or shine. All students will go home with an inoculated log.
About Michael Judd: Growing up between northern England and the Appalachian mountains of Maryland, Michael Judd's roots have touched diverse landscapes and fertile culture. Mix in a decade of running a grassroots non-profit in rural Latin America, heading up an arid-lands research project in the Spanish desert, and extensive study at New York Botanical Garden and also of permaculture, and he has become an eclectic designer who melds form, function, and productivity. He is the principal of Ecological Design, and author of "Edible Landscaping With a Permaculture Twist," and founder of Project Bona Fide, an international non-profit supporting agro-ecology research. He teaches sold-out workshops on topics from mushroom growing to natural building and edible landscaping at his Maryland home, and around the country.
REFUND POLICY: One week advance notice required for refund if tickets are canceled (cancelation date: noon Saturday March 14). We will make every attempt to sell workshop tickets to someone on the waitlist if workshop tickets are canceled later than that, but sometimes it isn't possible. Thank you.
Every penny of your lecture ticket price goes to help the Friends of Taconic State Park make that great natural and historic resource even more welcoming than ever. Thanks for supporting us!