Description
5th Annual Shenandoah Valley Scholastic Chess Tournament, K-12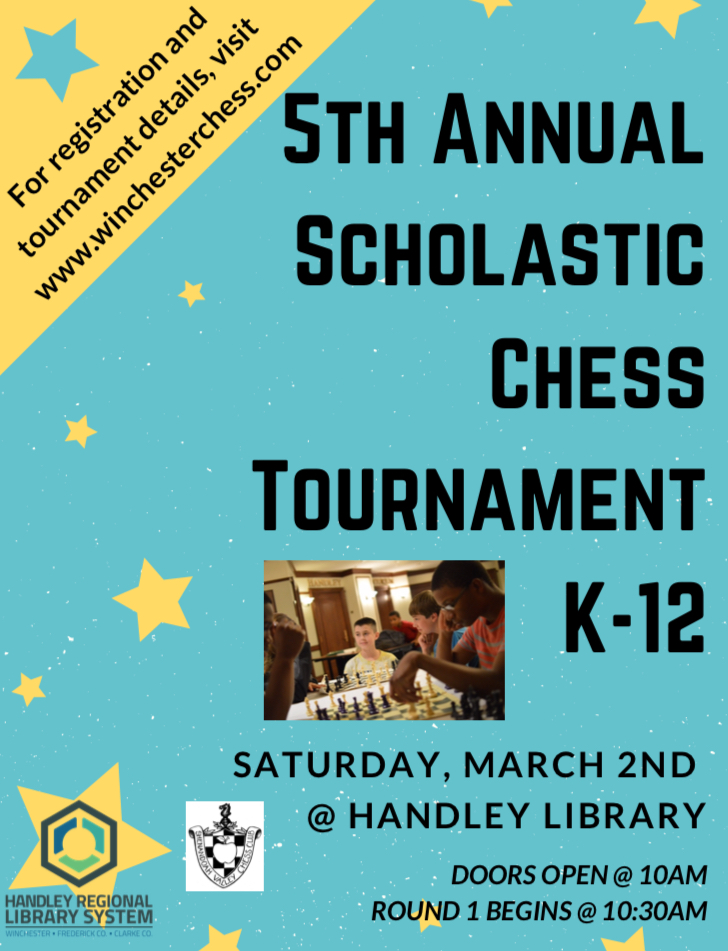 Saturday, March 2nd
Handley Regional Library
100 W. Piccadilly Street, Winchester, VA 22601
10:00 am - 2:00 pm
Registration begins 10:00 AM
Round 1 begins 10:30 AM
Cost: FREE

Sections: This unrated tournament is organized into Grade sections K-2, 3-5, 6-8, 9-12 to allow kids to match at their grade and skill level.
Competition Format: This is a family-friendly introduction to tournament chess. A basic understanding of the rules is helpful but not necessary. All games are unrated and paired via Swiss System.
Grades K-5 has no time limit.
Grades 6-12 will play 1 hour games (G30;d0)
Every kid will play multiple games.
Coaches will be nearby to monitor and assist.
Prizes: Trophies, Medals, and Certificates
Registration: Register via EventBright or at Handley Library Youth Services Desk. An organizer will email to gather more information about the student participant(s) and to answer any questions.
Pre-Registration ends Thursday, February 28.
Space is limited and pre-registration is encouraged.
General Information: Chess Sets and boards are provided. Players may bring their own Chess Clocks and Notepads. Chess games for fun and instruction are available throughout the event.

For planning purposes: Grades K-5 generally finish by noon. Depending on number of entries, a playoff and championship match could extend until 3 pm. Chess tournaments are great fun. Food, drinks, and breaks are provided.

For kids and parents who wish to learn chess, we recommend ChessKid (http://www.chesskid.com).
Learn with the Shenandoah Valley Chess Club on Wednesdays at Handley Library, 5:30-7:30pm / Saturdays at Bowman Library, 10:00am - 12:30pm.
The Shenandoah Valley Chess Club is a nonprofit organization dedicated to teaching and promoting the game of chess for all in the Shenandoah Valley region. Chess programs are partnered with Handley Regional Library System, affiliated with United States Chess Federation, and funded by community donations.
Visit http://www.winchesterchess.com for our calendar of events.
Email Tournament Director, David Hubbard at winchesterchess@gmail.com with questions.
Thank you!