5th Annual RTNII Newman Bowl

Thursday, November 28, 2013 from 10:00 AM to 12:00 PM (CST)

Bartlett, IL
Who's Going
Loading your connections...
Event Details
Remembering Todd
For the past five years, Thanksgiving morning has been a special occasion for our Bartlett family. March 1st, 2009 was a day that we will remember forever. We lost a great man, an incredible friend, a brother, and a special human being in Todd. We all can remember where we were and how we felt when we learned about Todd's passing. Todd was special and we miss his physical presence and bright smile every day.
Life is both precious and fragile. Since our first Newman bowl in 2009, Thanksgiving morning has started with a reminder of just how precious and fragile our lives are. Thanksgiving is a time to give thanks for what we have, and we can all be thankful for our own lives and good health. We can also be thankful to have had the opportunity to spend time and to develop a friendship with Todd. The Newman bowl gives us a chance to give thanks to Roget, and the Newman's for letting us share Thanksgiving with them, and for allowing us the opportunity to play football with each other in honor and memory of their son, Todd.
The Newman Bowl
The Newman Bowl will be a 4 team tournament. Each team will play in a "playoff" game to begin. The two winning teams will play against each other in the "championship" for a chance to hoist "The Newman" as the 5th Annual RTNII Championship team. The losing squads will be applauded for their efforts and will be eligible to win a "If you ain't cheating you ain't trying award" but will have to wait another year, thinking "what if." The losing teams will be encouraged to stay and cheer on the Newman hopefuls in the championship, but please understand that allowing your team to lose in the playoffs makes you a loser (for starters) and ineligible to win "The Newman."
Picking Teams
4 Captains will pick teams at 10:00 am sharp the morning of the Newman Bowl.
Waiver Wire
We will implement a waiver wire, just like Fantasy football. The team that drafts 4th will be in 1st position for the waiver wire. When Franco comes stumbling in 10 minutes after kickoff, the team with the first waiver claim has the first "rights" to Franco. If they do pick him up, they lose their position and are now 4th in the waiver priority. If they pass on using a waiver wire spot for someone who shows up after the draft, the next team has the chance to select the player. If all teams "pass," then the player goes to the team with less players and no waiver wire positions switch.
In-Game Rules
Teams will have a maximum of 8 players on the field at a time

Each game will consist of two 20 minute half's

One 5 minute halftime

10 minute break between the playoffs and the championship

The clock will stop during the last 2 minutes of each half on incompletions and plays out-of-bounds

The play clock is 30 seconds between snaps

Each team has 2 timeouts per half

The referee will "spot" the ball after each play

A "3 Mississippi" count is required before rushing

Offensively, running and passing plays are allowed

Each drive will start on the 10 yard line to start the game and after a score by the opposing team

"rock paper scissors" replaces the pre-game coin toss for possession to start each game

Pass interference is a 15 yard penalty

Holding is a 10 yard spot foul

No flag guarding. 10 yard spot foul

Offside is a 5 yard penalty

Rushing before a "3 Mississippi" count is a 5 yard penalty and replay the down

College catching rules: 1 foot in is a completion
"The Newman" T-Shirt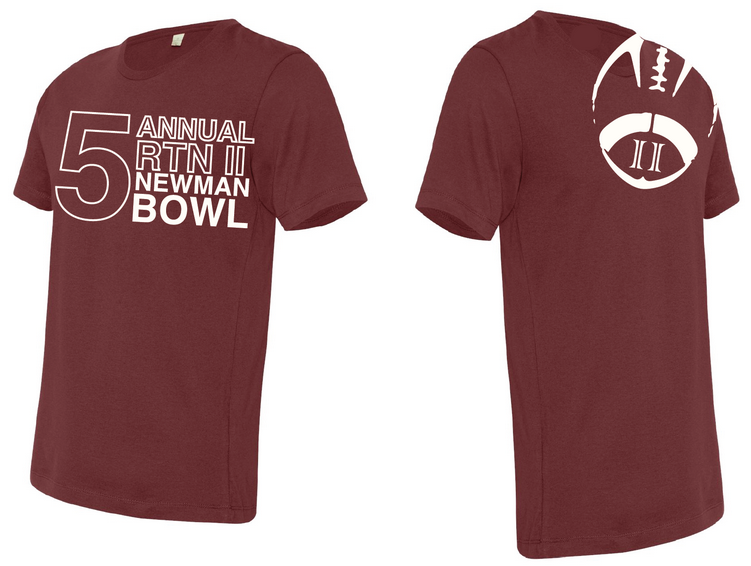 The 5th Annual RTNII Newman Commemorative Newman Bowl T-Shirt will be posted a.s.a.p. The game plan for the design is to have the front text say: "5th Annual RTNII Newman Bowl," and the back have a Roman numeral II on the upper middle back and the text "Carrying On Tradition" on the back. They are gonna be sweet!
For Everyone
Our goal is to make the Newman bowl as warm, friendly, and enjoyable for the parent, girlfriends, grandparents, cousins, uncles, random girls we met on black Wednesday, and everyone else in attendance.
We will provide a warm-ish tent, chairs, sugary snacks, and plenty to drink for everyone. Please bring your cameras, friends, parents, and children, and encourage friends and family to sign up and come out and cheer on the "Newman" hopefuls. Post your pictures to Facebook, Twitter, Instagram, and encourage your friends and family to join us!
How You Can Help
1. Register and encourage others to do the same. Post a status to Facebook. Tell your friends and remind each other to register. 
2. Show up early and give Mrs. Newman a big hug when you see her!
3. Spread the word and share the event on Facebook
4. Keep your word*
*If you sign up and commit to coming, show up. Black Wednesday now becomes "wack Wednesday"... You should be hydrating, hooked up to an I.V., and sleeping in a hyperbolic chamber before the biggest game of the year. Let's be honest, this is the biggest game of most of our careers! You only have so many chances to win a Newman, and for me personally, my window is closing!
Attendee List
Sort by:

Date

|

First Name

|

Last Name
When & Where


Apple Orchard Soccer Fields
600-698 Stearns Road


Bartlett

,

IL

60103

Thursday, November 28, 2013 from 10:00 AM to 12:00 PM (CST)
Add to my calendar
Organizer
The Newman Scholarship Foundation
The Newman Scholarship Foundation