Event Information
Location
Paxton Arena
18661 Buena Vista Ave.
Yorba Linda, CA 92886
Description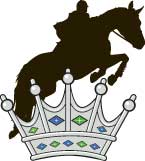 Royal Riders Pony Club
SPEGGTACULAR
Charity Event
Dog & Pony Show
All Proceeds will be donated
to the
The Shauna Ann Stuewe Foundation
Raising awareness of Sudden Cardiac Arrest
Read her story at: www.shaunastuewe.com
When: Saturday, April 12, 2014
Time: 9:00 a.m - 11:00 a.m.
Where: Yorba Linda Paxton Arena
18661 Buena Vista Ave.
Join us for an exciting morning!
Watch a dog and pony costume contest and games show
Admission to the event is free
Enter your dog or horse in the costume & game contest: $5
(limited space available so register soon)
Sponsor an Egg :
Gold Egg: $50
Silver Egg: $25
Purple Egg: $15
Blue Egg: $10
Pink Egg: $5
Black Mystery Egg: Anything over $50
(black egg sponsors will get special recognition at event)
Questions?: E-mail sasfoundation@aol.com or call (714)609-3698
Date and time
Location
Paxton Arena
18661 Buena Vista Ave.
Yorba Linda, CA 92886