Description
I, Researcher: exploring the research experience - context, self and interdisciplinary practice, the 5th Annual RiDNet Conference
27th of January, 2017, School of Earth and Environment, University of Leeds
***Conference programme announced***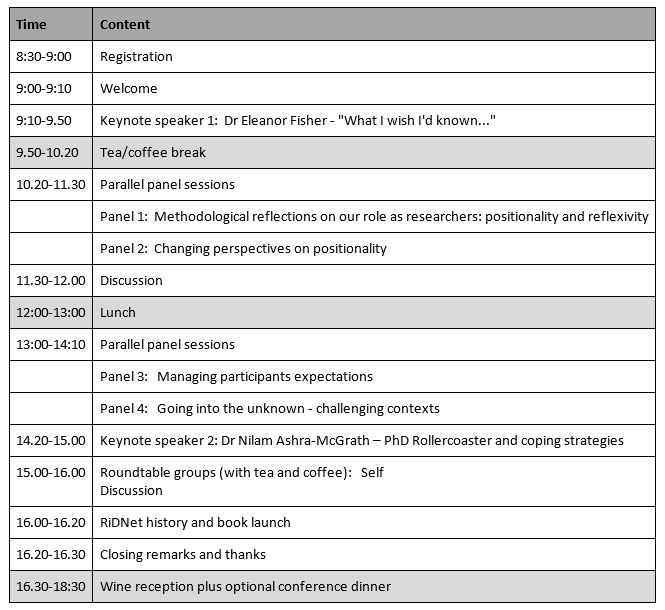 The conference will focus on three themes (1) different contexts; (2) self; and (3) interdisciplinary practice in order to explore the experience of conducting research. We will be having a range of presentations wihere researchers reflect on their experiences of conducting research, alongside academic keynotes. This is a great opportunity for students and early career researchers to share experiences, ideas and methods in a relaxed atmosphere.
Keynote speakers
Dr Nilam Ashra-McGrath (University of Leeds) will be discussing well-being as a researcher https://medhealth.leeds.ac.uk/profile/648/255/nilam_ashra-mcgrath
Dr Eleanor Fisher (university of Reading) will be discussing positionality https://www.reading.ac.uk/apd/staff/e-fisher.aspx
Whether you're presenting or just attending, registration is now open. The conference is usually very popular, and we have limited space so we recommend registering as soon as possible.
Conference Themes:
1. Context: This theme examines how different, often challenging, contexts can impact upon your research, and how you may take this into consideration.
Topics may include: researcher positionality, ethics, reflexivity, avoiding an extractive relationship with the research context and managing participants' expectations.
2. Self: This theme examines the less frequently discussed aspect of emotional well-being whilst conducting research.
Topics may include: emotional wellbeing during a PhD, staying safe, balancing being a good researcher with staying healthy, handling isolation, loneliness, and culture shock.

Any questions, please get in touch