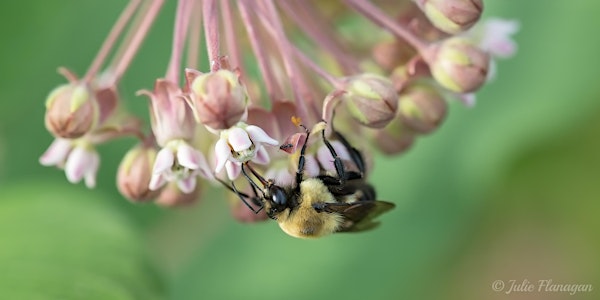 5th Annual Prince William Native Plant Symposium 2023
Stop Mowing, Start Growing: Native Plants for Beginners and Beyond! Stop mowing and get going on building your dream landscape!
When and where
Location
Verizon Auditorium George Mason University George Mason Circle Manassas, VA 20109
About this event
Whether you are new to native plants and what they can do for your property or you are looking for alternative landscaping ideas, this event is for you! Native plants can:
Create a beautiful yard
Save time so you can enjoy other activities
Create habitat for birds & pollinators
Save money on fertilizer & pesticides
Improve water quality
Curb Erosion
Cost
Note: This is a hybrid event. Participants can either choose to join in-person, or online.
*In-person tickets: $30
Online tickets: $15
To register for the event, click "Get Tickets" above.
*include light breakfast fare, lunch and access to vendors for all in-person participants
Note that if you want to order tickets for more than one person, and you'll be attending different sessions, please order separately.
Location
The venue is located at the Verizon Auditorium at George Mason University in Manassas, VA 20109. Please see the maps below and find the circled area.
Parking is available in the Occoquan Parking Lot.
In-person tickets includes light breakfast fare, lunch and access to vendors.
Online-only tickets give you access to the Zoom meeting link. Please note that online registrants may only attend online.
Snow date: Feb. 18th, 2023
Refunds
Unfortunately, we are unable to offer refunds.
Check-In
In-person registration will be 9:00am-9:45am (EST).
Zoom information will be e-mailed to all online-only ticket holders 2 days before the event and the day of the event. The Zoom meeting will open at 9:00am.
Recordings
All of the presentations will be recorded and available to all participants. Participants will be e-mailed a link to view these presentations following the event.
Keynote Speaker
Nancy Lawson - The Humane Gardener
"A World of Discovery: How Science and Heart Can Make You a More Ecological Gardener"
Our outdoor surroundings are vibrant realms, places where many languages are spoken, sometimes in sensory alphabets we humans have hardly begun to decipher. They're swirling with hidden messages: ephemeral molecules spelling out invitations or delivering cries for help. Ultrasound clicks we can't hear and ultraviolet colors we can't see. Calls of alarm, distress, defense, and companionship that reach our ears but would require a translator to decode. Although these communications among plants and animals are often invisible to us, they're not entirely unknowable. By using our powers of observation—and consulting the many scientific resources available—we can learn much more than we ever thought possible about the inner lives of our wild neighbors large and small. We just need to turn down the volume, dim the lights, put away the power tools, and start seeing and hearing and feeling the world from the perspectives of other beings who live here too. Only then will our gardens and community spaces become not just our own, but the gathering places of countless sovereign nations, and refuges for the increasingly displaced flora and fauna in need of new homelands.
Schedule (EST):
9:00am-9:45am - Registration
9:45am-10:00am - Welcome
10:00am-10:15am - Video from Catherine Zimmerman: "Hometown Habitat, The Basics"
10:15am-11:15am - Keynote Speak, Nancy Lawson
11:30am-12:30pm - Breakout Session 1
12:30pm-1:45pm - Lunch
1:45pm-2:45pm - Breakout Session 2
3:00pm-4:00pm - Breakout Session 3
Please choose one presentation to attend at each session:
Breakout Session 1 (11:30am-12:30pm):
A) Meadows
Add color and beauty to your yard while supporting local wildlife by starting a native wildflower meadow. Learn how to plan, plant, and maintain a native plant meadow.
Nancy Berlin, Natural Resource Specialist, VA Cooperative Extension- Prince William
B) Herbaceous Perennials for the Suburban Yard
Nancy covers a selection of perennial native plants and discusses finding the right plant for the right place as you convert your yard into a native landscape. This presentation can be helpful for beginners and beyond.
Nancy Vehrs, President of the Virginia Native Plant Society and the Prince William Wildflower Society
C) Companion Planting: Eye-catching and Ecological Combinations
Discover which plants are eye-catching and ecofriendly in combination. Native plants come in various sizes, colors, shapes, textures, and bloom during specific times. We'll discuss which plants to pick that grow well together and create a look and feel that connects you with habitat without upsetting your neighbors.
Stephanie Johnson, Green Steeze Landscaping
D) Recreating Forests in Your Yard
Our native forests are the foundational habitat of our region. Yet as our communities have been built our forests have been removed. Discover how you can restore forest habitat in your yard, no matter how much or how little land you have to work with.
Julie Flanagan, Arborist, PWC Watershed Management Branch
E) Common Invasive Species Management
This presentation will go over common invasive plant species and how to manage them.
Gloria Medina, Ecologist with the Fairfax County Park Authority and the Volunteer Coordinator for the Invasive Management Area (IMA) Program
F) Landscape Design Pt. 1
**This is a 3 part breakout session; you must sign up for all 3 sessions**
Session I - Principles of Landscape Design begins with an overview of the elements of landscape design and a review of the many aspects that must be taken into account when making decisions about what you want your landscape to do for you.
Session II - Practices of Landscape Design will showcase actual tips and tricks for achieving a desired look and discuss how and why these work.
Session III - Designing Your Landscape - You will learn the steps of creating a design using your site analysis from creating the conceptual plan to creating the planting plan.
Each session builds upon the session before it, and attendees must register for all three sessions. Some pre-class preparation is necessary.* Pre-class preparation will include:
Photos of a small area (not to exceed 16 ft. x 20 ft.) of your yard you want to convert to natives
A single sheet, "to-scale" drawing of the area with which you wish to have assistance.
*Following registration, you will receive directions on uploading your photos and plan view to Google Docs in advance of class.
Kirsten Conrad, Agriculture Natural Resources Extension Agent for Arlington County and the City of Alexandria
Breakout Session 2 (1:45pm-2:45pm):
A) Rain Gardens and Native Plants
Learn the basics of Rain Gardens! Is a rain garden right for your property? Where should it be located? What plants should you choose? All of these questions, and more, will be answered! Also learn about a financial assistance program available to help with the costs of installing a rain garden!
Nicole Slazinski, Conservation Specialist, Prince William Soil and Water Conservation District, and Tom Attanaro, Master Gardener/Master Naturalist
B) Backyard Gardeners and Climate Chaos
Backyard gardeners and small farmers are the stewards of our planet's precious soil. Maintaining healthy soil, planting trees, and growing vegetables is not only an act of self-reliance and determination – but it is actually addressing a solution to our evolving climate disaster.
Janene Cullen, PhD, Virginia Cooperative Extension Prince William Master Gardener, Audubon Ambassador
C) Waterfront Properties and Native Plants
Learn about using native plants to protect and improve local water quality while preventing erosion on you streamside property.
Clay Morris, Natural Resources Section Chief, PWC Watershed Management Branch
D) Can Insect and Mite Pests be Managed Organically in Landscapes?
In light of concerns about risks to beneficial insects including pollinators and natural enemies, jurisdictions around the country are placing new restrictions on several insecticides commonly used by the green industries. Questions have arisen regarding alternative approaches to managing key insect and mite pests. This presentation will discuss that "organic" really means and review biologically based alternatives to managing insects and mites in landscapes and gardens. By protecting and conserving beneficial insects, we strive to increase sustainability of managed landscapes.
Michael J. Raupp, Emeritus Professor of Entomology, University of Maryland
E) Garden Maintenance
This class will cover using plant survival strategies, associations, and tools to enable smarter, maintenance planning
Nancy Berlin, Natural Resource Specialist, VA Cooperative Extension- Prince William
F) Landscape Design Pt. 2
**This is a 3 part breakout session; you must sign up for all 3 sessions**
Breakout Session 3 ( 3:00pm-4:00pm):
A) Native Shrub Selections
Learn about several of the beautiful selections of native shrubs for our region that can enhance your property with diversity and create habitat for birds. Learn also what not to pick and how your native selections may have a positive influence beyond your yard.
Julie Flanagan, Arborist, PWC Watershed Management Branch
B) Native Edibles and Medicinal Plants
This region had a long history of using native plants for both food and medicine, but over the last few decades, that knowledge has been lost. Discover techniques to transform a portion of your property into an ecosystem capable of supporting native plant species that can provide both sustenance and healthful benefits.
Clay Morris, Natural Resources Section Chief, PWC Watershed Management Branch
C) Building Healthy Soils
Understanding the composition of healthy soils, how they are often altered by construction of homes, etc. and how you can improve soil health is key to a vibrant landscape.
Dan Schwartz, Soils Scientist, Northern Virginia Soil and Water Conservation District
D) Virginia's Native Bees: What's the Buzz?
Pollinators and other native insects need a diverse array of native plants to survive and thrive. Learn who's who in Virginia's bee community, the basics of providing pollinator habitat, and how to broadly support some of Virginia's smallest residents.
Celia Vuocolo, Working Lands for Wildlife Pollinator Coordinator-East and Quail Forever/USDA-NRCS
E) Plant This, Not That: Alternatives to Invasive Plants
Many of us understand the problems of invasive plants and want to replace them with more sustainable options. Join Smithsonian Gardens' Horticulturist, Sylvia Schmeichel, to learn more about the many great native plant alternatives. She will share top replacement recommendations and helpful resources to transform your garden and community into a beautiful, healthier ecosystem.
Sylvia Schmeichel, Horticulturalist, Smithsonian Gardens
F) Landscape Design Pt. 3
**This is a 3 part breakout session; you must sign up for all 3 sessions**
Please remember to keep your tickets handy either in the Eventbrite app or your email. You will need them at check-in.
Vendors
GMU Office of Sustainability
Plant NoVA Natives
Prince William Wildflower Society/Va Native Plant Society
Prince William Conservation Alliance
Prince William Soil & Water Conservation District
Virginia Cooperative Extension
Virginia Bluebird Society
Keep PW Beautiful
Blue Ridge Prism
Nancy Lawson
Virginia Master Naturalists (Merrimac Farm)
Department of Forestry
VA Department of Wildlife Resources
Event Sponsors
GMU Office of Sustainability
Northern Virginia Community College
Plant NOVA Natives
Prince William Conservation Alliance
Prince William Soil & Water Conservation District
PWC Watershed Management Branch
Virginia Cooperative Extension
Virginia Native Plant Society