5th Annual Orange Duffel Bag Initiative Charity Golf Classic with Coach Bill Curry!

Monday, August 21, 2017 from 8:30 AM to 4:00 PM (EDT)
Event Details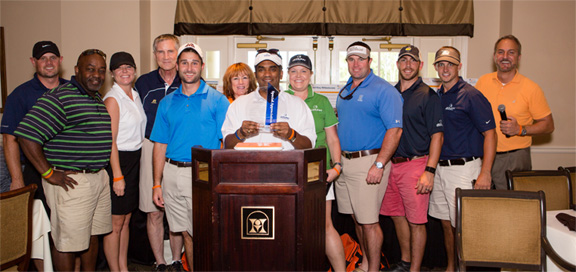 Join us Monday August 21, 2017! Play golf, meet legendary Coach Bill Curry and help Georgia's most vulnerable students stay on track toward their education success! 
Orange Duffel Bag Initiative (ODBI) Charity Golf Event, Monday August 21 at Indian Hills Country Club, will again bring together golfers from across GA in support of ODB's work with students who are homeless, aging out of foster care or experiencing high poverty. Proceeds from this event directly benefit the high school and college students and communities we serve. The ODB was honored to recieve the Dr. Martin Luther King, Jr. Community Service award from Emory University, recognized for exemplifying the precepts of leadership and social justice. Independently audited each year the ODB meets or exceeds its financial benchmark of 85+ cents of every dollar donated going to students and programs serving its students.
How will your support make a difference? Your donation will help us raise funds needed to purchase laptops and scholarships our ODBI graduates earn upon successful completion of our 12-week programs. So join Team Orange and sign up now to be part of this event to not only raise funds, but to celebrate the 800+ ODBI Grads and their ongoing success!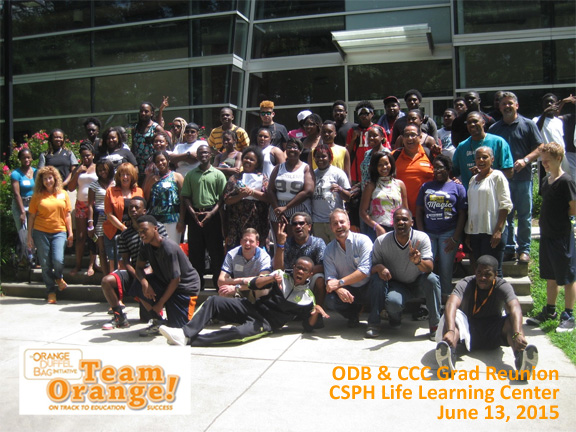 Come meet our ODBI Graduates!
Like M.O. Class 10, "The ODB class taught me how to move forward in my life and not turn back for no one. I'm now a straight-A student and have more determination to keep going on."
C.K Class 12, "It was a great life experience that changed me. I'm taking school more serious."
R.C. Class 13, "Since I graduated ODB, I am a lot more at one with myself and my emotions and I am also a lot more okay with the past I've had and open to share it with others."
B.M Class 7, "ODB gave me a sense of hope."
Educators agree ODBI makes a difference!
"ODBI was great support for self-efficacy, college and career readiness. 100% of our students participating improved attendance, behavior and performance. Our students' soft skills were enhanced as well as written and oral communication. ODBI is an awesome program to extend our student's resume for success in life!" - E. J. Mobley Ph.D., Principal, West End Academy
"The Orange Duffel Bag program is an innovative way to engage students and encourage them to say in school." Dr. John D. Barge, State School Superintendent, Family and Community Engagement - Georgia Department of Education, Georgia Assessment of Performance on School Standards, Southwest High School Commendations, September 10-11, 2013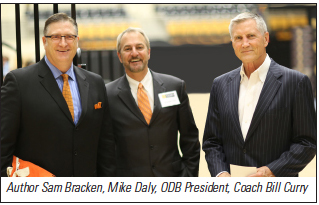 Thanks in advance, and see you August 21st!
Golf Event Info:
Indian Hills Country Club
4001 Clubland Dr.
Marietta, GA 30068 
Registration: 8:00 AM - 9:00 AM
Tee-Off Time: 9:00 AM
Registration Fee: $150
Sponsorships Available!

Please invite your friends, colleagues, and family to join us for a fun-filled day. 
View pictures from our 2016 Golf Event!
1. Go to http://www.flickr.com
2. Click Sign In (top navigation bar)
3. Enter TheODBIPics@yahoo.com as Email Address, click Next
4. Enter S*mBr*ck*n as Password, click Sign In
5. Scroll over You (top navigation bar), click Camera Roll
6. Sign Out, click the Camera Icon (top right), click Sign Out
When & Where

Indian Hills Country Club
4001 Clubland Drive
Marietta, GA 30068


Monday, August 21, 2017 from 8:30 AM to 4:00 PM (EDT)
Add to my calendar
Organizer
JE Dunn Construction is in the business of constructing buildings, but we do so with a higher purpose. We maintain a commitment to integrity, collaboration, wisdom, quality, value, sustainability and safety. From coast-to-coast, we've staked our reputation on our ability to deliver on each of these and pledge to settle for nothing less. JE Dunn employees are building better communities by volunteering throughout the year in organizations such as educational and youth development, healthcare research, sustainability efforts, religious groups, arts and cultural foundations, and many more. In Georgia, JE Dunn proudly sponsors and partners with the Orange Duffel Bag Initiative,  a 501c3 public charity, working together to improve the education success and well being outcomes of Georgia's most vulnerable young adults, high school and college students who are homeless, in foster care or experiencing high poverty.-
The Orange Duffel Bag Initiative (ODBI) is a 501c3 public charity that improves the outcomes and education success of high school and college students who are homeless, in foster care or experiencing high poverty. ODBI is independently audited each year,  and its programs are evidence-informed and approved by Georgia's Department of Public Health Institutional Review Board.  Since 2010, 1000+ students have successfully graduated ODBI's Coaching Programs across 7 counties in Georgia. ODBI's high school and college coaching programs are data-informed and individually evaluated, with key student outcomes achieved being: 1) improved critical thinking 2) improved attendance and GPA 3) improved self-esteem  4)reduced anger 5) improved retention and academic progress  6) graduation achievement 7)accelerated career exploration and postsecondary planning.
ODBI's Coaching Programs:

12-Week After School Coaching Program: Builds upon academic learning of academically and economically at-risk high school students, assisting them in creating a comprehensive life and education plan and empowering them to access a postsecondary education. Each student who successfully graduates the program earns a laptop to bridge the digital divide and aid them with their future success.

12-Week Coaching for College Completion (CCC): Helps college students who have limited resources create an education plan and connects them to solutions to stay on track to postsecondary success. Each student who successfully graduates the program earns a $200.00 scholarship check.
To donate: http://www.theodbi.org/donate-now/