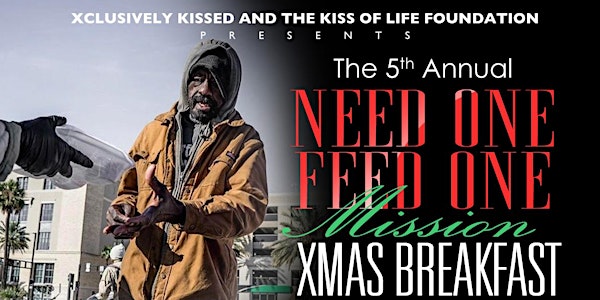 5th Annual Need One Feed One Mission "Xmas Breakfast"
When and where
Location
Downtown Jacksonville, FL 32202
Description
Hey Xclusively Kisses and The kiss of Life foundation is celebrating The 5th Annual Need One Feed One Mission "XMas Breakfast". This Mission is an Xclusively Kissed feeding to benefit the less fortunate/homeless children within the communities and city of Jacksonville Florida.
It is with great pleasure that we invite you to become a supporter for the 5th Annual Need One Feed One Xmas Breakfast. The primary source of funding for the Need One Feed One Xmas Breakfast is from community supporters, such as yourself.
As Xclusively Kissed Catering begins making plans to once again feed those in our community who might otherwise go hungry on Christmas Day, we are reaching out to the local community asking for your financial and in-kind assistance to make this event possible. Last year Xclusively Kissed Catering was able to not only feed roughly 350-400 people on Christmas morning, but was also able to provide gently used clothing and toys to those in need.
This year Xclusively Kissed has partnered with Family Promise of Jacksonville Florida to provide a less fortunate family of 8 (children), being raised by their grandparents, Toys and Christmas Dinner. The gender ages of the children are listed below. All TOY donations can be dropped off at the authorized drop off location listed below.
Your time and efforts are greatly appreciated and will make a difference in the lives of so many people, right here in Jacksonville, Florida. On behalf of Xclusively Kissed Catering, we sincerely thank you for your generosity and kindness.
Happy Holidays
Date: Christmas Morning; December 25th, 2018
Prep start time: 8:00 am-Please see available volunteer positions
Prepping location: The Eagles Nest, 8040 Lone Star Road, Jacksonville FL
Service time: 10:00 am-Please see available volunteer positions
Service location: Downtown Jacksonville ( locations will be assigned to each serving group the morning of service)
Donations needed: Nonperishable food items (Email chef X at XclusivelyKissed@gmail.com for donation list), New unwrapped Toys, Blankets, Gently used clothes and shoes, and monetary donations are also appreciated.
Family Promise Toy Donations:
Girl, 14 years old
Girl, 13 years old
Girl, 9 years old
Boy, 12 years old
Boy, 10 years old
Boy, 6 years old
Boy, 5 years old
Boy, 3 years old
Xclusive Donation Drop off location:
Downtown: Hollywood Cuts @hollywood_cuts
All other areas/locations contact:
Chef X, IG/FB: @XclusivelyKissed