Description
GET READY! Mark Your Calendar
CELEBRATING OUR 5 YEAR ANNIVERSARY
WE HAVE A DATE CHANGE !
MARCH 18TH & 19TH 2016
BRICKELL PARK FESTIVITIES HELD FRIDAY & SATURDAY 1PM-7PM
FOOD & WINE FESTIVAL HELD SATURDAY, 1PM - 9PM
The 5th Annual Miami Taste of Brickell Food & Wine Festival Welcomes You F.Q.A.'s
If you love Great Food, Deliciious Wines and Fantastic Music, then you need to be at the 5th Annual Miami Taste of Brickell Food & Wine Festival taking place MARCH 19TH 2016.
STARTING ON FRIDAY, MARCH 18TH thru MARCH 19TH FROM 1PM TO 9PM FESTIVAL OPENS IN BRICKELL PARK - Featuring Arts & Crafts, Health, Fitness and Wellness, Non-Profits, Jewelry, FREE Kids Zone, and more. The Food & Wine Festivities start on Saturday, MARCH 19th 2016 starting at 1pm till 9pm.
The Food & Wine Festival held on Saturday ONLY! is accessed thru BRICKELL PARK !! When arriving at BAYWALK THE FESTIVAL WILL BE RIGHT THERE! Located in the parking lot behind the First Presbyterian Church of Miami on the Bay. Again, The "MAIN GATE ENTRANCE" is at Brickell Park in between the Icon and Church. This year in celebration of our 5 year Anniversary our General Admission (Entrance Only ) is $5.00 then you purchase food as you go cash or credit cards accepted and All Beverages Alcohol and non-alcohol you must purchase tickets (No cash is accepted at Bars accept for VIP's and they must show their badges.). There is a BRICKELL DEAL $25.00 which includes Entrance and 4 Drink Tickets for any alcohol beverage or non-alcohol beverages not to exceed $8.00. VIP tickets are available, but limited, at a cost of $75.00 all inclusive. Drink Tickets are $1.00 a tricket and can be purchase at gate or designated Ticket Stations on site.
The Miami Taste of Brickell Food & Wine Festival is acknowledged as Brickell's Official Signature Food & Wine Festival delivering the finest restaurants in Downtown Miami and the prestigious Brickell area. Since 2010 the festival has grown beginning with only 15 local restaurants and now has over 30 participating fine dining establishments not including exhibitors, vendors and non-profit companies.
Our mission and goal is to show–off our beautiful community and announce that we are now one of the top dining destinations in the nation.
We are a family friendly event; the only exception is you must be 21 or older to purchase VIP tickets.
There are several options to get to the event, we suggest taking the Metro Rail and getting off at Brickell station. Walk directly to Brickell Avenue from there. You may also use the Metro Mover which stops at 8th street station and 5th street station just head to the bay and you are there. There is a regular Trolley stop infront of the festival site, also Freebie Golfcarts will be running back and forth.
You cannot bring in any alcoholic beverages, and no coolers or backpacks. WE LOVE DOGS ! Pets are allowed if they are small dogs and or service dogs. BRICKELL PARK IS DOG FRIENDLY!
Contact: Event Director, Cynthia Bettner Direct 786-355-4800 – email info@tasteofbrickell.com or c_bettner@yahoo.com - www.tasteofbrickell.com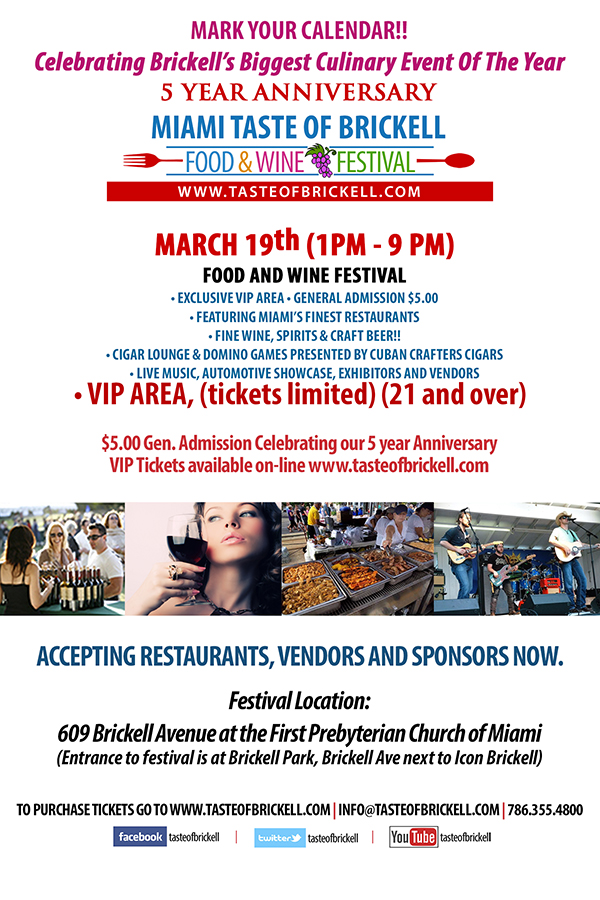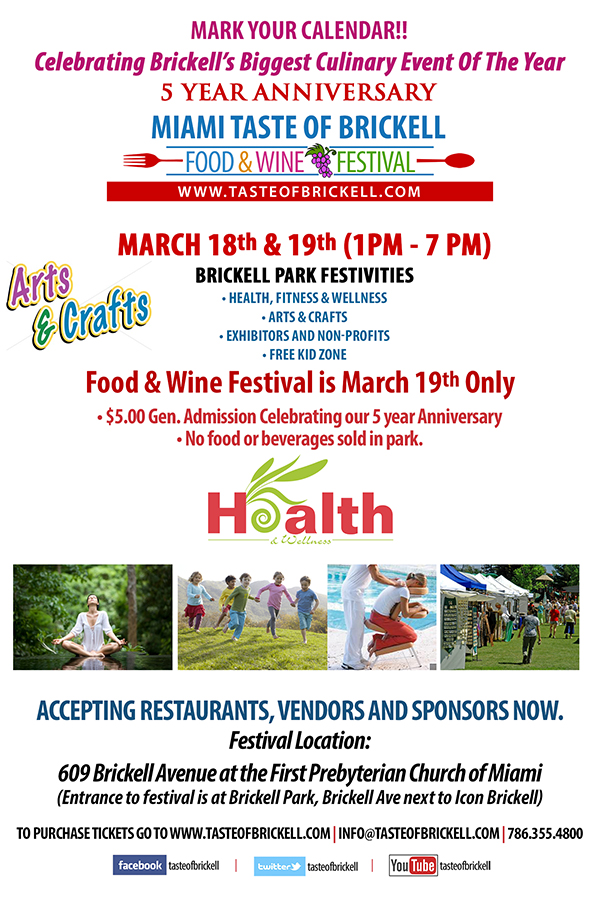 Organizer of 5th Annual Miami Taste of Brickell Food and Wine Festival
Event Producer & Director
Miami Taste of Brickell Food & Wine Festival
Corporate offices
Miami Springs, FL 33166
Office: 786-355-4800
e-mail c_bettner@yahoo.com / info@tasteofbrickell.com