Description
Come share, listen, collaborate, and discuss research being conducted by TeachLivE and Mursion partners from around the world!
A variety of sessions such as interactive papers, workshops, and poster presentations will promote growth in knowledge of TeachLivE and Mursion usage, research, and simulate your brain on other potential areas of use.
Call for Proposals has been released! Email Proposals to TeachLivEconference@gmail.com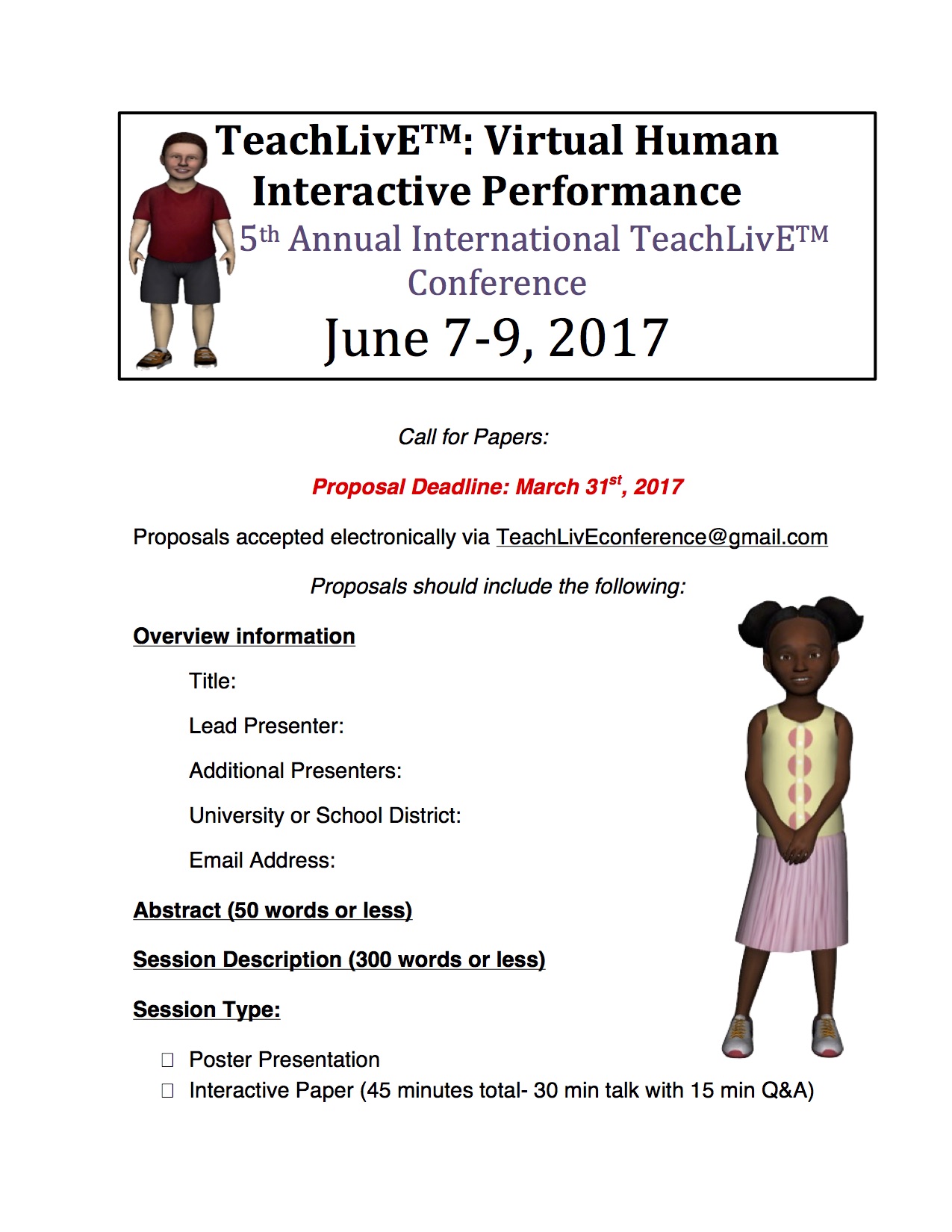 ---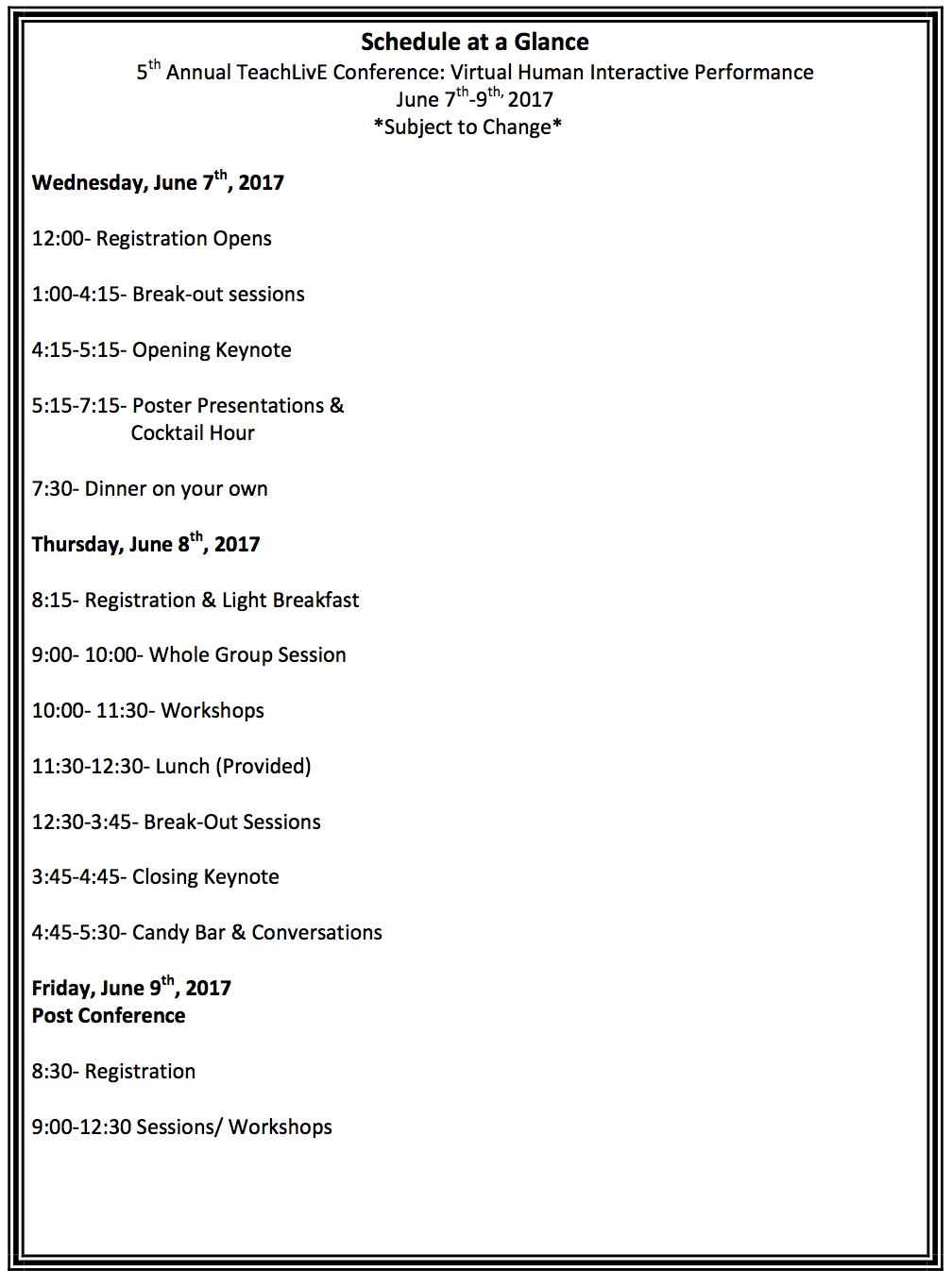 ---
Hotel Accommodations:
**Both Hotels offer complementary Hot Breakfast and Free WIFI**
Hampton Inn: 3450 Quadrangle Boulevard, Orlando, Florida, 32817, USA TEL: +1-407-282-0029
Booking Link: http://group.hamptoninn.com/teachlive2017
Homewood Suites: 3028 N. Alafaya Trail, Orlando, Florida,32826, USA TEL: +1-407-282-0067
Just Renovated!
Booking Link: https://secure3.hilton.com/en_US/hw/reservation/book.htm?inputModule=HOTEL&ctyhocn=MCOAFHW&spec_plan=CHWTLC&arrival=20170606&departure=20160610&cid=OM,WW,HILTONLINK,EN,DirectLink&fromId=HILTONLINKDIRECT
---
Transportation:
There are many options for transportation from the airport to the University of Central Florida.**Unfortunately there is not a shuttle from the airport to either hotels or the University.**
*Taxis are estimated at $55.00 one way. You can click on this link for additional fare estimates
*Uber transportation with estimates cost around $51 from the airport and $20-$35 (depending on size of car) to the airport. Click this link for updated prices and additional estimates. If you have never used Uber before, you can use this code for a $20 off your first ride: MZVEF
*Car Rental: Car rentals can range anywhere from $22-$66 a day, depending on your choice of company.
More information to come. So stay tuned!
Please contact Taylor Bousfield @ TeachLivEconference@gmail.com with any questions!
____________________________________________________________________________________________________
ETS Post-Conference Opportunity!
Friday June 9, 2017
9:00 AM – 1:00 PM, Room Info TBD
Paid Focus Group Study for Teacher Educators to Evaluate a Scoring and Reporting System Prototype Mockup Designed to Provide Formative Feedback to Pre-Service Teachers on Their Performances in the Online Classroom Environment
Priya Kannan and Jamie Mikeska, Educational Testing Service, Princeton, NJ
Educational Testing Service (ETS) is conducting a focus group study to investigate the types of feedback information that Teacher Educators would find most useful in an online scoring and reporting system for educators of pre-service elementary teachers. The scoring and reporting system is designed to conveniently score performances and provide formative feedback to pre-service teachers on their performance leading group discussions with elementary student avatars in an online simulated classroom.
We are seeking up to 10 Teacher Educators to help us understand the types of feedback information useful in this formative context. Selected participants will spend approximately four hours participating in a focus group offered as part of the TeachLivE post-conference workshops. Prior to the focus group meeting, you will complete a brief online questionnaire, which should take about 15 minutes. During the focus group meeting, you will review a virtual interactive performance task that is intended for use within a teacher education program. You will then review and comment upon various scoring and reporting features that would be beneficial to include as part of formative scoring and reporting system for Teacher Educators. We will do this through whole-group and small-group discussions and by presenting some example mockups of scoring and feedback elements envisioned as a system for Teacher Educators. Finally, post-meeting (approximately two to three weeks after the focus group), you will answer a brief online survey (from your desktop or laptop computer) confirming the importance and usefulness of needs identified during the meeting to you as a user. This online survey should take less than 30 minutes to complete. Including the pre-survey, focus group discussion, and post-survey, the total time commitment for this project is five hours.
If you complete the entire study (i.e., pre-meeting questionnaire, focus group, and post-meeting survey), you will receive an honorarium of $250. To our knowledge, this is the first study to investigate the types of feedback information relevant to a virtual interactive performance task that is intended for use within a teacher education program. As a teacher educator participating in this study, you will have the opportunity to provide your insights and inputs during the developmental stages of a scoring and reporting system. Please note that you will not be evaluating a functional system, but preliminary mockups of a prototype scoring and reporting system in this study.
Please note that this study is not part of the regular conference sessions. It is a paid study, and taking part in this study is entirely voluntary. You have the right to have all of your questions answered before deciding to participate, and you may withdraw at any time. There are no foreseeable risks to participating in this study. All information that is obtained during this study will be confidential. A unique identification number will be assigned to your feedback and responses, which will be stored in a locked filing cabinet, and your name will not appear in the report summarizing the results from this study. As per ETS protocol, all identifiable data will be destroyed five years after completion of the study.
To participate in this study, please email Andrew Bryant [adbryant@ets.org] for more information by May 12, 2017. Andy will have you fill out an online intake form, and you will be contacted about whether you are selected to participate.
---
I understand and agree that UCF will be using a 3rd party vendor for event registration and planning purposes, which will collect personal information (e.g., name, title, address, phone, email, etc.) on behalf of UCF. I also understand that the UCF vendor is obligated to protect my personal information and not share, sell, or trade with other parties. UCF will have sole access to your information for the purposes of event planning. Information you provide to the vendor will be used for registration and TeachLivE Conference event purposes only.