5th Annual Interfaith World Peace Pilgrimage

Sunday, September 1, 2013 at 8:30 AM (PDT)
Event Details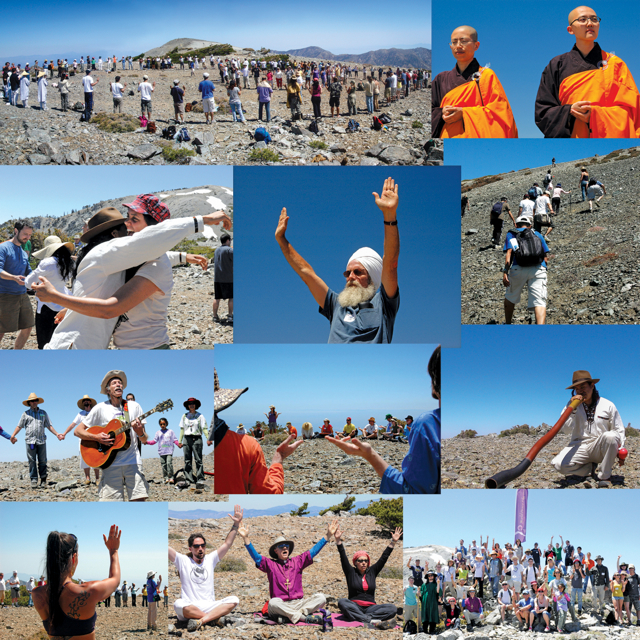 5th Annual Interfaith World Peace Pilgrimage
Sunday, September 1, 2013
Mt. Baldy, CA
Free event!
Full details at www.worldpeacepilgrimage.com
For the past four years, hundreds of people from various different faiths have come together on sacred Mount Baldy in the San Gabriel Mountains, east of L.A., to send out a wave of love and light to the world!
This inspiring and joyous event draws together local spiritual and religious communities to walk together, sing together and pray together in the heart of nature for a more peaceful world.
Registration: 8:30am - 9:30am, Mt. Baldy Ski Resort parking lot
Ceremonies will be held at 3 different locations/elevations on the mountain.

Location 1 ceremony starts at 11:00am

Location 2 ceremony starts at 11:30am 

Location 3 ceremony starts at 12:30pm

 
Free event! The only cost is the ski-lift ticket which is around $15 and is paid to the Mt. Baldy Ski Resort.
This is a non-profit, non-commercial, non-political event, and is organized by The Aetherius Society, a registered non-profit 501(c)3 spiritual organization dedicated to world healing and enlightenment.
For further questions, please contact The Aetherius Society at (323) 465-9652, or send email to info@worldpeacepilgrimage.com
Organizer
The Aetherius Society
The Aetherius Society is a worldwide spiritual organization dedicated to the salvation and enlightenment of humanity – and towards the great dawning New Age of the Mother Earth. The Society was founded in England in 1955 by trance medium and Master of Yoga, Dr. George King, and later incorporated in America in 1960 as a 501(c)3 non-profit organization.
The Aetherius Society cooperates with Ascended and Cosmic Masters to help build the New World through spiritual energy radiation, healing, spiritual development and education. We are here to serve.
Our motto is: "Service is the Jewel in the Rock of Attainment"
For further information, please visit: www.aetherius.org