Description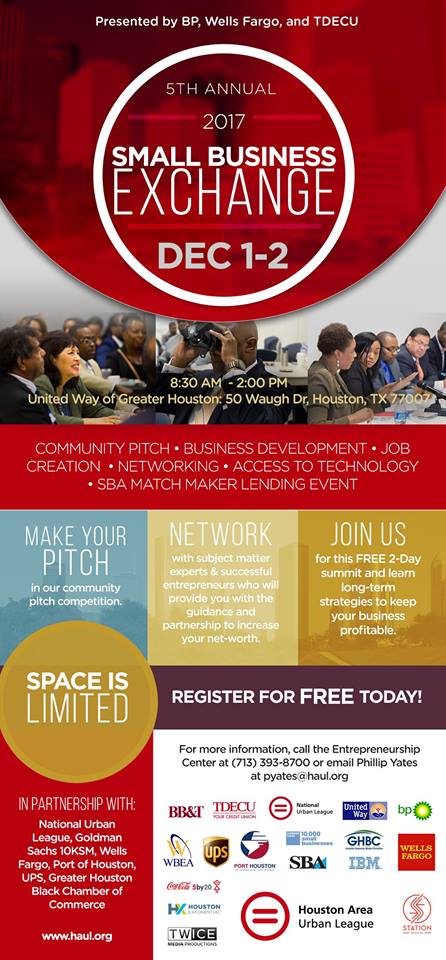 2017 Houston Small Business Exchange
The Houston Area Urban League Entrepreneurship Center, in partnership with BB&T, BP, HCC Goldman Sachs 10,000 Small Businesses, TDECU, United States Small Business Administration, Wells Fargo, Port of Houston Authority, UPS, Coca Cola, Woman's Business Enterprise Alliance (WBEA), and Twice Media Productions present this One Day Entrepreneurship Summit.
The Small Business Exchange will offer you countless opportunities to network and learn from other successful entrepreneurs and industry leaders. Your registration will include interactive workshops that will provide both the resources and guidance you need to achieve scalable returns on your investments and take your businessto the next level. This is your chance to connect with corporate and other diverse owned businesses looking for key partnerships and ways to collaborate in today's robust ecosystem.
There is no cost for your participation with your registration! This event is subsidived through our partnerships with the National Urban League Entrepreneruship Center.
DON'T FORGET TO SUBMIT YOUR APPLICATION!!!
Your registration will include the opportunity to pitch your business in efforts to win up to $7,500.00 in cash.
The purpose of this community pitch competition is to help established minority entrepreneurs obtain the necessary management skills that will enable them to take advantage of venture capital opportunities and qualify for financing that will lead to higher levels of sustainable business growth.
For more information or to apply for the community pitch, contact Phillip Yates at pyates@haul.org or call our office at 713.393.8700.