Description
Please Join us for our Annual Harvest Gala.  Enjoy complimentary wine and hors d'oeuvres when you arrive then feast your eyes on our fabulous raffle prizes.  Soon you will be seated to dinner, and Live Auction with David Sobon.  Please contact Lisa Peat for whole table reservations as well as Sponsorships!  Thank you for Supporting The Taylor House. 
Lisa Peat, Founder: 916 947-8823
The Taylor House 
Our mission of "Supporting The Taylor House, Inc." is to Empower Independence by Teaching Essential Life skills and offering affordable rents to Transitioning Foster Girls ages 18-21. Located in Roseville, CA
JOIN US for an exciting evening of Live Auction by David Sobon, Raffles,

Fabulous Prizes,  Dinner & Fun at the LUXURIOUS
 TIMBER CREEK BALLROOM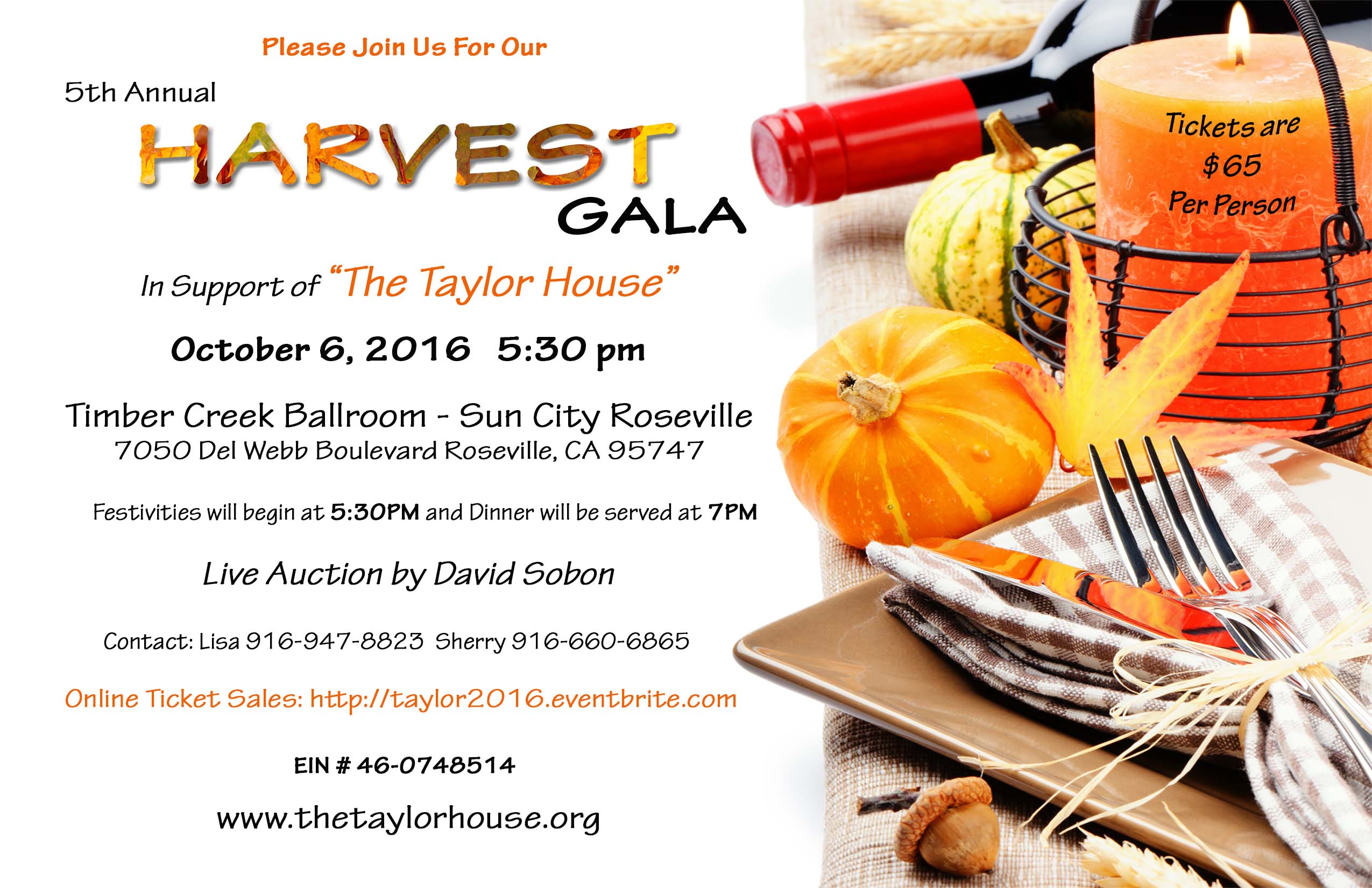 The Taylor House is a non-profit organization that assists transition aged former foster youth and "at risk/homeless" youth by offering affordable rent, teaching life skills, setting career & education goals, while offering guidance navigating in life.
Can you imagine transitioning into adulthood with little to no family support? This is the unfortunate and often untold story for foster children who are suddenly considered adults at the age of 18. At this turning point in their young lives, these at risk youth are forced into the real world and are often expected to fend for themselves. Many heartbreaking stories and statistics are proof that the odds are stacked against them because guidance and support play such a vital role at this critical period in their lives.
The Taylor House, a 501(c) (3) non-profit organization, founded in 2012, was opened to help improve these odds. Most of the young women who apply to live at the Taylor House have already endured more emotional stress than many of us will encounter in a lifetime. They arrive with a variety of needs.  They lack a sense of self-confidence and direction, often have no driver's license or means of transportation, and most have only a dim view of what the future holds for them.
At the Taylor House, these young women are provided with endless opportunities for them to succeed through job training, academic assistance, and the means to experience day-to-day adult responsibilities in a safe and affordable home environment.
All of these young women are welcomed as family at the Taylor House and their accomplishments are recognized and celebrated. They are encircled with support and we are happy to offer them individual support, through housing scholarships as well as our programs such as Match-a-Car Program.
Join us in giving our communities' former foster youth the chance they deserve. You can help them reach their goals, follow their dreams, and further their education. You can show them they haven't been forgotten; they really do matter. Help us so we can help them because they are worth it!
Please join us on Thursday, October 6, 2016 as a sponsor for the Fith Annual Taylor House Gala at the Timber Creek Ballroom in Sun City Roseville. In addition to great music and an elegant sit-down dinner, you're sure to enjoy the live auction led by the highly entertaining and energetic David Sobon of David Sobon Auctions.
 There are several levels of tax-deductible sponsorship opportunities available. If you would like to help us make a difference in the lives of these young women, please complete and return the enclosed Sponsorship form.
 We thank you in advance for your consideration.
Our annual fundraiser will be held October 6th, 2016 at the Timber Creek Ballroom (Sun City Roseville). We are reaching out to our community members in hopes of receiving contributions for the house to support similar girls, such as Anna.
The event will include passed hors d'oeuvres, a sit down dinner, music, live auction and a fun evening of awesome raffles!
We need your help & are looking for sponsors and donations like yourself for our event.
Your help is greatly appreciated and will bring awareness and recognition to your business. Your continued support will benefit The Taylor House and the young women who live there.
 Thank you & warm regards,
Lisa Peat, Founder/Executive Director
 Want to do more than just attened?!? SPONSER US!!! Contact Us Today & find out how your generious donation can help us all year long!
The Taylor House  *  Email: lisapeat@sbcglobal.net  *  Phone: (916) 947-8823
EIN # 46-0748514