Event Information
Location
Central Middle School
4795 Magnolia Ave
Riverside, CA 92506
Refund Policy
Refunds up to 7 days before event
Description
Online Ticket Sales for the Conference Ends Monday, April 2, 2018 at 11:59 PM.
Additional tickets will be available at door on April 4, 2018.
Join us for the 5th Annual GrowRIVERSIDE Conference: Cultivating Local
Learn from 10 sessions through five tracks.
Network with regional food systems stakeholders.
Conference keynote speaker: Curtis Stone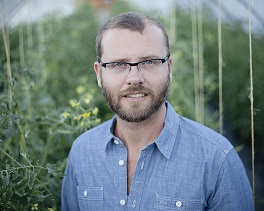 Curtis Stone is a farmer, author, speaker and consultant with expertise in high value, quick-growing annual specialty crops for direct consumer market streams. His book, The Urban Farmer, demonstrates organic intensive techniques with a focus on business and growing systems to streamline labor and production. Stone offers a new way to think about urban farming where quality of life and profitability coexist. Curtis' farm, Green City Acres located in Kelowna, BC, Canada, generates $100,000 per year on one-quarter acre utilizing a mix of specialty crops and intercropping strategies; Green City Acres is internationally recognized as a flagship urban agricultural model demonstrating profitability and productivity.
Breakout Sessions
Track 1: Agritourism
Track 2: The Business of Urban Farms
Track 3: The Workings of a Sustainable Farm
Track 4: Community Crops, Health, and Polict
Track 5: Training the Next Generation (Student Program)
Register today!
Ticket holder voluntarily assumes that their email will be used to receive emails pertaining to GrowRIVERSIDE. We are committed to keeping your e-mail address confidential. We do not sell, rent, or lease our subscription lists to third parties, and we will not provide your personal information to any third party individual, another government agency, or company at any time unless compelled to do so by law.
Date and Time
Location
Central Middle School
4795 Magnolia Ave
Riverside, CA 92506
Refund Policy
Refunds up to 7 days before event