Description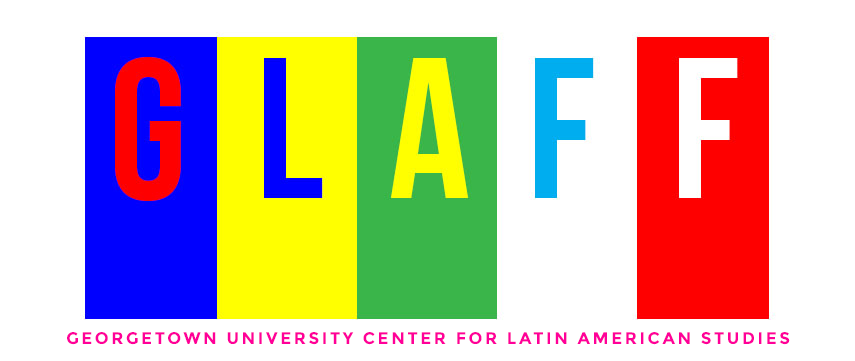 The Georgetown University Latin American Film Festival organized by the SFS LatAm Council with support from the Center for Latin American Studies invites Georgetown University students, faculty, staff, aumni, policymakers, and the greater Washington academic community to explore and discuss Latin America through film. We invite all attendees to join us for an opening reception at 6:00pm on Thursday, April 5th.

The Screening Schedule is as follows:
Thursday, April 5th: First Lady of the Revolution in ICC Auditorium
First Lady of the Revolution is the remarkable story of Henrietta Boggs, who fell in love with a foreign land and the man destined to transform its identity. Her marraige to Jose 'Don Pepe' Figueres in 1941 led to a decade-long journey through activism, exile and political upheaval and, ultimately, lasting progressive reforms. This film is not only a depiction of the momentous struggle to shape Costa Rica's democratic identity; it's also a portrayal of how a courageous woman escaped the confines of a traditional, sheltered existence to expand her horizons into a new world and live a life she never imagined.
Panel moderated by Director of Center for Latin American Studies, Father Matthew Carnes: Ambassador Roman Macaya Hayes, Former Ambassador Muni Figueres, James Mirabello- Production Manager
---
Friday, April 6th: Olancho in Pre-Clinical Science Building, Auditorium LA-4
Olancho is the story of the most lawless province in Honduras, the most murderous country in the world. It is the story of a group of musicians who perform for the powerful drug cartels there. Their songs glorify the traffickers who have destroyed their country, and who sometimes threaten the lives of their loved ones. But in a world where the cartels wield the most power, do the musicians have any other choice?
Panel moderated by Professor Anna Deeny: Christopher Valdes, Director and Mónica Oehler Toca, Representative from Inter-American Commission on Human Rights
---
Saturday, April 7th: Dreaming Nicaragua in Film Screening Room at Healy Family Student Center
Dreaming Nicaragua is a film set in rural Nicaragua that follows four children living in extreme poverty. The hardships their families and communities face are told through their voices in a surprisingly insightful way. The movie's plot moves with the travels of an art teacher who provides a creative outlet for the students to escape the stresses of their reality and let themselves dream of a better future -- a future free from: the vicious cycle of hunger, child labor, and violence. Despite the extreme circumstances, the children and their families face their lives with an inspiring unity, strength and humor.
Panel moderated by Marcela Perez, Director of Grants at Fabretto: Marcelo Bukin, Director, and Amy Ostrander from Project Concern International