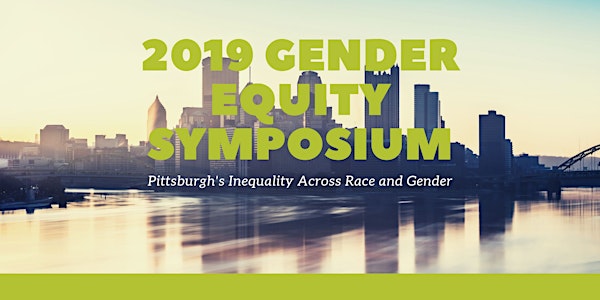 5th Annual Gender Symposium: Pittsburgh's Inequality Across Gender and Race
When and where
Location
Chatham University Shadyside Campus Woodland Road Pittsburgh, PA 15232
Description
---
OVERVIEW
This year's symposium offers our community the time and space to think together about next steps and policy solutions following the publication of the white paper, "Pittsburgh's Inequality Across Gender and Race." Released recently by Pittsburgh's Gender Equity Commission, this report on gender and racial inequality in our city found serious disparities for all women, and especially for Black women and girls. Conducted by researchers at the University of Pittsburgh, the report looked at 50 different outcomes related to health, income, employment, and education in 90 cities.
The findings are stark, including: Pittsburgh's Black maternal mortality rate is higher than 97 percent of other cities. Pittsburgh's Black women are also less likely to be employed and more likely to live in poverty than Black women in 85 percent of cities. And Black men are experiencing higher occupational segregation, homicide rates, cancer and cardiovascular disease compared to Black men in other cities.
For many of Pittsburgh's Black residents, these statistics are not surprising. As the report makes clear, Pittsburgh must address the reality that it is less livable for Black residents, and particularly Black women and girls, than the majority of U.S. cities. The factors described in the report are impacting real people, right now. Black women and girls are not just numbers or statistics, and the entire city has an obligation to act. This symposium is one opportunity to be involved. (To learn more about the Gender Equity Commission and the next steps it will be taking, please see the GEC Statement here.)
FORMAT
The opening panel will feature local community leaders who have been working on issues related to gender inequality, especially in communities of color. The purpose is to provide historical and local context and to highlight the work that has been going on in Pittsburgh for many years, especially around poverty, income, jobs, health, and education. Panelists will discuss local coalitions and organizational efforts, and will also highlight community assets and strengths.
Then the University of Pittsburgh scholars will walk us through the data and major findings, and there will be a Q&A. After their presentation, the audience will move to break out sessions facilitated by community leaders, members of the Gender Equity Commission, and faculty members of the Pittsburgh Gender Scholars Consortium. When you register, you will choose one of four thematic areas from the report for your break out session (Health, Income & Poverty, Employment, and Education). The break out sessions will offer participants the opportunity to ask questions and engage in robust conversation around the issues raised in the report. The goal is to use our time together to tap the depth and breadth of expertise in our community with the aim of presenting actionable items to the Gender Equity Commission, which will be making policy recommendations to the City.
SCHEDULE
8:30AM Registration, coffee, networking
9:30AM Opening session with moderated panel of community leaders
10:45AM Presentation of report and Q&A
12:00PM Breakout sessions with lunch
1:30PM Wrap up
WHO SHOULD ATTEND
The symposium is open to all gender scholars, students, organizational leaders, policy makers, and community members committed to issues related to women, girls, and gender equity. For the past several years, the symposium has "sold out" within minutes. This year, we are adding seats and changing the format to accommodate more people. Thanks to sponsorship from the Women's Institute at Chatham University, the symposium will remain free and open to the public with registration. Lunch is included. Childcare is available upon request with registration.
SPEAKERS
The opening panel will feature:
• Tyra Good, Assistant Professor of Practice in Education, Chatham University
• Sharon R. Higginbothan, Chief Operating Officer, Bethlehem Haven
• Jada Shirriel, CEO Healthy Start
• Tammy T. Thompson, Executive Director, Circles Greater Pittsburgh
• Moderator: Kelauni Cook, Founder & Executive Director, Black Tech Nation; Co-Founder, Distributed49; Member, Gender Equity Commission
The presentation of the report will feature several scholars from the University of Pittsburgh who co-authored "Pittsburgh's Inequality Across Gender and Race":
• Junia Howell, Assistant Professor of Sociology.
• Sara Goodkind, Associate Professor of Social Work, Sociology, and Gender, Sexuality, and Women's Studies.
• Leah A. Jacobs, Assistant Professor in the School of Social Work.
• Dominique Branson, Ph.D. Candidate, Department of Linguistics.
• Liz Miller, Professor in Pediatrics, Public Health, and Clinical and Translational Science; Director of the Division of Adolescent and Young Adult Medicine, UPMC Children's Hospital of Pittsburgh.
FAQs
Where should I park?
Parking is free in the Library Parking Lot which you can only enter off of Murray Hill Avenue (not to be confused with Murray Avenue).

Murray Hill Avenue can be reached from both Wilkins and Fifth Avenue and is a cobblestone street. From Fifth Ave, it is located between Maryland Ave and S. Negley Ave. From Wilkins, it is located between Murray Ave and S. Negley Ave.

Campus Map
How can I contact the organizer with any questions?
Email Melody Harris at m.harris@chatham.edu or call 412-365-1578
Do I have to bring my printed ticket to the event?
No ticket is required.
Is it ok if the name on my ticket or registration doesn't match the person who attends?
Please contact Melody Harris at m.harris@chatham.edu or 412-365-1578 if someone else will be attending in your place.
Will childcare be provided for this event?
Yes, we will have on-site child care for children aged 2 and up. Please indicate your interest and the number and ages of the children when you register. If you need care for a child younger than two, please contact Melody Harris directly at m.harris@chatham.edu or call 412-365-1578.
FACILITATORS
Marian Aguiar

• Associate Professor, English, Carnegie Mellon University

Yodit Betru

• Director MSW Program, School of Social Work, University of Pittsburgh

Sonya Borrero

• Associate Professor of Medicine and Director, Center for Women's Health Research and Innovation (CWHRI), University of Pittsburgh School of Medicine

Teri Bradford

• Lead Editor, Allbodies; Founder, The Table

Britney Brinkman

• Associate Professor, Psychology, Point Park University

Randi Congleton

• Assistant Dean for Diversity, Equity, and Inclusion, Chatham University

Kelauni Cook

• Founder & Executive Director, Black Tech Nation

Nicole M. Elias

• Visiting Scholar, Chatham University

Brandi Fisher

• President/CEO, Alliance for Police Accountability

Lee Fogarty

• Vice Chair, Gender Equity Commission

Sue Frietsche

• Senior Staff Attorney, Women's Law Project

José Garth

• Violence Prevention Program Manager, Planned Parenthood of Western Pennsylvania

Tyra Good

• Assistant Professor of Practice in Education, Chatham University

Eliada S. Griffin-EL

• Associate Professor, Management, Director, Massey Center for Entrepreneurship and Innovation, Robert Morris University

Cheryl Hall-Russell

• President & Chief Cultural Consultant, BW3

Sarah Hansen

• Principal, EnterChange Group; Treasurer, Gender Equity Commission

Sharon R. Higginbothan

• Chief Operating Officer, Bethlehem Haven

anu jain

• Executive Director, Gender Equity Commission; Founder, Inclusant

Barbara Johnson

• Senior Director of Race and Gender Equity, YWCA Greater Pittsburgh

Rona Kaufman

• Associate Professor, School of Law, Duquense University

Kelly Nestman Lockwood

• Program Manager, The Center for Women, National Council of Jewish Women

Janet K. Manuel

• Director, HR & Civil Service and EEO/D&I Officer, City of Pittsburgh

Michelle Naccarati-Chapkis

• Executive Director, Women for a Healthy Environment

Jessica Ruffin

• Senior Leader of Equity and Inclusion at Allegheny County Department of Human Services

Monica Ruiz

• Executive Director, Casa San Jose

Sarah L. Schulz

• Associate Professor, Psychology Department, Point Park University

Jada Shirriel

• CEO, Healthy Start

Celeste C. Smith

• Arts & Culture Program Officer, The Pittsburgh Foundation; Co-Founder of 1Hood Media Academy

Devon Taliaferro

• Community Engagement Coordinator, Midwife Center for Birth & Women's Health

Tammy T. Thompson

• Executive Director, Circles Greater Pittsburgh

Kristy Trautmann

• Executive Director, FISA Foundation

Erin Tunney

• Visiting Scholar, Chatham University

Ngozi Walker-Tibbs

• Pittsburgh Black Breastfeeding Circle

Ana Kay Yaghoubian

• Director, Education Programs, Adagio Health