5th Annual Garagiste Festival: Urban Exposure

Saturday, July 21, 2018 from 2:00 PM to 6:00 PM (PDT)
Event Details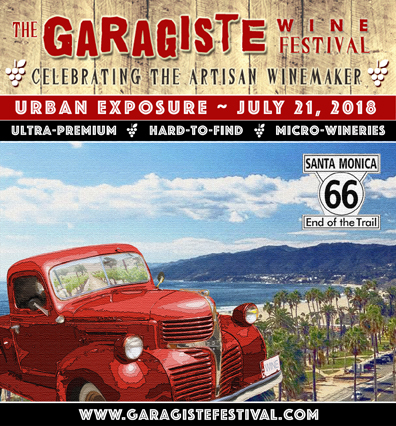 We are excited to announce that we will be holding our 5th Annual Garagiste Urban Exposure Festival on July 21st back in Santa Monica. This is a lovely, intimate, historic building right in downtown Santa Monica...and this year it will have A/C! 

The popularity of our unique micro-winery events is skyrocketing, and we are excited to bring small-lot winemakers back again to our home town. The 5th Garagiste Urban Exposure Festival will showcase over 40 excellent but hard-to-find wineries from all over CA

Over 70% of Urban Exposure participants do not have a tasting room - so this is truly a singular chance to discover and meet the next great winemakers and get the opportunity to taste their amazing micro-production wines. Your appointment to try these wines is all in one room, right here! You won't be able to duplicate this tasting experience at any other wine event - plus you don't have to drive 2-3 hours to be explore all of these wines. 
To provide a better tasting experience on both sides of the table, tickets to this event are limited.
PARTICIPATING WINERIES INCLUDE: Alma Sol Winery, Ann Albert Wines, Ascension Cellars, Bellante Family Winery*, Betwixt Wines*, Brophy Clark Cellars, Byron Blatty*, Caliza Winery, Cavelletti Vineyards*, Cloak & Dagger, Cutruzzola Vineyards, Domane Kreger*, Dusty Nabor Wines*, El Lugar Wines, Frisco Cellars*, Golden Triangle, Gordenker Wines*, Hoi Polloi Wines, In Vino Musicas*, Kaleidos Winery, Kitson Wines*, LA Wine Project*, Lavender Oak Ranch*, Leverage Wines, Luna Hart, Magna Vita Cellars*, Malibu Ridge Vineyards*, Marin's Vineyard, Mastro Scheidt*, Metrick Wines, Monochrome Wines, Montagne Russe, Murder Ridge Vineyards, On Your Left, Parmeson Wines*, Pulchella Winery, Record Family Wines*, Siela Wines*, Stolo Family Vineyards, Sweetzer Cellars, Sycamore Ranch, The Blending Lab*, Tlo Wines, Torch Wines*, TW Fermentations, Vinemark Cellars, Volatus Wines and Wildwood Oak Winery*.
Meet the winemakers, taste their passion! 
*First time pouring in LA!
When & Where

Santa Monica Bay Woman's Club
1210 4th Street
Santa Monica, CA 90401


Saturday, July 21, 2018 from 2:00 PM to 6:00 PM (PDT)
Add to my calendar
Organizer
The Garagiste Festival is the first and only wine organization dedicated to the undiscovered and under-recognized artisan 'garagiste' producers who are making some of the best, most exciting, handcrafted small lot production wines in the world. We hold an annual Festival in Paso Robles, CA in November, as well as many other events throughout the year to showcase wines from across California.