About this Event
The Festival of Texas Fiddling and Texas Folklife are proud to present the 5th Annual Festival of Texas Fiddling at historic Twin Sisters Dance Hall in Blanco, Texas. The 2019 Festival features two days of Texas fiddling and dancing.
Texas has the most diverse array of fiddle music in the country, many of which will be represented at the Festival. These include Country, Creole, Western Swing, Texas Polish, Old Time, Tejano , and Son Huasteco.
The 5th Annual Festival of Texas Fiddling also features a symposium of scholars, musicians, and tradition bearers that will allow audience members to witness and join the conversation on the roots of Texas Fiddling and its evolution over the years. Scholars and musicians from all over the country will be in attendance.The Festival of Texas Fiddling was made possible in part by Humanities Texas, Texas Commission on the Arts, and the Center for Popular Music, Sherman and Co. Realtors, and BBR Partners.
Buy online and save $5!!
All advance tickets available until midnight Thurs 12/5. Afterward, Tickets available at the door:
Friday Tickets will be $10 at the door
Saturday Tickets will be $15 at the door
Fiddle Fest Tickets do NOT grant admission to the Bobby Flores Evening dance.
Camping Information:
The camping is all around the Twin Sisters Dance Hall, which is a beautiful spot filled with plenty of good flat spots. The cost is $20/camper/night or $30 for 2 nights. RVs are ok and you can also tent camp. There are no hookups for RVs but there will be portajohns. There are NO fires allowed, to prevent damage to the historic dance hall or the grounds. The payment is directly to Twin Sisters Dance Hall, they have the paperwork for the camping when you arrive. Jamming on the grounds is of course welcome. See you in December!
Please direct all camping questions to: festivaloftexasfiddling@gmail.com
5th Annual Festival of Texas Fiddling Schedule (subject to change)
*******2 Days of Music and Dance on 2 Stages - Only $20!*****
Camping Available! Excellent Food and Ice Cold Beer!
Friday Dec 6, 2019
6-6:45 Felipe Perez y sus Polkeros
7:00-10 Texas Slavik Playboys with Brian Marshall
Saturday, Dec 7, 2019:
The Dance Hall stage:
11-12 Kevin Anthony & G Town (Harry Choates style)
12:15-12:45 David Varnado (award winning country)
1-15-2:15 Jack Phillips (Western Swing) with Mark Rubin & John Fabke
**Including Texas 2 Step Dance Lesson with Julie Vogler **
2:30-3:00 Huapango Dance Lesson (Trio Paseador Hidalguense & Tomas Salas)
3-3:30 Trio Paseador Hidalguense (Texas Son Huasteco)
3:45-4:30 Belen Escobedo y Panfilo's Güera
4:45-5:45 Brian Marshall (Texas Polish)
The Texas Traditions Stage:
11:15-11:45 Dan Foster
12-12:30 Texas Folklife Fiddle Apprentices
12:45-1:15 Harry Bolick (Mississippi in Texas)
1:30-2:00 Shinbone Alley String Band (Texas Old Time)
2:15-2:45 Jason Andrew (Texas Style)
3:00-3:30 Luke Bulla (Country & more)
3:45-4:45 Texas Tune Travels (Dan Foster, Harry Bolick, Jason Andrew, Luke Bulla, Howard Rains , Tricia Spencer)
5:00-6:00 Tricia Spencer & Howard Rains, the Spencer Rains Family Band (5 Generations of Old Time Fiddle)
Advance Tickets available here:
https://www.eventbrite.com/e/5th-annual-festival-of-texas-fiddling-dec-6th-7th-tickets-71668050067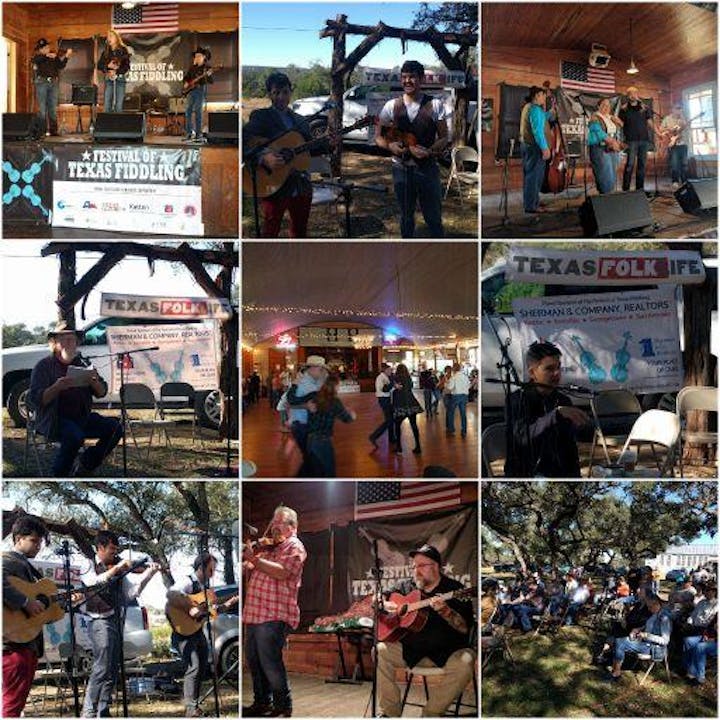 Highlights from the 2017 and 2018 Festival of Texas Fiddling!