Mark your calendar for the 5th annual Fairfield Glade Music Festival on Sept 18th at the Grove (Corner of Peavine and Stonehenge).
About this event
Mark your calendar for the 5th annual Fairfield Glade Music Festival on Sep 18, 2021 at The Grove (corner of Peavine and Stonehenge).  The event is a major fundraiser for the FG Rotary Club.  The money that is raised provides the funding for Rotary to support scholarship programs, local non-profits and other charitable organizations and causes throughout our community and the world.  Advance tickets for $15 are available. Tickets will also be available at the Gate for $20 during the event. A special thanks to our major sponsor, Dave Kirk Automotive.  
This year The Fairfield Glade Music Festival will be featuring Sail On - the most booked beach boys tribute band in the world! With special opening by TOWNE at 2:00 PM.
This is a rain or shine event.  Bring your lawn chair. Tickets are also available for purchase at the FG Center, Christy's Pub Grub, Frist National Bank of TN, or from any FG Rotarian.  Adult beverages and food will be available for purchase.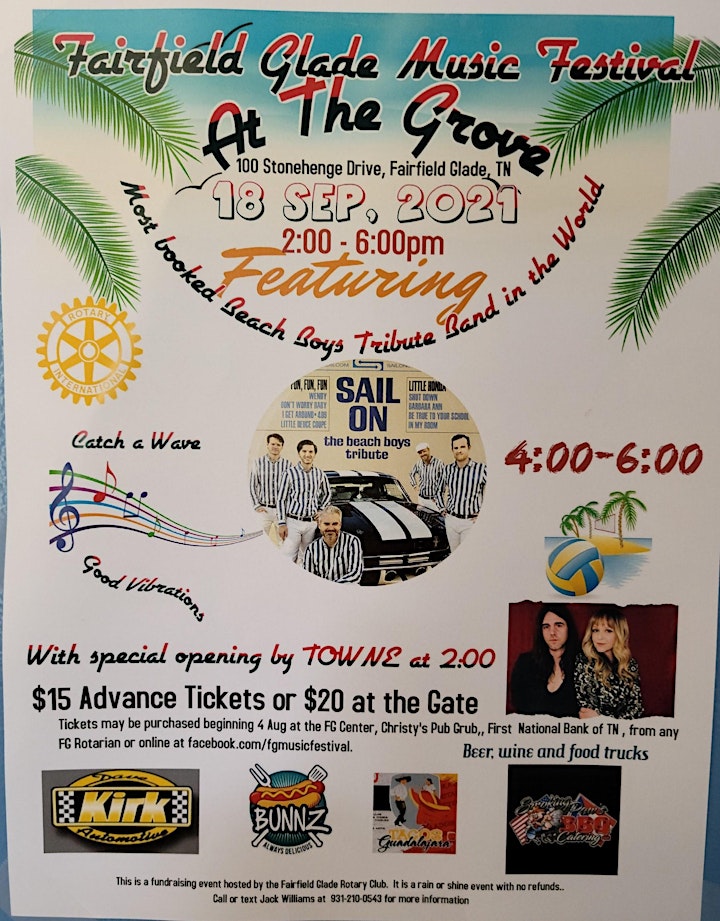 Organizer of 5th Annual Fairfield Glade Music Festival
Rotary is an organization of business and professional people united worldwide who provide 
humanitarian service, encourage high ethical standards in all vocations and help build goodwill and 
peace in the world.  The members of the Fairfield Glade Rotary Club are part of over 1.2 million 
members in more than 34,000 Rotary Clubs throughout the world.  

What is Rotary?

Object of Rotary

To encourage and foster the ideal of service as a basis of worthy enterprise, and in particular, to 
encourage and foster:  


t

he development 

of

 acquaintance

 as an opportunity for service




h

igh 

ethical

 standards in business and professions, the recognition of the worthiness of all 
useful occupations, and the dignifying of each Rotarian's occupation as an opportunity to 


serve society;



the application of the ideal of service in each Rotarian's personal, business, and community 


life; and




t

he advancement of international understanding, goodwill, and peace through a world 
fellowship of business and professional persons united in the ideal of service.

Are you interested in becoming a Rotary member? If you believe in the tenet "service above self", 
Rotary may be the right organization for you.  You are encouraged to watch this 

short video

 which 
gives a quick overview of Rotary.  If you are willing to serve and want to make a difference, we 
would be honored for you to be our guest at one of our 

Tuesday meetings

. Normally meetings are held at Legend's of Druid Hills. Lunch is served at 11:30 AM with the meeting starting at noon.   There are no obligations or expectations for guests...just check us out and see if you want to be a part of a wonderful organization.  Lunch is on us.