Description
On Saturday April 13 2019 comes the 5th annual DETROIT ARTIST BAZAAR showcasing and supporting Detroit art and artists! Now hosted at newly restored Hubbard Ballroom of the Ford Community & Performing Arts Center in Dearborn, DAB will feature 100+ local artists and artisans selling original artwork and handicrafts from small curios to large pieces. All artists keep 100% of their commissions.
It's FREE ADMISSION and ALL AGES are welcome!
This all indoor event is open from 12 noon until 8pm with various food trucks available outside.
The artist roster will be listed here by March 13th (see below for info on participating).
And if you are on Facebook, help us spread the word by inviting a few friends to our event page there:
https://www.facebook.com/events/216890359264899/
So stop in and support local art...and don't forget to invite your friends!
5th Annual Detroit Artist Bazaar - Support Local Art!
Saturday April 13 2019 - 12p to 8p - Free Admission
Ford Community & Performing Arts Center
15801 Michigan Ave, Dearborn, MI 48126
http://www.DetroitArtistBazaar.com
---
INTERESTED IN SELLING YOUR ART? Further information and application can be found at:
https://form.jotform.com/dvsdetroitevents/dab5app
NOTE: This is for LOCAL ART AND HANDICRAFTS ONLY of your own creation and NOT for retail/commercial/MLM items or related services. If you are unsure if your items are acceptable, please contact us before registering a space.
---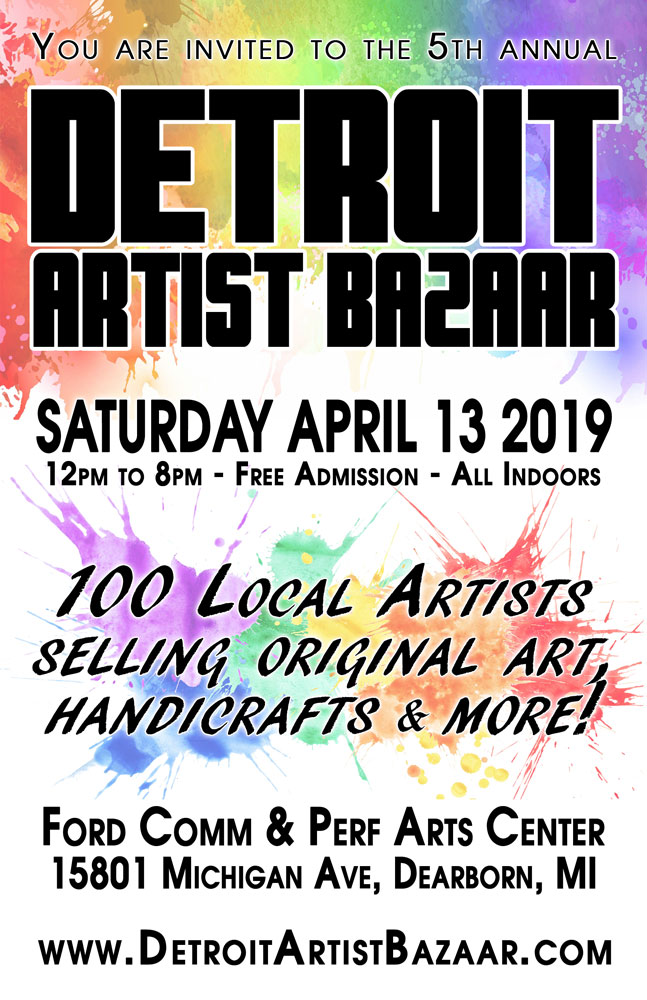 ---
Please welcome the fine Detroit artists of the 5th annual Detroit Artist Bazaar!
● 10|7 Apparel - Detroit inspired apparel
● 25 Dec Studios - Various hand painted and wood burned items
● 9 Designs Emporium - Specialty hand crafted candles & hand forged goods
● Abstract Art by Sandi - Acrylic abstract art on canvas various sizes
● AceTwilite Artistry - Drawings paintings and prints
● All About Denim Detroit - Handmade denim clothing and accessories
● Allen & Sons Woodworking LLC - We build Michigan adirondack chairs, tables & home decor
● AMT Visuals - Photos
● Anna Archer Artist - Acrylic and resin abstract
● Art by Ash - Paintings, prints, stickers, buttons, magnets
● Art by DAK - Original artwork and prints
● Aurora Paints - Framed art and canvas paintings
● B.B. Supply Co. - Original art, prints, illustration, paint, photography and live plants
● Baby Dragon's Treasures - Chainmaille/scalemaille jewelry and armor
● Bags to Butterflies - Handmade handbags, jewelry
● BeloZero Arts - Hand painted canvas paintings
● B-Heard - Woodworks/carvings and digital prints
● Black Dog - Jewelry featuring stones and semi-precious gems of Michigan and the Great Lakes
● BRANDVISIONS - Multimedia 2D artwork; paintings, drawings, prints
● Captured Wilderness - Fine art nature and wildlife photography prints
● d.Rose Art Studio - Various abstract art canvases
● DA.Neely Art - Abstract contemporary art, coasters, hand painted jewelry
● Dave Swartz Art - Comic book related stuff
● Debbie Malyn, Encore Designs - Urban photography with a few surprises
● Designs By Holly Joy - Abstract art on canvas
● Designs by Menaka - Original artwork of paintings, prints, magnets and coasters
● Detroit Coasters4U - Detroit-themed and personalized photo coasters and display tiles
● Detroit Fordite - Hand made jewelry made from Fordite
● Divine Pine Studios - Handmade ceramics
● Domestication Nation - Paintings, craft , repurposed art
● E.G.Bowen Photography - Puzzles & Prints - Jigsaw puzzles made from my original photographic images as well as my photographic prints
● Fae and Whimsy Soapworks - Handcrafted cold process soaps and bath bombs
● First Born Art - Original artwork, prints, CDs of my music, hand painted shirts
● Flexx Designs - Contemporary jewelry made of rubber, hardware elements and unique beads
● Flying Artist Company - Papercut art, printmaking, home decor
Hare and Moon: the art of Erin Kruczek and Clinton Meister - Artwork and accessories
● Harmonic Namaste - Jewelry, paintings, prints and pins
● Harper North Designs - Handmade jewelry that is wearable
● HiMyNameIsJes - Prints, products and souvenirs featuring Michigan/Detroit designs along with portraits
● ImperfectArt - Leather/inner tube bags
● IntoxiKate Designs - Unique OOAK handmade jewelry, limited edition prints and art pins, original artwork
● Ion's Crochet - Adult crochet clothing
● Irina's Studio - Papercraft, mixed-media, art journals, one-of-a-kind stiched art
● Jamies Beaded Treasures - Beaded garden art
● Jennifer Fleszar Art - Abstract paintings on canvas & furniture
● Jessie Lynne's Fine Art - Acrylics and canvases
● Joel Van Art - Paintings and custom jean jackets
● KeyTiger Creations - Art and accessories catering to cosplay anime community, hand painted and plush items
● Kia Ix Arts - Ceramics, stained glass, illustrations
● Laurel Shada / Bad Company Art - Sterling silver jewelry and ceramic pieces
● Leather Lew - Leather goods, coasters,, wooden signs
● LettersToSarah Metalsmithing - Unique artisan jewelry and metal creations
● Lightning Bug Beads - Handmade solar glass bead jewelry, orgone energy jewelry and suncatchers
● Linda Buck - Clay tiles
● Liv's Lil Creation - Handmade ceramic glass jewelry and pottery
● Lost Fern Goods - Paper goods, including stationery, stickers, art prints and bookmarks
● Lost Peninsula Fine Arts - Fine art oil paintings will be available as well as art prints
● Love Your Life - Hand crafted gemstone jewelry
● Luna Rosa - Handmade soaps and bath Products that resemble crystals
● Lunacy Art and Jewelry- Amanda Banosky - One of a kind pendants out of clay and wire with swarovski crystals, genuine stones
● Madetofit - Coats, sweaters, vests, hats and totes & cross body bags
● MadMax MetalWorks - Steel art
● Makazzi Graphix - Original acrylic based paintings, wood pallets, handmade jewelry and more
● Marisoo Artworks - Wire work art, trees, hermits, pendants, bulbs
● Mia's Acrylic Creations - Hand painted functional art
● Misty Bleu Art - Pottery, stone wrapped jewelry,
● Miwoodlandcreations - Ornaments for any occasion and handmade soaps and body products
● Molly May Art - Jewelry and pottery
● Monica Manning Photography - Photographs of abandoned Detroit locations
● Morley Art Studios - Glass art and prints
● Motor City Doll Haus - Hand painted realistic reborn dolls
● My Daughter and I Gemstone Designs - Handcrafted jewelry and accessories
● Natural Expressions by Ruth Rushloe - Nature baskets, tire shred weavings, nature embellishments
● No Sleeves Spray Art - Spray paint art
● On the Crystal Grid - Handmade jewelry and some small paintings
● Paintings by Cara - Acrylic and/or spray paint art on canvas
● Park Visuals - Original pairings and prints of my original artwork
● Phenomenal Woman i-klek'tik Creation - Art with a message, which includes jewelry and spirit dolls
● Poison Ivy Designs - Sterling silver wire wrapped and woven jewelry and accessories
● Poking Dead Things - Deathly elegant bone jewelry and home decor
● Posh and Stone - Handcrafted gemstone jewelry
● Querida Jordan - Eyeglass chains
● R.J. Stigleman - Acrylic paintings
● Rachel Quinlan - Original art, prints, enamel pins
● Rachel Wujek Illustration & Design - Variety of illustrated art prints, buttons, stickers and apparel
● Raw Metal Werks - Upcycled metal sculptures
● Ronnie Ramone (Fifth Element Studios) - Original paintings, drawings and leathercrafts
● Sarah Koch Illustration & Design - Prints of original artwork, cards and stickers
● Shattered By Natalie - Handmade mirror mosaic art, jewelry and home decor
● Staci Lichterman - Pop Culture Travel - Fluid acrylic paintings
● Tangled Creative - Handmade macramé, weaving and fiber art
● The Garden Goddess - Cement flowers and garden art
● The Leather Quill Shoppe - Heirloom leather tote bags, notebook covers and use our scraps for earrings
● The Pen is Mightier - Woodworking – pens and stools
● The Studio IT - Wearable art
● Third Eye Images By Yvonne - Photography
● TieDymnd Studios - Lasercut wood and wearables
● Tony Shopinski - Small paper coil baskets and mixed media constructions
● Unique Spice Wreaths - Handcrafted spice wreaths
● Wyckedz Place on the Moon - One of kind crystal & gemstone artisan pieces including jewelry items
● ZinneaZ Terrariums - Terrariums - live plants and air plants
- - -
LOCAL ART - FREE ADMISSION - INVITE YOUR FRIENDS!
https://www.facebook.com/events/216890359264899/
5th annual Detroit Artist Bazaar - Support Local Art!
Saturday April 13 2019 - 12p to 8p - Free Admission
Ford Community & Performing Arts Center
15801 Michigan Ave, Dearborn, MI 48126
http://www.DetroitArtistBazaar.com