Support our local restaurants and join in the 5th Annual Del Ray Candy Cane Bar Crawl (TO-GO)- Register Now!($5)
About this event
The Candy Cane Bar Crawl 2020 is happening!
Our restaurants need our support more than ever, and we are counting on you to help make this day a memorable one. This pandemic-adapted event will feature a "TO GO" bar crawl on Saturday, December 19th, where you will order your favorite holiday drink and food specials from your favorite participating restaurants in Del Ray. Pick up your packages and take them home to enjoy with your family or friends over Zoom.
Register Now! (Fee: $5)
Your $5 registration fee will go directly back into supporting purchases from local businesses for swag bags (which will be available until supplies run out) Registration also makes you eligible for:
***PLEASE NOTE NEW SWAG BAG PICK-UP INFORMATION AND NEW GIVEAWAYS!***
HOLIDAY SWAG BAGS: 250 swag bags will be available on the day of the event, while supplies last! Swag bag pickup will take place from 11AM to 2PM outdoors at the Del Ray Psych & Wellness Lot (1900 Mount Vernon Avenue -- the big blue buiding on the corner of Bellefonte & Mount Vernon Avenues). Drive up for curbside pick-up or walk up to the parking lot. Masks required. No need to bring tickets, but you must be on the registered list to pick up an item. First come, first served! Our Bar Crawl Team is so excited about seeing you all -- masked, and from a distance!
GRAND PRIZE RAFFLE BASKET & OTHER GIVEAWAYS! Your registration serves as a raffle ticket for prizes throughout the day, including the GRAND PRIZE RAFFLE -- gift certificates to all 15 restaurants (Value: $400!). Follow @visitdelray on Facebook for live announcements on the top of the hour from 12PM- 5PM. The grand prize raffle will be announced at 5PM. Over 20 other items and gift cards will be given away throughout the event. Random drawings will come from the registration list (you do not need to be present to win). There will also be spontaneous opportunities to win! *Winners do not need to be virtually present to win -- you will receive an email with an alert!
BEST HOLIDAY OUTFIT(S)! Dress up yourself and your animals with your best holiday garb and post on Facebook or Instagram with the #visitdelray #candycanecrawl. Best holiday outfits will be awarded small giveaways on the day of the event and announced on FB LIVE/VisitDelray. *You will still win even if you are not virtually present.
Participating Restaurants & Ordering Information
Each restaurant will offer at least one holiday drink special and one food special for take-out . Please note that all mixed drinks and liquor items must be purchased with a food item, per state requirements. Maximum 4 drinks per order.
Pre-orders are now open and are STRONGLY encouraged to help our restaurants plan ahead. All orders should be placed online or by phone per the restaurants' usual operating procedure for carryout.
Orders will be available for pick-up at the restaurants on Saturday, December 19th, during their normal operating hours and following all COVID-19 safety procedures. Please note: pick-up, instead of delivery, is encouraged to maximize the financial benefit for the restaurants.
Specials (updating as we receive them!)
Cheestique (2411 Mt Vernon Ave, open 11AM-9PM)
Winter White Port Punch - 2 drinks ($12)
Pimento Cheese "Snowman" with pretzels ($5)
Del Ray Cafe (205 E Howell Ave, open 8AM-8PM) *Must Call to Order 703-717-9151
Cafe Basque - Coffee, Irish Whiskey, Kahlua, Homemade Organic Whipped Cream ($10)
Chocolate Beignets ($5)
Del Ray Pizzeria (2218 Mt Vernon Ave, open 11:30AM-10PM) *Click pickup for 12/19 & Candy Cane Crawl Menu.
2 Mulled Wines ($11)
2 Buttered Rum Delights ($11)
Mocktails: 2 VIRGIN Buttered Rum Delights ($9)
Small (10") Cheese or Pepperoni Pizza ($10)
Evening Star Cafe (2000 Mt Vernon Ave, open 4PM-10PM)
Hurricane Cocktail ($8)
Fried Cauliflower - Korean BBQ sauce, miso mayo, & sesame seeds ($10)
Hops N Shine (3410 Mt Vernon Ave, open 11AM-10PM) *Click MENUS/CandyCane BarCrawl
Caramel Apple Mulled Wine (Single $8; 4 Drinks- 32oz $28)
Not Your Mom's Hot Chocolate ($10)
Kid's Hot Chocolate ($5)
Moonshine Spiked Egg Nog (Single $9; 4 Drinks -32oz $30)
S'mores Kit ($5)
Smoked BBQ Nachos ($10)
Loaded Chili Bowl ($8)
KAiZEN Tavern (1909 Mt Vernon Ave, open 4PM-9PM)
Kaizen Cane Cocktail ($9)- House made hot chocolate peppermint schnapps, whipped cream and candy cane flakes
The Rudolf Roll ($16)-avocado, jalapeno, cilantro, and french onion chips on the inside and seared tuna belly, flying fish roe, green onion, eel sauce, spicy mayo, and yum yum sauce.
Lena's Wood-Fired Pizza & Tap (401 E Braddock Rd, open 11AM-10PM)
-Use Code CANDYCANE when ordering.
Bottles of Sangria (Red, White, Rose) or Mulled Wine ($18)
Growler of Beer ($18)
House Made Lasagna ($5 off)
Market2Market (116 E Del Ray Ave, open 10AM-8PM) *Under Menu/Specials
Troegs Mad Elf Ale 11% alcohol- 12oz ($3)
Turkey Chilli with Sharp Vermont Cheddar and Oyster Crackers ($5)
Northside 10 (10 E Glebe Rd, open 11:30AM-10PM)
Hot Toddys ($6)
Lost Boy Cider Firepit ($5)
Northside Chili Mac and Cheese ($10)
Piece Out Del Ray (2419 Mt Vernon Ave, open 11AM-9PM) *Under Menu/Specials
Classic Old Fashioned ($5)
Detroit Pizza Slice (choice of pepperoni or cheese ($4)
Pork Barrel BBQ (2312 Mt Vernon Ave, open 11:30AM-10PM)
Bar Crawl Optimal Wit Tall Boy ($4.95)
Hot Buttered Rum- 16oz ($5.95)
Bourbon Spiked Hot Apple Cider for 2 ($9.95)
Pulled Pork Nachos ($5.95)
Pulled Pork Sandwich ($4.95)
Spice Kraft (2607 Mt Vernon Ave, open 11AM-9PM)
Taj Mahal Beer ($4)
Hot Tumeric & Ginger Tea (G.F. & Vegan) ($3)
Lamb Shank TIkka Masala with Spiced Potato Mash ($15)
St. Elmo's Coffee Pub (2300 Mt Vernon Ave, open 7AM-6PM)*Under Menu/Specials
Prosecco Poinsettia ($5)
Gluten Free Flatbread topped with Spinach, Artichoke, Tomato, & Parmesan ($6)
Stomping Ground (2309 Mt Vernon Ave, open 7AM-1PM and 4:30PM-7:30PM)
Boozy Apple Cider ($6)
Molasses Orange Star Cookies ($3)
Taqueria Poblano (2400 Mt Vernon Ave, open 11AM-9PM) * Call to Order 703-548-8226
Cherry Cranberry Margarita ($7.50)
Pork Brisket Take-Home-and-Heat Nachos ($8.95)
Drink specials will be updated this week as we receive them.
Thanks for supporting our local restaurants, and for keeping this (modified) holiday tradition alive during these challenging times! Don't forget to share your holiday drinks and photos to @visitdelray on Facebook and Instagram. For complete details on holiday events in Del Ray, visit www.visitdelray.com.
Your clip n' save guide to all the crawl specials, restaurant hours, and ordering info: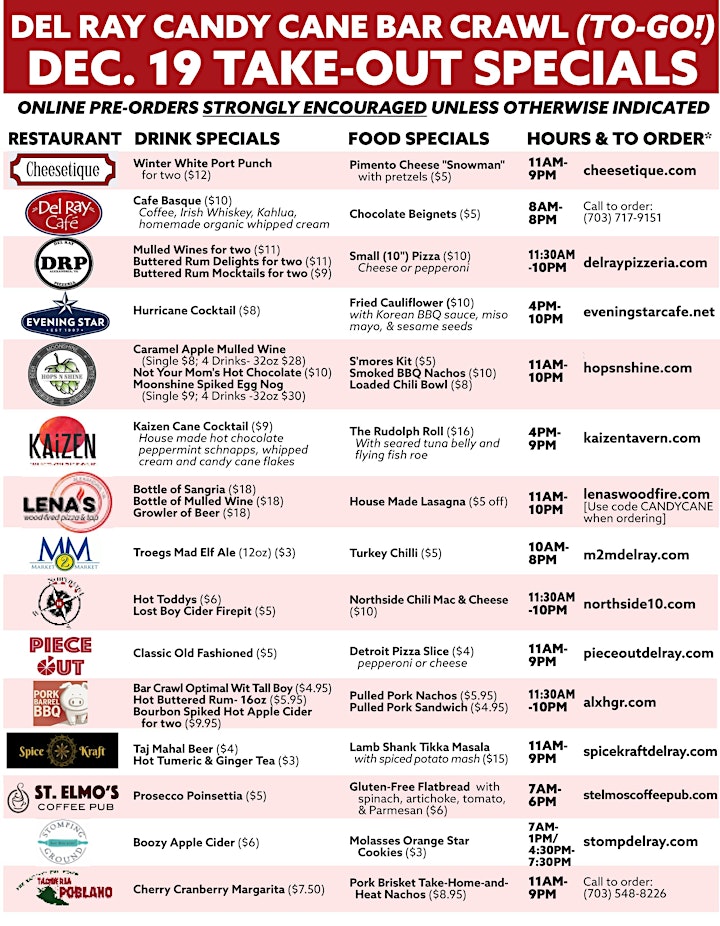 Organizer of 5th Annual Del Ray Candy Cane Bar Crawl (TO-GO!)