Join fellow Gauchos worldwide in service to our communities!
About this event
What is the Day of Service?
The annual event that encourages UC Santa Barbara alumni across the globe to get active in their communities is back! No matter where you are, you can make a difference. Day of Service aims to provide Gauchos with a diverse array of volunteer opportunities that make an impact, no travel necessary.
August 21, 2021
Volunteer anytime August 16th - 22nd
Register above to receive a t-shirt, while supplies last!
Show the world how #GauchosGiveBack! Last year's Day of Service provided virtual initiatives, such as opportunities to donate to organizations like Feeding America and more hands-on offerings like volunteering for the Smithsonian Digital Volunteers. This year, we're again promoting these types of events and also planning in-person opportunities that comply with the COVID-safety guidelines of respective counties.
If you're not in California, we haven't forgotten you! There are both nationwide and international events in locations such as Washington, Texas, New York, and the UK. Don't see an event in your location? Events will be added regularly so be sure to check back.
If there are no events in your area feel free to volunteer in any way that you'd like. Be sure to register by August 9th to receive your free Day of Service T-shirt in time for the event. And if you think it's something others may enjoy, email us, and we may be able to add it to the schedule.
We will be mailing T-shirts to everyone who registers. You must register by midnight on August 9th to receive it by August 21st. T-shirts are available while supplies last.
Get Featured
Post photos in your Day of Service T-shirts to social media using #GauchosGiveBack! Or submit your photos to the official photo album or email them to programs@alumni.ucsb.edu for chance to be featured in our social media channels. *By submitting your photos your are giving UCSB and UCSB Alumni consent to use said photos in future promotional materials.*
In-Person Initiatives
All events are on August 21st unless otherwise noted. Please bring a mask and adhere to each county's COVID-19 guidelines.
Santa Barbara Area
816 Cacique Str. (off of Milpas Str.)
Santa Barbara, CA 93103
9:00 am - 12:00 pm
Volunteers will be helping out with our Community Clean-up Day. Volunteers are needed to help PATH with collecting trash and supporting our Good Neighbor Project. A max of 12-24 people can sign up for this job, excess volunteers will help clean-up in front of PATH. Please avoid shorts, tank tops, and sandals and wear long pants and close-toe shoes. If you do not want to collect trash, PATH also can create a project with helping create individual sunscreen packs. They have larger bottles of sunscreen that they need broken down into small cups to hand out to residents. Additionally, PATH is also accepting hygiene products (toothbrushes, razors, deodorant, 3-1 wash) if anyone, either coming to their clean-up or not, would like to drop off and donate!
Sign up: Email John "JB" Bowlin at JohnB@ePath.org
Baron Ranch Trail and Trailhead
9:00am - 12:00pm
There is a new trail located about 15 mins north west of Goleta along the Gaviota Coast called the Baron Ranch Trail. As part of the new trail, the trailhead will be planted with native plants and watered enough until those plants set roots. Volunteers will help to spread mulch and clean weeds from around the native plants and also do some light trailwork on the lower part of the trail. Be sure to wear comfortable shoes and sun protection.
Sign up: Email volunteer@LPForest.org
Los Angeles
East San Fernando Valley
Tree People inspires, engages and supports people to take personal responsibility for the urban environment, making it safe, healthy, fun and sustainable and to share our process as a model for the world.
There are three opportunities to volunteer. Individual event details are listed on their website:
San Francisquito Canyon Restoration (Santa Clarita 8:00am - 12:00pm)
Watts Tree Care (Los Angeles 8:30am - 11:30am)
Huntington Park Tree Care (Huntington Park 8:30am - 11:30am)
Sign up: Register on their website
Bay Area
1000 Spring St, San Jose CA 95110
9:00 am - 12:00 pm
Help maintain and grow trees and shrubs in the OCF Community Nursery! Ongoing help is needed for various tasks such as transplanting trees & shrubs, cultivating seedlings, watering, removing invasive species, pruning, moving and staking trees, labeling plants, filling mulch buckets, and propagating plants in the greenhouse. Bring water (re-usable containers encouraged), snacks, sun protection and clothes you can get dirty! Closed toed shoes are required.
Sign up: Email volunteer@ourcityforest.org with a completed waiver and vaccination form.
Orange County
7:30am - 12:00pm
The Soup Kitchen provides 200 meals per day, 7 days a week, 365 days a year! We make our meals fresh daily, consisting of soup, vegetable and fruit salads, hearty and filling side dishes, bread, dessert, and water. Along with this meal, our guests also get to choose from a wide variety of donations from our partners, such as Trader Joe's, Wal-Mart, The National Charity League, and community members like you who want to support our mission! Please note that anyone under the age of 18 participating in this opportunity will need a signed parental consent form.
Sign up: Using this link. If the spots are full, there is a Sunday shift as well!
San Diego
8735 Jamacha Blvd, Spring Valley, CA 91977
9:00am - 11:00am
Join I Love A Clean San Diego and the County of San Diego for a litter cleanup in Spring Valley! They will divert litter from traveling through the San Diego Bay watershed. You can participate in this cleanup in 2 ways: In-person with us at our meeting location, or remotely in your neighborhood. We can sort, weigh, and dispose of the litter you collect, and when you are finished you can request a Letter of Appreciation through your Community Hub dashboard. Our in-person cleanups are limited to 25 volunteers, and we ask that you give other volunteers 6+ ft. of space and wear a mask if you are unvaccinated.
Sign up: Register for the in-person or virtual events on this page.
Kendall-Frost Marsh, 2055 Pacific Beach Dr, San Diego CA 92109
8:30 am -11:30 am
Join our partners with the Friends of Mission Bay marshes for their monthly work party! Tasks include removing non-native plants, planting and maintaining native plants, and more. Please wear long pants, long-sleeved shirts, closed shoes, and a hat. Bring water bottle, gloves and gardening tools if you have them. You can find directions here.
Sign up: RSVP to Isabelle Kay, the Reserve Manager, at ikay@ucsd.edu
Washington
815 S 96th St, Seattle WA 98108
9:00am – 11:30am
Support Food Lifeline's efforts to provide food to our communities by helping us distribute emergency food boxes through various locations or by packing food in our warehouse. Remember to wear warm layers, a mask, and closed-toe shoes – this is mandatory to enter the warehouse.
Sign up: Register here. Please bring a completed Parent/Guardian Consent Form for any youth volunteers (10+).
Colorado
10700 E. 45th Avenue, Denver CO 80239
8:45 am - 12:00 pm
Our distribution center serves as a location where our member agencies (pantries, soup kitchens, etc.) can place orders for much needed food and supplies for their hunger relief programs. Volunteers help pull and build orders from warehouse inventory, ensuring that the orders are correct and ready to be picked up. Please wear a mask, closed toe shoes (sneakers, work boots) and clothing appropriate for a warehouse workplace setting - these are mandatory. Reference this short Welcome Video and Safety Video to learn more.
Sign up: Register here. If you cannot volunteer in-person, you may also donate here.
Arizona
Del Webb Warehouse
2831 N 31st Ave, Phoenix, AZ 85009 (parking map)
8:00am - 10:00am
Join us to pack emergency food boxes with non-perishable items, sort food, or repack bulk produce. Positions include high impact roles such as palletizing the completed boxes, as well as, less strenuous jobs that can be done seated. Volunteers must wear closed-toe shoes (sneakers suggested), shirts with sleeves (short or long sleeve - no tank tops, spaghetti straps, midriff or low-cut tops), and pants, jeans, or workout attire. Shorts are allowed at a respectable length. (Must be no shorter than 7" above the knee).
Sign up: Visit this link and find "invitation code filter" on the left-hand side. Enter your group invitation code (AAUOC) and click 'Refine.' Click on your "volunteer opportunity name" to view all shifts. Please note your company/organization may have more than one project scheduled. Scroll down, select the date, click on "sign up." You'll be instructed to login using an existing account or register by creating a new account. Once you are logged in, you will be taken to a "Success!" screen. You will receive then a confirmation email from St. Mary's Food Bank Alliance.
North Carolina
Duke Outpatient Clinic
4220 Roxboro St, Durham NC
9:00am - 1:00pm
The Root Causes Fresh Produce Program is a student-led, 100% volunteer run partnership between Duke students and the Duke Health + Lincoln Health (a federally qualified health center). The program partners with primary care health providers to identify food-insecure with diet-related chronic disease(s) (diabetes, heart disease, kidney disease etc.) and struggle with access to health food, and connects them with fresh fruits, vegetables, and shelf stable items to supplement their diets. We currently serve over 350 families with fresh food, and we run our distributions every Saturday morning from 9AM to 1PM. Our model is a door-to-door delivery service that relies heavily on community volunteers, and we would love to have fellow Gauchos in the Durham, NC area come out to assist either as food packers, or as volunteer drivers bringing food out into the community.
Sign up: Follow this link
Washington D.C.
700 Gallatin Street Northeast, Washington, DC 20017
9:00am – 12:00pm
Help Casey Trees care for young trees! They need your help with weeding, mulching and watering these vulnerable trees will give them a leg up in becoming an important part of our growing tree canopy. You provide the volunteers, we provide all the necessary tools and supplies to care for trees. Participants will receive a short, hands-on training on-site. After learning the tools and techniques, participants will split up into groups and begin caring for trees throughout the park.
Sign up: Visit this Eventbrite page and enter the promo code "UCSB" at checkout to unlock the hidden tickets.
New York
625 Father Capodanno Blvd, Staten Island
10:00am – 12:00pm
Ocean Breeze Park is a beautiful 140-acre park consisting of wetlands, grasslands, and shrub forests. This area is home to innumerable species of wildlife needing your caring hands as we work together in stewardship and restoration of our beloved park. Volunteers will be participating in hands-on projects in our park and green spaces. This may include trail maintenance, clean-up projects, invasive weed removal, planting, and other environmental projects. Further information will be provided upon registration. Directions to the event can be found here.
Sign up: Register here. Please register before the event.
Fort Independence Park House, Bronx
9:00 am - 12:00pm
Join Jerome Park Friends and Neighbors as they volunteer Saturday mornings around the neighborhood doing general clean-ups and light hort projects. We will be working in the planting beds along Sedgwick Avenue.
Sign up: Just turn up! Click here for directions.
Virtual Initiatives
UCSB-Related Initiatives:
To donate money: email ucsbasfoodbank@as.ucsb.edu
To donate supplies: email ucsbasfoodbank@as.ucsb.edu to set up drop-off details
At this time the AS Food Bank is only taking physical donations of soap, menstrual products, and toilet paper. If this changes, we will reflect updates here.
Student Scholarships
Alumni Scholarship Fund: Gifts to this fund provide scholarship and/or loan support to qualified students based on need, merit, service to the University, or first generation college attendance status. 268 scholarships totaling $436,800 have been awarded since its inception in 2008. For more information and to donate, click here.
Class of 1969 50th Reunion Scholarship Fund: This fund seeks to invest in current student leaders who are making a difference at UCSB or in the community. For more information, click here or to donate, click here.
The Gaucho For Life Fund: Supports both student and alumni events on and off campus such as student study nights and All Gaucho Reunion. Annual donors receive additional alumni benefits. For more details on the fund, click the link above. Or to donate click here.
For a list of additional funds that go towards the UCSB Alumni Association, click the 'UCSB Alumni' link above.
Olé in the Bay (UCSB Alumni Group in the Bay Area) is celebrating the Annual Day of Service by encouraging donations to Second Harvest Food Bank! In light of continued health & safety concerns due to COVID19, we will not be meeting in person for a volunteering event. Follow us on Instagram to get updates on our first in-person events (hopefully this fall!)
Register for UCAN (UC Advocacy Network)
Become a UCAN Advocate and get involved in shaping the future of the UC system. Advocate for policies promoting the universities' mission of education, research and public service on the state and federal levels. By registering with UCAN, you will receive emails relating to issues that critically impact higher education. From there, you may be asked to make calls or send emails to legislators, using your voice to advocate for the next generation. To sign up, head to the link above.
For information on other giving opportunities across campus, click here
National (USA) Opportunities and Initiatives:
Some areas need Meals on Wheels now more than ever. Volunteer to deliver hot food to those in your community. The organization is in need of sanitary and capable volunteers who can safely deliver food to the most vulnerable. They are also accepting monetary donations. For more information and to volunteer, click here. Or to donate, click here.
National VOAD Members are organizations coordinating with federal entities like the CDC to do everything they can in the fight against COVID-19. All members are fully-vetted, experienced, and dedicated professionals who will get the most out of your generous donation. For more information, click here. To donate, click here for a full list of members, then head to the organization's website of your choosing.
This initiative helps to make historical documents more accessible. Through this program, volunteers will take hand-written notes, diaries, ledgers, manuscripts and more and transcribe them. If enough volunteers select this option, we will host a transcribe-a-thon! For more information and to sign up, click here.
The Feeding America nationwide network of food banks secures and distributes 4.3 billion meals each year through food pantries and meal programs throughout the United States and leads the nation to engage in the fight against hunger. Depending on the region, food banks are in need of volunteers who can donate time to serve meals, time to deliver groceries to seniors, face masks, and more. To find a local pantry in your area, search here or to donate, click here.
Red Cross has an urgent need for blood and platelets. For a limited time, the American Red Cross will test all blood, platelet and plasma donations for COVID-19 antibodies as an additional health service to our donors. This testing may provide critical insight into whether donors may have possibly been exposed to this coronavirus. To find a blood drive in your area, search here. To learn about donation types, click here.
International Opportunities and Initiatives:
This downloadable app connects low-visibility and blind citizens with sighted volunteers. When you volunteer, you will occasionally be called by a random sight-impaired person who needs help with a task. Tasks can range from choosing an item in the grocery store or checking expiration dates, to distinguishing various colors from one another. For more information and to see if your country can participate, click here.
Amnesty Decoders is a platform for volunteers around the world to use their computers or smartphones to help our researchers sift through pictures, information and documents. It is run by Amnesty International, a global movement of more than 7 million people who campaign for a world where human rights are enjoyed by all. Participate in decoding and collecting data related to oil spills, destruction in global areas, online discussions, and more. For more information and for examples of completed projects, click here.
Translators without Borders is a U.S. non-profit organization that aims to close the language gaps that hinder critical humanitarian and international development efforts worldwide. You can volunteer with TWB if you are fluent in at least one language other than your native language. Whether you are interested in translating medical texts or translating for crisis response, there are engaging projects available to suit all preferences. For more information, click here. Or to donate, click here.
Once again, a huge thank you to Diane (Hilbert '68) Dodds for her generous donation to this event. Without her, Day of Service would not be possible.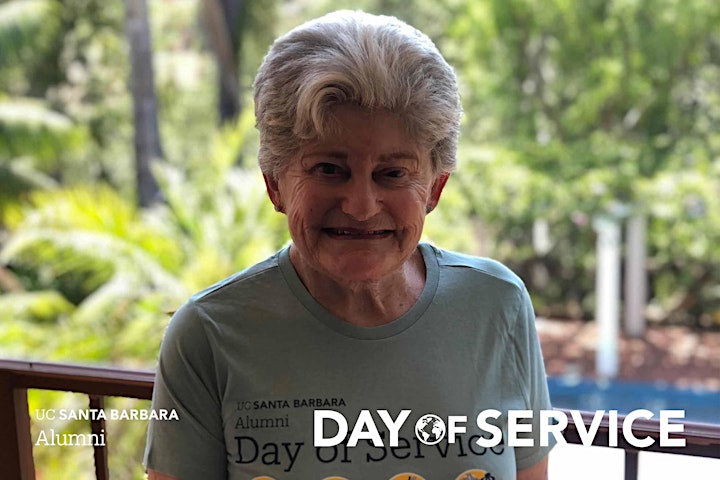 Organizer of 5th Annual Day of Service
Our mission is to build mutually beneficial lifelong relationships with UCSB alumni (all 217,000+ of them) for the purpose of promoting philanthropy, mobilizing for advocacy and providing opportunities for service to UC Santa Barbara.
If you have questions, please contact us at (805) 893-4140 or email us at alumni@ucsb.edu.