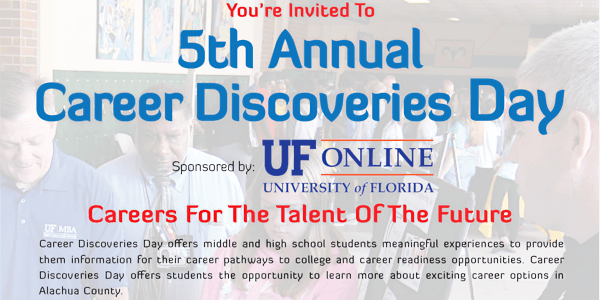 5th Annual Career Discoveries Day
ALL GRADUATING SENIORS PRESENT WILL BE ELIGIBLE TO WIN ONE OF TWO $1,000 SCHOLARSHIPS. REGISTER TODAY!
By Greater Gainesville Chamber Foundation
When and where
Date and time
Saturday, November 16, 2019 · 9am - 12pm EST
Location
Buchholz High School 5510 Northwest 27th Avenue Gainesville, FL 32606
About this event
ALL GRADUATING SENIORS PRESENT WILL BE ELIGIBLE TO WIN ONE OF TWO $1,000 SCHOLARSHIPS. REGISTER TODAY!
The Greater Gainesville Chamber's Alachua County Education Compact and their partners Santa Fe College and the Alachua County Public Schools invite all middle and high school students and their parents/guardians to attend the 5th Annual Career Discoveries Day. This career showcase and exhibition is taking place this Saturday, November 16th, from 9 am to noon at Buchholz High School, located at 5510 NW 27th Ave.
Career Discoveries Day offers students and their parents a sneak peek into local, emerging career opportunities in Distribution & Trade, Business Support Services, Agriculture Science & Technology, Human Life Sciences, and Digital Technology. Attendees will engage with exhibitors as they share their selected career pathway and existing opportunities in their industries. Maxwell L. Minch, a partner at GrayRobinson's Law Firm, is the featured keynote speaker. He will share his story of how he rose to success by creating his own pathway, shaped by a career technical education and his experiences serving in the U.S. Navy.
Additional speakers include: Karen Oakey with Fracture, who will speak on talent management; Kristin Schreiner with Junior Achievement, who will present JA MyWay Career Pathway; and Tia Brock with The Education Foundation of Alachua County and Shareen Baptiste with Dream on Purpose, who will co-present on college finances. Seniors and their parents will also receive assistance in completing their Free Application for Federal Student Aid (FAFSA).
About the organizer
The primary purpose of the Foundation is to enhance local education and to do other charitable work, which supports and enhances education and the development of a more productive, skilled and inclusive workforce in Alachua County, Florida.