Description
5th Annual Bunny Hop Bar Challenge 2018
March 31st, 2018 6pm-2am
EpiCentre, Charlotte NC
Sponsored by: Social House Vodka
FREE BUNNY EARS!
8 bars, 8 fun-ky tasks to complete, 1 party party cup detailing the tasks, Bunny Ears and a Sharpie to write it all down with. Check off your tasks and get your friends to sign.
Easter is a tough weekend to have fun. There isnt much going on. Dont get bored to death. Come out and join us again this year for yet another crazy Bunny Hop!
BUNNY EARS INCLUDED!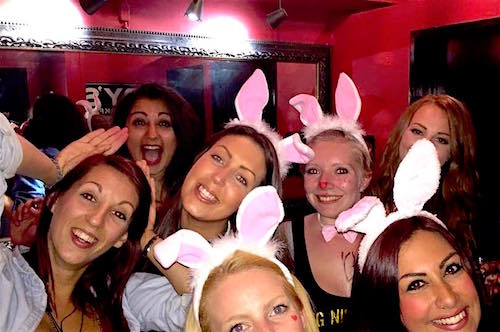 Bring your ticket to checkin at Rooftop 210 at the EpiCentre between 6pm-11pm. Pickup your Bunny Ears and start completing the tasks! Checkin will not be open past 11pm so please checkin before that. You CAN checkin your friends, just bring us their names and we will check them in for you.
PARTICIPATING VENUES:
Rooftop 210
Blackfinn
Suite
Whisky River
Strike City
Tin Roof
Howl at the Moon
Kandy Bar
Vida Vida
Make sure to bring a Sharpie marker so you can sign your friends cups and check off what tasks you've completed.
Ticket includes Bunny Ears, party cup, no cover access to all participating venues at the EpiCentre, special drink prices!
General Admission tickets will be available for sale at the checkin table for $20.
21+ only. DONT DRINK AND DRIVE. No refunds.