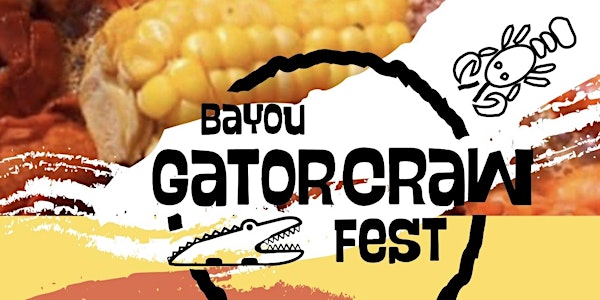 5th Annual Bayou GatorCraw Fest
Dorothy, The Live Louisiana Gators and Crawfish will meet where the "Red Brick Road" intersects the " Yellow Brick Road"! Blue Earth Plaza
When and where
Location
Blue Earth Plaza 315 S 3rd St Manhattan, KS 66502
About this event
The 6TH Annual BayoU GatorCraw Fest will hosted at the Blue Earth Plaza, 315 S 3rd St, Manhattan, Ks 66502. The Bayou GatorCraw Fest is what great Cajun-Creole culture is all about. The festival will feature a Louisiana live crawfish boil, alligator-on-a-stick, Louisiana gourmet chef demonstrations, Zydeco, gospel and jazz bands, a Kidz' Zone, storytelling, arts and crafts, games, local vendors and much, much more.
Hungry for Authentic Cajun and Creole Food? Look No Further! There will be "Live" Louisiana Boiled Crawfish at the , Gator-On-a-Stick, Boudin Balls, Cajun Jambalaya, Red Beans and Rice, Louisiana Fried Chicken, Catfish PoBoys, Beignets and Chicory Coffee, HuckaBucks (Louisiana Frozen Dixie Cups), Wildcat Coleslaw, Bar-B-Que, and more!
Want to take some home? There will be MamaDeaux's Cajun and Creole Seasoning, Beignet Mixes, Pralines, Jambalaya, and More, on Sale in the BayoU GatorCraw's, Shop In The Boot, Souvenir Shop.
Party at Château du Rouge (VIP)! Enjoy everything the general admission get and more! Full Buffet, Premier Seating, Event T-Shirt, Signature Mardi Gras Beads, Private Restrooms and Handwashing Station, Private Bar, Meet and Greet, Waitstaff, and more. Limited Seating of 160. Get yours before there gone! First glass of champagne (Friday) or Wine (Saturday) included.
The goal of the festival is to share, not only the Louisiana culture, but to raise funds to assist in community programs. This year we will bring awareness to the Fibromyalgia Communities. As we learn more on this debilitating disease, we'd like to help encourage the community's involvement in nurturing the advancement of those coping with the physical and mental effects on their lives.
We will have two stages to keep you and your family entertained all day! See our Bourbon Street, Bayou Stage, and Kidz' Zone performance schedules:
Friday, APRIL 28, 2023
Mardi Gras '"Purple Party"
**Time To Get Up and Dance!**
BOURBON STREET STAGE
17:00- 18:30 Grateful Dudes - Swamp Pop
1830- 19:00 Mardi Gras Parade
19:00- 21:00 Bryan Keith and Zydeco Legacy - Zydeco
Saturday, April 29, 2023
***Family Day***
BOURBON STREET STAGE
10:00- 11:00 TBA - Gospel
11:00 National Anthem
11:30- 12:30 TBA- Dixieland Jazz
13:00- 14:00 TBAs
14:30- 15:00 Special Tribute Performance- TBA
15:30- 17:00 Grateful Dudes - Swamp Pop
17:00-17:30 Mardi Gras Parade
17:30- 19:30 Bryan Keith and Zydeco Legacy - Zydeco
BAYOU STAGE
11:45- 12:30 Bayou Sunflowers - Beignets
12:45-13:45 Jr Chef Competition
13:45- 14:15 Prizes and Awards Ceremony
15:30- 16:30 TBA - Chef Presentation
17:30- 18:30 TBA - Chef Presentation
18:30- 19:30 Chef's Corner -Shop with the Chefs
KIDZ' ZONE
**Along with face painting, henna, fire department, police department, and other creative activities, here's the BGCF Kidz' Zone lineup:**
10:30- 19:00 Bounce Houses
10:30- 19:00 Mad Hatter
10:30- 18:30 Bayou Gator Land
10:30- 19:00 Arts and Crafts
11:00- 11:45 Gator Show
13:00-14:00 Story Time
14:00-14:45 Gator Show
15:45-16:45 Story Time
16:45-17:30 Gator Show
17:30-18:30 Story Time