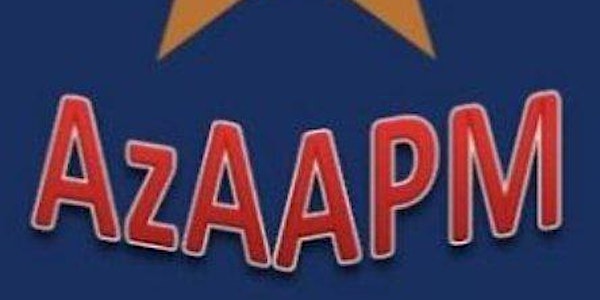 5th Annual Arizona Chapter of the AAPM
Location
Banner University Medical Center - Phoenix (Good Sam)
Sandstone Conference Room
1111 E McDowell Rd
Phoenix, AZ 85006
Description
Please join us for the 5th Annual Arizona Chapter of the AAPM Meeting. This annual meeting of the chapter provides education talks with the target audience of medical physicists, dosimetrists, therapists and physicians. Below is the agenda. Please note that we have a limited number of vendor spaces this year so please sign up early in order to guarantee a table. Please sign up early and online so we can get food estimates. Member registration is $35, vendor attendee only registration is $40. Students and residents are free but must register with the Student/Resident ticket. Registration will increase $5 at the door.
The Arizona Chapter of the AAPM 5th Annual meeting will include practical information designed to inform medical physicists on emerging technologies, keep abreast of regulatory and accreditation related issues and provide a forum for the exchange of ideas to support practice quality improvement.
Objectives include:
Review of emerging technologies of diagnostic and therapeutic techniques

Conduct session on the current state of the art and standards of practice

Provide peer interchange forum for exchanging information and concepts
Topics Include:
MRgRT
Dose Quality in Radiology
90Y Therapy Dosimetry and response assessment
Digital security in hospital computer systems
AAPM Governance
Veterinary Radiation therapy
Proton therapy
Dynamic non-coplanar SRS
Agenda
7:30 -8:20 AM Continental Breakfast and Registration
8:20-8:30 AM Welcome Chris Watchman – University of Arizona/President of AzAAPM
8:30-9:30 AM Developments in MRgRT – Sasa Mutic – Washington University
9:30-10:30 AM The First Year with ViewRay: Commissioning and Initial Clinical Experience – Kyle Padget – U of Miami
10:30-11:00 AM Break
11:00-11:30 AM Using the Dose Deviation Index to Drive Quality Improvement in Radiography: Musing form the Co-Chair of AAPM TG-232 – A. Kyle Jones, MD Anderson
11:30-12:00 PM Dosimetry and Response Assessment Following 90Y Microsphere Therapy - Cheenu Kapadath, MD Anderson
12:00-12:30 PM Digital Security in Hospital Computer Systems, Robert Rost, Banner
12:30-1:15 PM Lunch and Chapter Business
1:15-1:45 PM AAPM Governance Assessment Project– Laura Cervino, U San Diego
1:45-2:15 PM Advanced Radiation Techniques - The Veterinary Perspective – Eric Boshoven, MD
2:15-2:45 PM Proton Beam Therapy at Mayo Clinic Arizona - A Physics Perspective - Martin Bues, Mayo Scottsdale
2:45-3:15 PM Break
3:15-3:40 PM Dynamic Non-coplanar Treatments for Intracranial Radiosurgery – Lisa Hampton – Varian Medical Systems
3:45-5:00 PM Student/Resident Presentations
5:00 PM Closing Remarks, Chris Watchman – University of Arizona/President of AzAAPM
We want to thank our sponsor vendors for thier gracious support: Varian Medial Systems, ViewRay, RaySearch, Elekta and Sirtex.
This meeting has applied to CAMPEP for approval of 6.86 MPCEC hours.
CMD and ASRT are pending