About this Event
Event Schedule:
8:00am - 8:55am - Registration & Breakfast
8:55am - 9:00am - Welcoming Remarks
9:00am - 9:45am - Keynote Speaker: Steven Curry, MD
9:45am - 10:30am - Grant Awardee Presentations
10:30am - 10:45am - Break
10:45am - 12:00pm - Grant Awardee Presentations
12:00pm - 1:00pm - Lunch & Poster Preview Session
1:00pm - 2:00pm - Grant Awardee Presentations
2:00pm - 2:15pm - Break
2:15pm - 3:15pm - Grant Awardee Presentations
3:15pm - 3:45pm - Featured Speaker: Marilyn Glassberg, MD
3:45pm - 4:00pm - Closing Remarks
4:00pm - 6:00pm - Poster Session / Cocktails & Hors d'oeuvres
Who is invited to this event?
This event is free and open to the public*. We highly recommend researchers and healthcare professionals to attend (early registration is encouraged). We also welcome students, educators and the general public to attend this valuable conference. Seating is limited. Please register in advance to guarantee your place. Registration will close on February 19, 2020 at 8:00am.
*All attendees will be provided a complimentary lunch during the conference.
Cost:
Thanks to our generous sponsors, the Arizona Biomedical Research Centre and the Flinn Foundation, there is no cost to attend the Research Conference.
Location:
This symposium will take place on the first floor of the Biomedical Sciences Partnership Building (475 N. 5th Street, Phoenix, AZ 85004) on the University of Arizona College of Medicine - Phoenix Campus.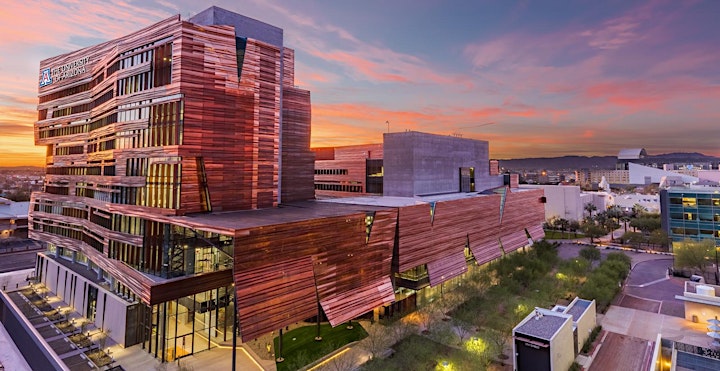 Parking:
Please note that you must park in the PBC garage (555 E. Fillmore, Phoenix, AZ 85004, located at the Southeast corner of 5th St. & Fillmore) for us to have the ability to provide a ticket that will let you exit for free. (There is a different garage across the street, the PBC garage can be identified by its black metal siding. Photo shown below.) Please keep the ticket you receive at the entrance, you will receive your pass to exit when signing in at the symposium.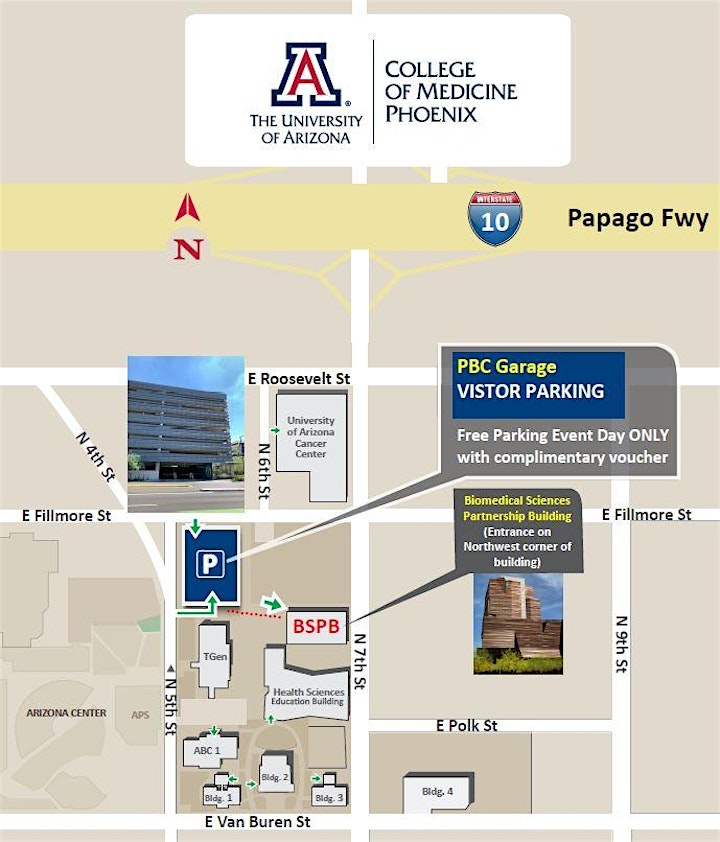 Photography:
A photographer will be on-site taking candid shots during the symposium. When you register, you are giving us permission to take and use these photos for future advertisements, brochures, etc.
WiFi and Electronic Devices:
Complimentary WiFi will be available in the meeting room during the symposium. Electricity will be provided in the symposium room to keep your electronic device charged.
Nearby Hotel Accommodation:
Sheraton Grand Phoenix, 602-262-2500 / 340 N. 3rd Street, Phoenix, AZ 85004
Contact:
Please contact Claire Pascavis with questions clairepascavis@email.arizona.edu.