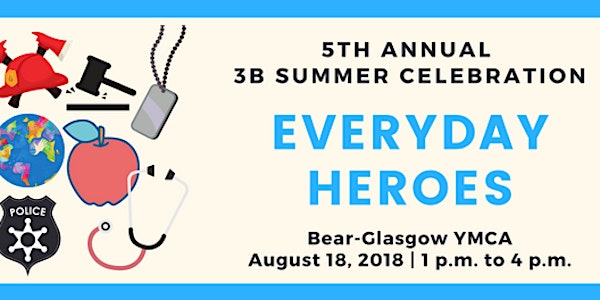 5th Annual 3B Summer Celebration - Every Day Heroes
When and where
Location
Bear-Glasgow Family YMCA 351 George Williams Way Newark, DE 19702
Description
Our 5th Annual 3B Summer Celebration will be happening on Saturday, August 18, 2018. Everyone and anyone is welcome to attend as long as they obtain a ticket (though we have never turned anyone away, we just might not have enough giveaway bags for guests without tickets).

There are two ticket options until August 3 and then one option will remain for general admission.
Our theme this year is "Every Day Heroes."
As we celebrate FIVE years this summer, we would like to honor everyday heroes from our community and we want YOU to nominate them! Is there someone in your life who goes above and beyond or inspires you to make change in the world? This person can be a police officer, firefighter, teacher, nurse, mentor, it is up to you to convince us why your nominee is an everyday hero and should be recognized with a special #3BThankYou
There will be snow cones, food, 93.7 WSTW will be there with music and prizes, we will have our own raffles for guests to win, face painting AND more fun! Please come out and join us for this very special 5-year anniversary celebration!
It's important that we realize we are all in this together. As Braeden, 14-year-old founder of 3B, always says, "Food insecurity is a real problem, but we all have the power to be part of the solution." When it comes to hunger there is no discrimination. One never knows when they will find themselves struggling and uncertain, which is why we shouldn't go out into the world with judgment clouding our eyes, but rather with open hearts.
Through a 3B lens we realize sometimes even when people do have food on the table it's not always the healthiest. We help increase access to food for homeless and low-income populations and we strive to make the food healthy.