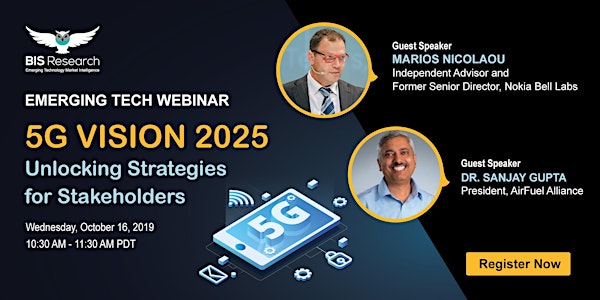 5G Vision 2025: Unlocking Strategies for Stakeholders
Telecom Operator, Network Partner, Device OEM , Enterprise Service Provider, or 5G PE/VC ? Shape your 5G VISION 2025 here
About this event
"5G Vision 2025 : Unlocking Strategies for Stakeholders with Dr. Sanjay Gupta ( Ex- Motorola Mobility )and Marios Nicolaou ( Ex- Nokia Bell Labs)
Agenda: How stakeholders can strategize to monetize in the 5G Vision 2025?
A snapshot of key takeaways:
1. Identify consumer backed revenue pockets for all 5G deployment stakeholders
2. Gather actionable business strategies for 5G deployment across stakeholders
3. Understand the confluence of Industry 4.0 and 5G for 2025, backed by CXOs' perspective
4. Evaluate emerging use cases' potential across industries & spectrum
5. Focus on network partners, telecom operators, device OEMs, regulators, and enterprise service providers
6. Analyse 5G deployment ecosystem enablers across stakeholders
7. Identify critical differentiators behind the 5G hype
Followed by a 1-on-1 Q&A session
Reasons to get your Invite right away:
1. Exclusive chance of 1-on-1 Q & A Session with the thought leaders
2. Get access to Free 5G Webinar Knowledge Bundle
Knowledge Bundle Includes : Global 5G Infrastructure Market : Snapshot Market Report + Full Webinar Recording + Webinar Deck
Thought Leader Profiles:
Dr. Sanjay Gupta, President, AirFuel Alliance
• Dr Sanjay Gupta joined AirFuel Alliance in 2018 and is working toward Defining interoperable technology standards for the next generation of wireless power technologies including Magnetic Resonance and Radio Frequency (RF).
• Earlier Dr Gupta was associated with WiTricity Corportion as Vice President.
• Prior to WiTricity Corportion he was also associated with organizations such as MC10 Inc., Motorola, and Motorola Mobility
• For 4 years, Dr Gupta was associated as Professor with Illionis Institute of Technology
Marios Nicolaou, Independent Advisor and Former Senior Director, Nokia Bell Labs
• Senior Expert 5G & Digital Transformation
• Expert in the strategic implementation of 5G across consumer and vertical segments
• Worked extensively in companies like Alcatel-Lucent and Nokia with a focus to help large operators evolve their converged networks while maximising market value
• Holds an MSc in Engineering Management from the University of Southern California and a BSc in EE from the University of California Irvine
For any queries, just drop in a 'Hi' at webinars@bisresearch.com