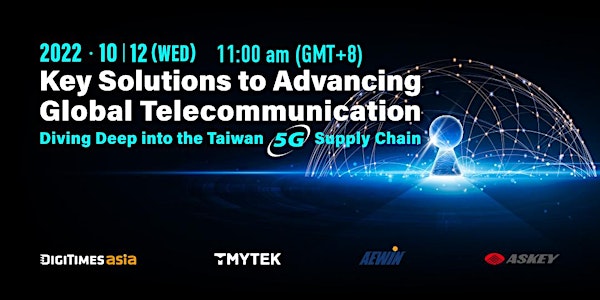 5G Online Webinar: A Peak into Implementing Advanced 5G Solutions
DIGITIMES partners up with 5G professionals, telecom engineers, and fellow attendees, to discuss practical 5G solutions.
About this event
5G Game On
The world continues to complement US's 5G capabilities, driving Taiwan's advanced R&D capabilities in 5G semiconductors, 5G telecoms, and ICT manufacturing. By providing the test bed for open-RAN solutions, Taiwan leverages its expertise in the constantly changing ICT manufacturing, advancing the global 5G development.
Get Inspired and Take Action!
Join this session to hear from telecom experts and analysts about their approaches to designing, deploying, and analyzing 5G solutions to the telecom ecosystem.
Agenda
10:30~11:00 Log on
11:00~11:05 Opening (Roger Huang Director of DIGITIMES Research)
11:05~11:25 The Vibrant 5G Industry (Roger Huang Director of DIGITIMES Research)
11:25~11:45 5G Open RAN and MEC Enable Intelligent Applications (Tiana Shao Product Marketer of AEWIN Tech)
11:45~12:05 5G FWA Opportunity and Solution (Lance Liu Senior Director of Askey)
12:05~12:25 The Challenges to Designing mmWave Systems for 5G/B5G (Su-Wei Chang Founder & CEO of TMYTEK)
12:25~12:30 End of Program