Description
DASpedia's 5G Congress is focused on emerging in-building wireless technologies such as 5G, CBRS/Private LTE, IoT, and Wi-Fi 6 and how they will affect Commercial and Corporate Real Estate markets.
5G Congress is co-located with Realcomm/IBcon 2019 and will be participated by wireless and network infrastructure professionals. Realcomm/IBcon 2019 will be attended by over 2000 commercial and corporate real estate professionals.

Realcomm/IBcon 2019 is the world's leading conference focused on technology, innovation, and automation for the Commercial and Corporate Real Estate and Facilities industries. IBcon has rapidly become the world's most comprehensive and leading-edge discussion on the next generation of smart, connected, high-performance, green, sustainable, intelligent buildings. These annual events bring together thousands of creative, forward-thinking, and insightful commercial and corporate real estate professionals from around the world. This event will facilitate discussion and debate over how technology, automation and innovation continue to impact how we use, transact and operate real estate.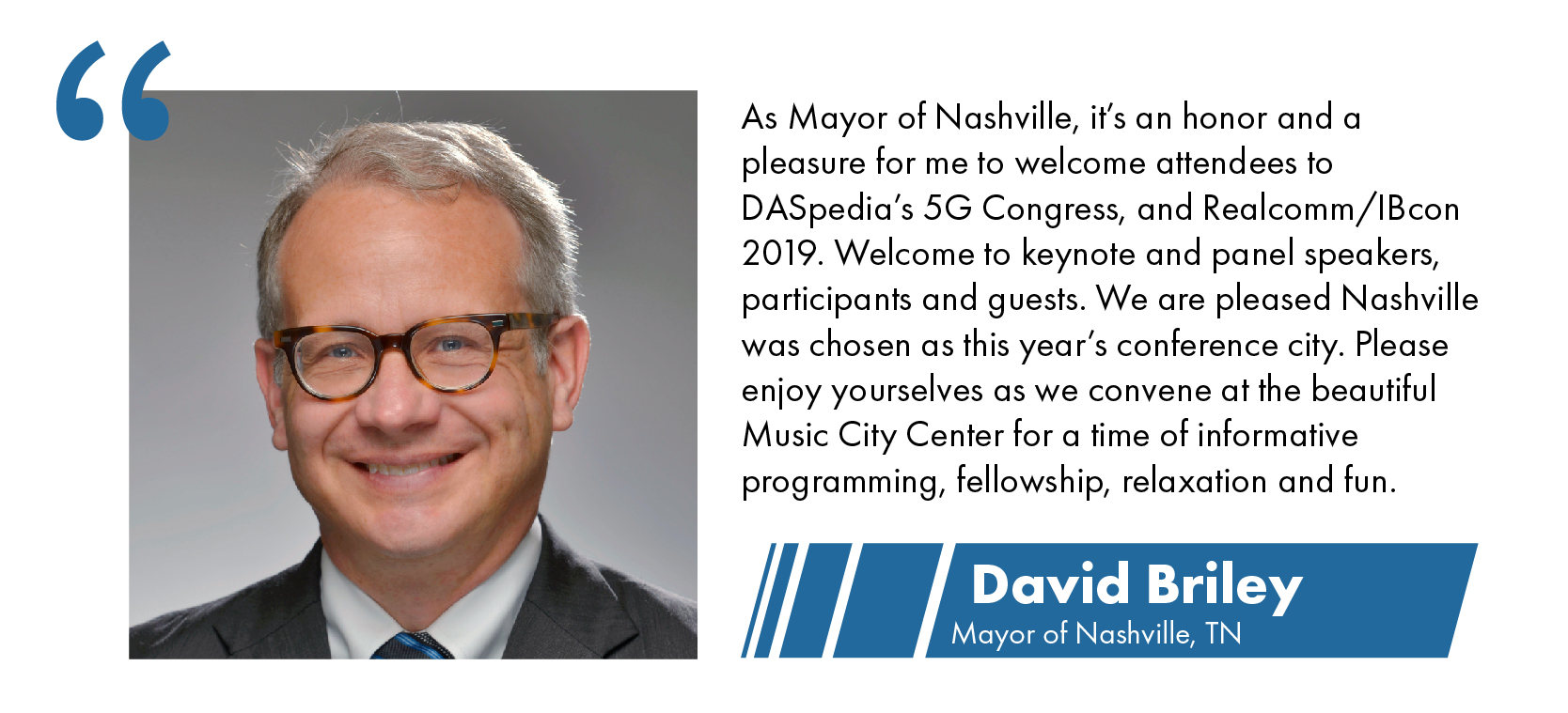 We at DASpedia strive to provide professional development and networking opportunities for wireless technology professionals while promoting excellence in our industry. Our goal is to furnish highly effective regional & national events for wireless professionals.
Let's Learn, Share, and Prosper!
Come to DASpedia's 5G Congress to learn about opportunities and implications for professionals involved in cellular wireless network infrastructure.
DATE & LOCATION
Date: June 12, 2019
Time: 10:30 am – 7:30 pm
Location: Music City Center – Davidson Ballroom – Nashville, TN


AUDIENCE
The combined attendance of DASpedia's 5G Congress and Realcomm/IBcon 2019 is approximately 2500+ The attendee list will include:

• Commercial and Corporate Real Estate Customers
• Enterprise and Facilities Industry Professionals
• US Mobile Network Operator (MNO) Local and National Teams
• Wireless Technology Solution Providers



EVENT AGENDA
Wednesday, June 12, 2019
We're thrilled to share with you the 5G Congress agenda. Come and join us to learn from and connect with leaders from diverse companies in the wireless ecosystem.

The schedule for 5G Congress will include:

8:30 am – 10:00 am: C-Level Invitation-Only Roundtable Breakfast

10:30 am – 12:00 pm: 5G Congress Exhibits Open

12:00 pm – 1:00 pm: Networking Luncheon

1:00 pm – 1:15pm: Opening by DASpedia

1:15 pm – 1:55 pm: Keynote Addresses
Mishka Dehghan, Vice President, 5G Development, Sprint
Maureen Ehrenberg, Global Head of Facility Management Services, WeWork

2:00 pm – 2:50 pm: Emerging Wireless Technologies – Panel Discussion
Wireless technologies are an ever-growing focus for enterprise companies playing catch-up to the dramatic changes in provided services and business opportunities. Our panel of experts share their wisdom in navigating the convergence of 5G, CBRS/Private LTE, IoT, and WiFi 6 connectivity. They will discuss how successful businesses can adapt to and embrace the benefits of smarter homes, buildings, and cities.

3:00 pm – 3:55 pm: Networking/Vendor's Refreshment Break

4:00 pm – 4:40 pm: In-Building Wireless Technology - Panel Discussion led by Vornado Realty Trust
For the first time in the history of In-Building Wireless Technology events, delegate customers and end-users will have the unique ability to ask questions directly of technology solutions providers. This panel is moderated by Nicholas Stello, SVP of Vornado Realty Trust and comprised of technology solution executives. Nicholas will analyze the products and solutions offered by in-building wireless technology providers with the intent to solve cellular coverage issues experienced by end-users.

4:50 pm – 5:30 pm: End-User Perspective – Panel Discussion led by T-Mobile

With the myriad of technologies available today, it is often difficult for end-users to determine the best course of action when issues arise. Our impressive executive panelists, leading commercial and corporate real estate corporations including Boston Properties, Macerich, Deutsche Bank, and Music City Center, will tackle these issues and more with moderation from T-Mobile's Luke Lukas. Attendees will learn directly from a major wireless carrier how the enterprise domain should tackle connectivity issues and learn what steps are being taken to minimize obstacles.

5:30 pm – 7:30 pm: Networking Reception

7:00 pm – 9:00 pm: Invitation-Only Top Influencers/Executive Dinner Reception
Thursday, June 13, 2019
7:30 pm – 9:30 pm – Networking Reception at L27 Rooftop Lounge - Westin Hotel in Nashville, TN
EXHIBIT & SPONSORSHIP OPPORTUNITIES
Limited Sponsorship and Exhibit Opportunities remain at both the 5G Congress and Realcomm, Please contact Esther Fleischhacker at esther@daspedia.com or 984-664-0240.


GROUP DISCOUNTS & CARRIER PASSES
Group discounts available for 3 or more attendees from same company and Limited quantities of complimentary carrier passes available for eligible attendees, Please contact Stephanie Adkins at stephanie@daspedia.com or 302-245-4530.


FAQs
What's the refund policy?
Attendees can receive refunds up to 7 days before your event start date.
Do I have to bring my printed ticket to the event?
Yes
Can I update my registration information?
Yes
Is my registration fee or ticket transferrable?
Yes
How do I contact organizer/DASpedia?
You may contact us via email info@daspedia.com OR call us at 310 845 6458