5D EVENT
When and where
Location
Holiday Inn Los Angeles-Intl Airport 9901 South La Cienega Boulevard Los Angeles, CA 90045
Refund Policy
Contact the organizer to request a refund.
Description
TO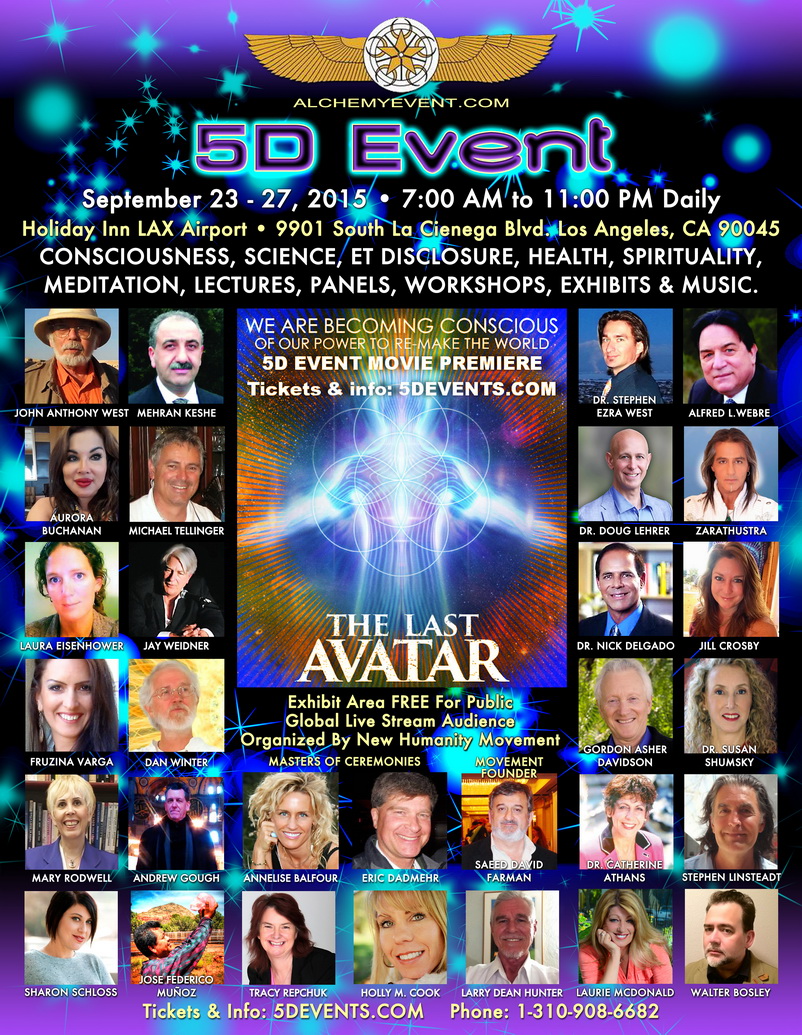 New Humanity Movement presents the:
12TH Global Shift in Consciousness event
"5 D EVENT"
Speakers Bio: http://newhumanitymovement.com/speakers.html
Hotel Venue: http://newhumanitymovement.com/id14.html
WHEN: SEPT 23, 24, 25, 25, 26, 27, 2015
FROM 7:00 AM TO 11:00 PM Daily
VENUE: Holiday Inn Los Angeles-Intl Airport, 9901 South La Cienega Blvd., Los Angeles, CA 90045, USA.
Cross Street Century BLVD and La Cienega only 5 minute drive from LAX airport.
5TH DIMENSIONAL EVENT THE 5D
VENUE: Holiday Inn Los Angeles-Intl Airport, 9901 South La Cienega Blvd., Los Angeles, CA 90045
What Event is about:
5 days of celebration and life transformation of likeminded crowd of attendees with over 50 keynote speakers giving over 100 hours of amazing Lectures, Panels, Workshops & Exhibits in wide variety of subjects such as: Consciousness, Science, Cutting edge Technologies, Latest Health discoveries, Energy Healing, Longevity, Moving away from Mass Media fear factor with creating Global communities with New Humanity Movement, Free Energy, Alchemy, Spirituality, Peace, Freedom, Human Rights, GMO, NWO, United Nations 300 pages report of Agenda 21, Eugenics, Disclosure, Time Travel, Secret Space, Paranormal, Metaphysics, DNA Activation, Forbidden Archeology, Secrets of Pyramids, Human origins, Crop circles, Path of Enlightenment, Conscious Leadership, Conscious Commerce, Business Networking, Self-Development, Empowerment, Personal Growth, Soul cleansing, Karma cleaning, Self-Confidence, Vitality, Joy, Life Satisfaction, Evolution, Thriving, Awakening, Mastery, Meditation, Building a better future with Star Seeds, Indigo adults, Alphas, Telepath guides, Lightworkers, Star Commanders, Star visitors, Spiritual Masters and the New Humanity Movement.
***MASTERS OF CEREMONIES:
ANNELISE BALFOUR, ERIC DADMEHR, BRET LUEDER & Holly Cook
Program starts at 10:00 AM on WED SEPT 23RD, 2015 and ends at 11:00 PM (Registration begins at 9 AM)
Our New Humanity Movement is about Gathering and Networking of likeminded people in order to bring new ideas, new ways of thinking and new ways of organizing our affairs to come into alignment with the accelerating transformation we see all around with creating a new future for humanity. We must "Walk the Talk". Our words and actions must be integrated in our lives. It reminds us of Thomas Jefferson's concept of Moral Muscles – that we build and strengthen our character through the daily exercise of words, actions and decisions. Integrity first means not only physical courage, but moral courage as well, so that we sometimes stand up by speaking up.
http://newhumanitymovement.com/movement.html
***All ticket sales are final NO REFUND
***Must be 18+ to attend the event, NO kids, NO pets, NO outside food/ drinks are allowed.
Hotel bar closes midnight and Restaurant at 11 PM
Event is filmed and videos are for sale at the event by 3RD party company.
***No other recording is allowed (only media with permission).
Hotel has a nice restaurant with 15% discount on food and beverages for our attendees and there are few close by restaurants within few minutes of walking.
All workshops are free with a day pass.
Exhibit hall: Over 50 exhibitors
Exhibits are free for public to attend must be 18+ (9 AM to 6 PM)
Estimated 5 days attendees: 5000 people
Hotel all day and overnight parking $8 (less than full day parking first hour $3 plus every hour $3)(must validate the ticket at the front desk for New Humanity Movement group discount rate)
facebook: https://www.facebook.com/NewHumanityGroup
https://www.facebook.com/events/1650632651826768
Fly to Los angeles:
http://www.virgin-atlantic.com
Flights in USA:
Book your Hotel sleeping room:
http://newhumanitymovement.com/id14.html
Sponsor this event:
http://newhumanitymovement.com/sponsor.html
For more info contact us:info@5devents.com
Event Director: David Farman
Assistant Director: Eric Dadmehr
All media please contact David Farman email: david@5devents.com Phone: 1-310-908-6682
FAQs
Are there ID requirements or an age limit to enter the event?
YES US STATE PICTURED ID OR OVERSEAS PASSPORT
What are my transport/parking options getting to the event?
HOTEL NEW HUMANITY GROUP DISCOUNTED PARKING ALL DAY AND NIGHT IS ONLY $8 WITH FRONT DESK VALIDATION.
What can/can't I bring to the event?
KIDS, RECORDING DEVICES, PETS, OUTSIDE FOOD/ DRINKS, DRUGS, GUNS
Where can I contact the organizer with any questions?
Is my registration/ticket transferrable?
Your answer goes here
YES must be with written early notice
Do I have to bring my printed ticket to the event?
Yes
What is the refund policy?
All ticket sales are final NO REFUND.