57thAYSAF International Exhibition for Footwear Materials, Components, Leat...
Description

AYSAF, the largest trade platform of the footwear sub-industry sector of Turkey!
AYSAF, the largest trade platform of the footwear sub-industry sector with a market volume of 5 billion USD in Turkey, is going to be held on May 03 – 06, 2017 at CNR EXPO Center, in Istanbul, Turkey. Aysaf stands as the unique meeting platform for the local and global supplier companies, and professional visitors.
AYSAF is organized by Pozitif Fuarcılık A.S., an affiliate company of CNR Holding, in cooperation with AYSAD (Association of Turkish Footwear Components Manufacturers), TASEV (Turkey Shoe Sector Research Development and Training Foundation) and KOSGEB (Small and Medium Scale Enterprises Development and Support Administration Chairmanship). Since 1988, AYSAD Association which has played a significant role in the expansion and improvement of sub-industry of footwear sector, whereby it gathered the sector under a single roof in order to stimulate the business volume besides determining a modern vision to Turkish Footwear sub-industry sector, AYSAD stands as the unique and distinct representative of the sector in Turkey and abroad.
Footwear sub-industry sector, taking place among the significant forces of our country's employment and economy, which rises rapidly thanks to our government's stable policies, draws attention with its footwear fashion-leading structure as well. Turkey's shoe production reached 500 million pairs. Turkish footwear industry has a strong position among exporters of high quality fashion goods. The Turkish Footwear Sector is one of the largest manufacturing centers, the 7th in the world and the 1st in the Europe. Pay attention of increasing of foreign investments in the sector.
AYSAF, which will be visited by professionals from many countries such as Algeria, Austria, Azerbaijan, Belgium, Egypt, France, Germany, Iran, Kazakhstan, Lebanon, Morocco, Russia, Spain, Ukraine and the United Kingdom, will host more than 450 exhibitors, including representatives.
Why should you exhibit?
AYSAF, Int'l Exhibition for Footwear Materials, Components, Leather and Technologies is becoming an international marketing platform for the Turkish footwear industry where the footwear components (accessories, textile, soles, heels, moulds), Leather goods materials and accessories, chemicals, finished leather, semi-finished leather, raw leather, artificial leather manufacturers (PU – PVC – TR) and shoe machines are being displayed by over 450 companies and Company representatives from 30 countries have participated in the 55th AYSAF.

AYSAF has attracted a great attention from abroad therefore participating companies have received significant amounts of orders negotiating with recipients from a large number of countries which includes Ukraine, Russia, Azerbaijan, Syria, Tunisia, Iran, Italy, Germany and France.
Exhibitors Profile
Footwear components manufacturers
· Accessories
· Textiles
· Soles
· Heels
· Moulds
· Leather goods Materials
· Leather goods Accessories
· Chemical manufacturers and suppliers
· Finished, semi-finished and raw leather manufacturers
Artificial leather manufacturers
· PU
· PVC
· TR
Shoe and leather processing machines manufacturers
· Agencies
· Associations
· Foundations
· Trade publications
=============================
15 sq meter​ DESIGN BOOTH & SPACE
=============================
- Wooden custom design
- 2 x Glass Tables
- 8 x Chairs
- 1 x LCD TV

- Counter & Stool
- Room with door
- Lighting

================================
Other Included Amenities
================================
- Hotel Accommodation: 5 nights for 2 person in nearby 5 star Hotel
5 min away from Exhibition Center (Wyndham, Radisson Blu)
- Airport transfer to Hotel
- WiFi for 2 person
- Catalogue Registration
- Email marketing activities to 400K visitor database

TOTAL PRICE: USD $ 7,999.00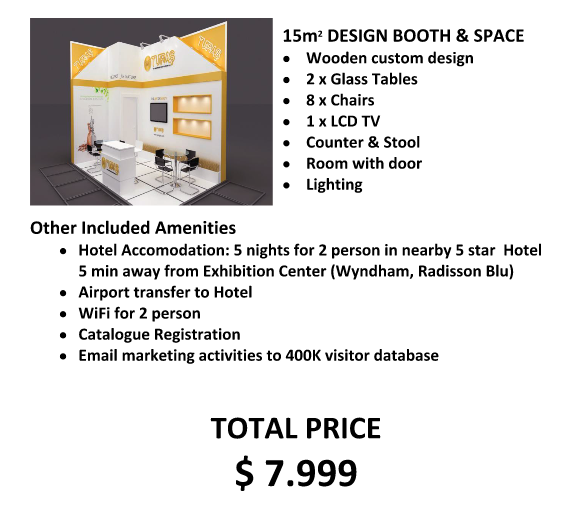 Please contact the event manager Marilyn below for the following:
- Discounts for registering 2 or more booths.
- If you company requires a price quotation.
Event Manager Contact: marilyn.b.turner(at)nyeventslist.com
You can also contact us if you require a visa invitation letter, after booth purchase.


NO REFUNDS OR TRANSFER ALLOWED ON BOOTH REGISTRATIONS
-----------------------------------------------------------------
This Event Listing is Promoted by
New York Media Technologies LLC in association
with CNR Holdings.
http://www.NyEventsList.com
http://www.BostonEventsList.com
http://www.SFBayEventsList.com
-----------------------------------------------------------------