5.6.19: Investors and Entrepreneurs Explore the Human Side of Deal-Making
Description
Thank you for registering today! Please see the list of championship panelists and moderators below this graphic: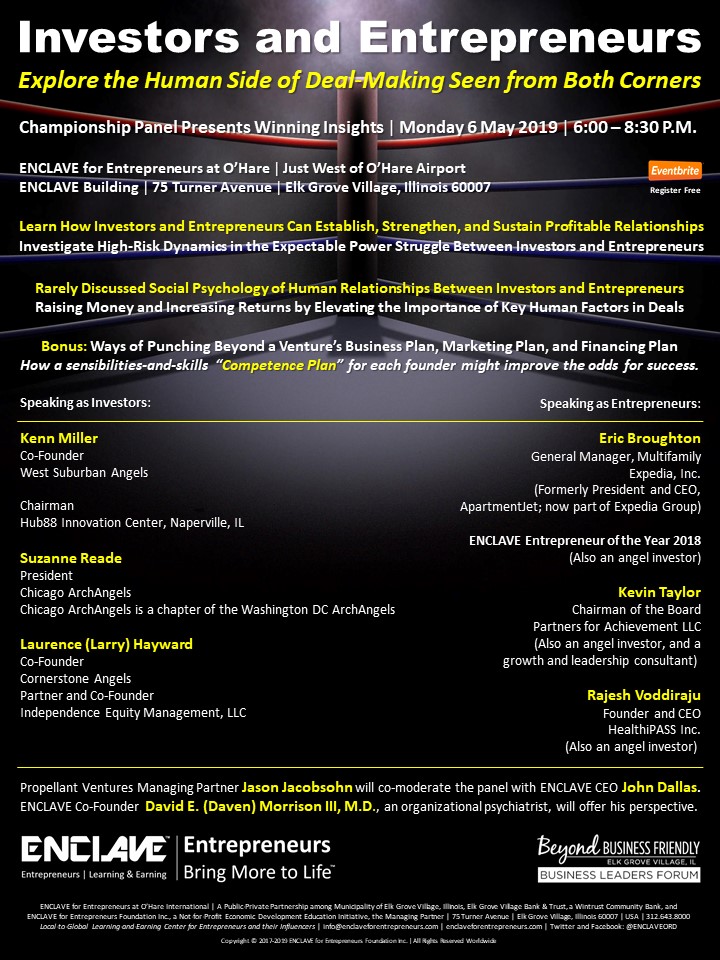 A championship panel presents winning insights. Learn about raising money and increasing returns by elevating the importance of the human factors in deals. Also, we will explore the rarely discussed social psychology of human relationships between investors and entrepreneurs.
---
Panelists Speaking as Investors:
Kenn Miller
Co-Founder
West Suburban Angels
Chairman
Hub88 Innovation Center in Naperville, IL
Suzanne Reade
President
Chicago ArchAngels
Chicago ArchAngels is a chapter of the Washington DC ArchAngels.
Laurence (Larry) Hayward
Co-Founder
Cornerstone Angels
Partner and Co-Founder
Independence Equity Management, LLC
---
Panelists Speaking as Entrepreneurs:
Eric Broughton
General Manager, Multifamily
Expedia, Inc.
(Formerly President and CEO, ApartmentJet; now part of Expedia Group)
ENCLAVE Entrepreneur of the Year 2018
Member, ENCLAVE Advisory Council
Member, ENCLAVE Luminary Leaders League
(Also an angel investor.)
Kevin Taylor
Chairman of the Board
Partners for Achievement LLC
(Also an angel investor, and a growth and leadership consultant.)
Rajesh Voddiraju
Founder and CEO
HealthiPASS Inc.
(Also an angel investor.)
Jason Jacobsohn will co-moderate the panel with ENCLAVE CEO John Dallas. ENCLAVE Co-Founder David E. (Daven) Morrison III, M.D., an internationally esteemed organizational and occupational psychiatrist, will provide clinical and empirical perspective throughout the evening.
This ENCLAVE Convenes event will be remembered as a first for exploring psychological, sociological, and emotional topics rarely addressed in the constructive manner the program will allow to emerge.

You are here at the Eventbrite registration page. Thanks for registering now.