55 Tibetan Healing Bowls, Celestial Guitar, Essential Oils & Raw Cacao Expe...
Description
Dr. DREAM Presents: "Galactivation:Phoenix ~ A Multiple Modality Sound Healing Journey"
Dr. DREAM is joined by Celestial Guitarist, Julian Forest.
We will have 55 Tibetan Healing Bowls, a Celestial Guitar, 7 essential oils, an assortment of 7 different Raw Cacao treats, and other surprises!

Julian Forest and Dr. DREAM have been freinds for several years and have done a few casual, improv expereinces. This will be the first of a dedicated evening of collaboration between these two Souls who are dedicated to raising the frequency of the planet.
This will be a Galactivation Experience of the Highest Magnitude!
Join us for this powerful collaborative experience!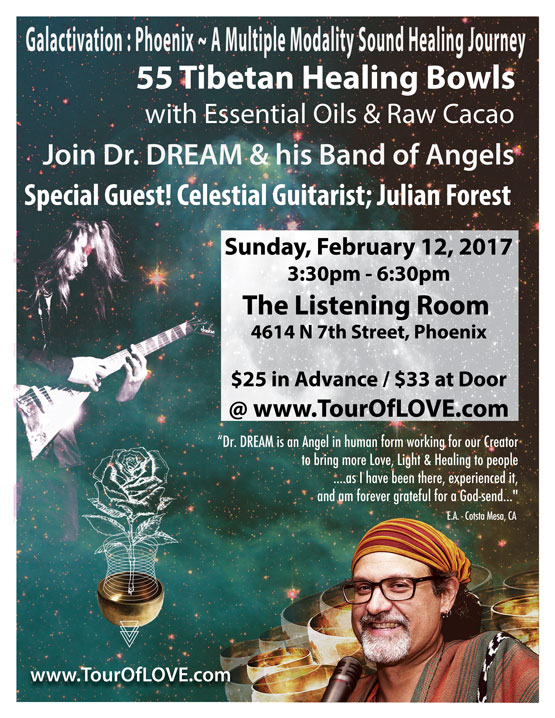 Dr. DREAM...has been gathering groups together for the purpose of raising frequencies and expanding consciousness for many years. In January of 2010, Dr. DREAM officially began the Tour of LOVE. Since that time, there have been more than 475 Galactivation Experiences, in over 165 cities around the world!
As one testimonial shares: "Dr. DREAM is an Angel in human form working for our Creator to bring more Love, Light & Healing to people ....as I have been there, experienced it, and am forever grateful for a God-send..."

What is a Galactivation?:
"Galactivation, for us, is the use of energetic frequencies, encompassing a powerful array of tools and modalities, with the expressed Intention of facilitating, for the participant, a deeper connection to Source and a more expanded awareness of the True nature of our shared reality, all leading to a more expansive experience of Universal LOVE."
The modalities that are included in this experience are:
the ROSE Frequency
55 Master Healer grade, Tibetan Bowls
7 Raw Chakra Chocolates
a Celestial Guitar
Citrine Generator Crystal
Essential Oils

...so much more...
$25 donation in advance
$33 at the door
Organizer of 55 Tibetan Healing Bowls, Celestial Guitar, Essential Oils & Raw Cacao Experience, Sound Healing, Phoenix, AZ
As a Sacred Economic Entrepreneur, Humanitarian, Holistic Healing Practitioner, International Speaker AND "the Bowl Whisperer", Mark "Dr. DREAM" Peebler, has over 20 years experience guiding, mentoring and empowering students, organizations, and corporations in building, reaching and sustaining their full potential, on all levels. He has traveled to sacred sites around the world including locations in; Egypt, Cambodia, Japan, China, Russia, United Kingdom, Greece, Turkey and throughout Central and South America. From presenting at Total Solar Eclipse Festivals and Burning Man, ceremonies at Machu Picchu, Angkor Wat and Pyramid of the Sun at Teotihuacan, to his weekly radio broadcasts (since 2005, currently on hiatus), Dr. DREAM has assisted the journeys of thousands of incredible beings on their path of transformation. Since January 2010, Dr. DREAM has traveled to well over 190 cities and facilitated more than 540 group, energetic events.
Currently, Dr. DREAM lives full-time on the road, on the Tour of LOVE. He and his Love, Stephanie, are in a new city every 1-3 days, facilitating Tibetan Healing Bowl, Essential Oil & Raw Chocolate experiences 3-6 nights/week. 
He is embracing his role as a Beacon of LOVE and paradigm-buster!
Follow his Tour at http://www.TourOfLOVE.com
Dr. DREAM wholeheartedly agrees with Les Brown; "Help others achieve their dreams and you will achieve yours."
Portal To Ascension has been a supporter and sponsor of the Tour of LOVE for years! 
see http://www.PortalToAscension.org