53rd ANNUAL WINTER VEGETABLE CONFERENCE AND TRADE SHOW
This is the largest commercial vegetable grower event in the region with a high quality educational program.
About this Event
This is the largest commercial vegetable grower event in the region with a high quality educational program put together by vegetable extension specialist/agents at NC State University Cooperative Extension. Out of concern for the safety and well-being of all our attendees, presenters, volunteers, exhibitors, and sponsors the NCTGA board decided to hold the 2021 conference virtually in light of the ongoing global pandemic. The conference program (see below) will still reflect growers' needs covering many aspects of production, including pest management, tomato breeding, and food safety. We hope that you take advantage of this opportunity to learn about current issues associated with vegetables and take time with the representatives from agricultural companies and other businesses that support our industry during live "virtual" sessions. NC Pesticide credits will be available for attendees in the following catagories: D, N, O, and X.
You may also register by mail by going to our website at www.nctomatoes.com and printing the registration form from our site and mailing with a check to the address on the form.
CONFERENCE PROGRAM
Wednesday, February 24, 2021
12:30pm-12:50pm Welcome & Zoom Tutorial
12:50pm-1:20pm Performance of Tomato Hybrids Evaluated Under Replicated Trials in the Summer of 2020 -Dr. Dilip Panthee (0.5 hr Pesticide Credit)
1:20pm-1:50pm Herbicide Carryover, Herbicide Injury from Drift, Weed Control in Tomato, Pepper, Cucurbits - Dr. Katie Jennings (0.5 hr Pesticide Credit)
1:50pm-2:20pm Trade Show/Sponsors (H.M. Clause, FMC, and Gowan Seed)
2:20pm-2:30pm BREAK
2:30pm-3:00pm Management Options for Thrips in Tomatoes and Peppers - Dr. Jim Walgenbach & Dr. Tom Bilbo (0.5 hr Pesticide Credit)
3:00pm-3:30pm Tomato Disease Management - Inga Meadows (0.5 hr Pesticide Credit)
3:30pm-4:00pm Trade Show/Sponsors (First Step Farm, Nutrien Ag Solutions, and HAIFA North America)
4:00pm-4:10pm BREAK
4:10pm-4:40pm Business Meeting
5:00pm-6:00pm Fumigation "Z" Training-Charlie Clark
Thursday, February 25, 2021
9:00am-9:30am Welcome & Variety Show Case - Dr. Jeanine Davis
9:30am-10:00am New Crops Update: Truffles, Hops, Forest Herbs, & More - Dr. Jeanine Davis
10:00am-10:30am Evaluation of Hybrid Tomato Varieties for Commercial Production in North Carolina - Dr. Reza Shekasteband (0.5 hr Pesticide Credit)
10:30am-11:00am Trade Show/Sponsors (Bejo Seed Co., Sakata Seed America, and Miller Chemical)
11:00am-11:10am BREAK
11:10am-11:40am Produce Safety Lessons Learned for Tomato Producers - Elena Rogers and Dr. Chris Gunter
11:40am-12:10pm Progress in Breeding for Combined Resistance to Verticillium Wilt Race 2 and Bacterial Spot in Tomatoes-Dr. Randy Gardner (0.5 hr Pesticide Credit)
12:10pm-12:30pm Trade Show/Sponsors (TRIEST Ag Group, Syngenta)
12:30pm-12:45pm Closing Remarks (Awards, Scholarship, New Officers)
12:45pm-1:30pm BREAK for LUNCH: Only return if taking "V" Course
1:30pm-3:30pm Private Applicator "V" Training-Charlie Clark, Karen Blaedow
LOCATION
Conference will take place on-line using the Zoom Platform where you can attend from the comfort of your home, office, or farm. For questions about how to join or attend a zoom meeting please view the video tutorial below.
TICKETS
Ticket prices are $40 per person and this includes your Annual NC Tomato Growers Association Membership Dues.
Please click on the green "Register" button to see all the options for attendees, sponsors and exhibitors. Details are included in the ticket area.
Additional pesticide classes will also be offered to conference attendees including a 2 hour "V" private applicator recertification and a 1 hour "Z" fumigation class. Please add these tickets to your cart with the purchase of your conference ticket if you would like to attend these optional courses.
VIRTUAL TRADE SHOW
This year all sponsors will present during 10-minute live "virtual" sessions during the conference where they can share product updates and services with attendees. During this time attendees will be given a chance to interact with representatives from various companies in the vegetable industry.
SPONSORS/EXHIBITORS
We welcome sponsors for our event.  Sponsorships give you the opportunity to showcase your business and allow us to make this a special conference for attendees.  Sponsorships also support scholarships.  Details are included on the sponsorship ticket descriptions in the "get tickets" link above.  If you need to be invoiced and send a check, please contact Ellen Moss at ellen_moss@yahoo.com.
SCHOLARSHIP DONATIONS
This year because we are not able to hold a 50/50 raffle or silent auction for the benefit of our scholarship fund, a scholarship donation ticket has been included in order to collect contributions for 2021.  Donations are greatly appreciated to ensure that NCTGA continues to support future generations of farmers with an endowment fund used to offer merit/need-based scholarships. Last year's contributions allowed us to award two $1000 scholarships to two deserving students in 2020. Details are included on the donations ticket descriptions in the "get tickets" link above.  If you need to be invoiced and send a check, or need a receipt for a tax deduction please contact Ellen Moss at ellen_moss@yahoo.com.
We plan to hold the conference virtually and we reserve the right to make modifications to the program to accommodate unforeseeable situations (e.g., speaker illness).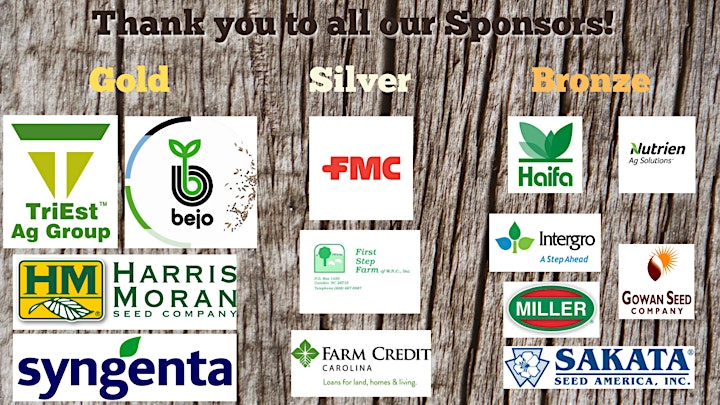 Winter Vegetable Conference Sponsors
2021 GOLD SPONSORS
BEJO SEED CO.
Greg Styers, 805-689-1627
PO Box 259, Barnardsville, NC 28709
H.M. CLAUSE
Sue Colucci, 919-602-1521
2331 Morton Street
Charlotte, NC 28208
SYNGENTA
Dustin Welsh, 828-458-3422
223 Bellhaven Dr.
Morganton, NC 28327
TRIEST AG GROUP, INC.
Matt Polk, 803-386-4868
PO Box 448, Greenville, NC 27835
2021 SILVER SPONSORS
FMC
Michael Cunnane, 901-201-1657
121 Flowering Cherry Lane, Mooresville, NC 28117
FIRST STEP FARM OF WNC, INC.
Tim McCrary, 828-667-0587
PO Box 1450, Candler, NC 28715
CAROLINA FARM CREDIT
Jocelyn Roten, 800-521-9952
PO Box 1827, Statesville, NC 28687
2021 BRONZE SPONSORS
GOWAN SEED
Tim Simpson, 831-744-9069
1514 Westover Avenue
Parrish, FL 34219
HAIFA NORTH AMERICA
Earl Chipman, 434-470-0042
307 Cranes Roost, Suite 2030
Altamonte Springs, FL 32701
MILLER CHEMICAL
Maggie Coates, 717-632-8921
120 Radio Road
Hanover, PA 17331
NUTRIEN AG SOLUTIONS
Steven Williams, 828-692-2014
1657 Sugarloaf Road
Hendersonville, NC 28792
SAKATA SEED AMERICA, INC.
Amber Bullock, 706-340-2566
18095 Serene Drive,
Morgan Hill, CA 95037
INTERGRO
Terry Bowling, 813-245-8799
578 Bimini Bay Blvd.,
Apollo Beach, FL 33572
Date and Time
Location
Refund Policy