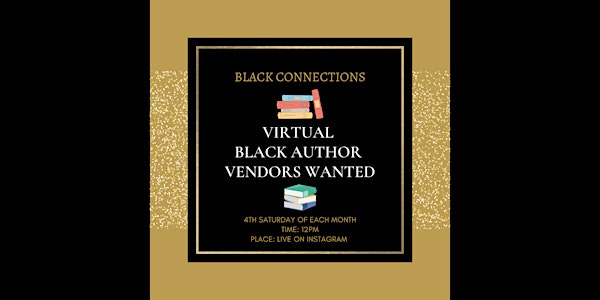 Multiple dates
Black Connections Black Author Virtual Expo
Exciting news! Our Expo is now virtual, so businesses from anywhere can participate! No more distance limitations!
By Black Connections, LLC
Date and time
February 25 · 6am - December 23 · 12pm PST
About this event
Hey there, and welcome to Black Connections! We're thrilled to have you here, and excited to share some truly amazing works from some of the most brilliant black authors. Even better, we've partnered with some fantastic businesses to offer you some incredible prizes along the way. Join us in celebrating black excellence, and let's find new and creative ways to keep those black dollars circulating!
- Join an online virtual expo
- Booth open 24/7
- No need to set up or tear down
- Not physically present required
- No weather excuses
- Increase brand visibility
- Build trust with followers
- Create lasting brand advocates
- Find new leads and increase sales
- Boost profits
- Network with other authors.
We wanted to let you know that our website is the perfect hub for all the amazing sponsors, vendors, and entertainment sites involved with our event. We encourage you to take a look at them right now! We're thrilled to announce that our Virtual Expo Webpage is now live, where you can browse and shop through the exceptional offerings of all our vendors. We can't wait to welcome you there and share in the fun!"