Learn about resources that can help your family research from our panel of Family History experts and the filmmakers of Far East Deep South
About this event
Are you inspired to look in to your own family history after watching Far East Deep South? Are you interested in how family records are collected and archived?
Join us for an informative panel of family research experts who will share insights into resources we used in the making of our documentary, Far East Deep South, and other helpful tools for you to research more about your family history. If you haven't seen the film yet, it's now streaming on-demand for free at PBS.org or on the PBS app all of May in honor AAPI Heritage Month.
Our panelists include Grant Din (California Genealogical Society), John de Jong (Family Search), Marisa Louie Lee (archival researcher) and Huihan Lie (My China Roots). Panel will be moderated by Larissa Lam and Baldwin Chiu, the producers of Far East Deep South. (Scroll down for more info on our speakers)
Presented in partnership with Delta State University. All ages and cultural backgrounds are welcome.
After you register, you will be emailed a link to join the online session the day before the event.
ABOUT FAR EAST DEEP SOUTH
A Chinese American family's search for their roots takes them to an unlikely destination, the Mississippi Delta, where they stumble upon surprising family revelations and uncover the racially complex history of Chinese immigrants in the segregated South during the Chinese Exclusion era.
For more about the film, visit www.fareastdeepsouth.com
Watch it now, on PBS.org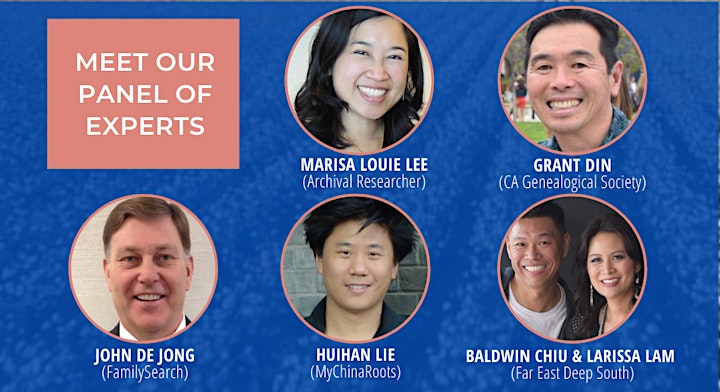 ABOUT OUR SPEAKERS
Johannes (John) de Jong has worked at FamilySearch for 9 years, leading the North American Partner Team as they work to enable people to discover and connect with their family members. His team works with Archives, Libraries, Museums, Courts and other record custodians to help preserve and provide web access to their genealogically significant records. Additionally, they work with correctional institutions on programs to help inmates develop skills while doing family history work, partner with universities to make data available for research, and work with web based businesses who help make family history research fun and rewarding.
Grant Din has been interested in genealogy ever since a cousin told him forty years ago that he was in the 36th generation of Gongs! Since that time, he has researched his and many families' immigration histories including when he was on the staff of the Angel Island Immigration Station Foundation. He has worked in the Bay Area nonprofit sector his entire adult life and has extensively volunteered his genealogical services. Grant moderates a Chinese American family history email group and has spoken at many libraries and genealogical societies. He completed Boston University's Certificate Program in Genealogical Research in 2015 and enjoyed being a part of the team that researched the six Chinese seamen who survived the Titanic for the film "The Six".
Marisa Louie Lee is a freelance archival researcher specializing in federal records. She previously worked for the National Archives at San Francisco and the Chinese Historical Society of America. Marisa has lectured at the Salt Lake Institute of Genealogy (SLIG), the California Genealogical Society, the Japanese American National Museum, and the Chinese Historical Society of America. Marisa is a proud alumna of the "Roots" program. She and her family live in San Francisco.
Huihan Lie is the founder & CEO of MyChina Roots.com he has successfully helped hundreds of families trace their Chinese ancestors. Born and raised in The Netherlands with family from Indonesia and ancestors from China, he is based in Beijing, China. He studied at Columbia University in New York and has a law degree from the University of Amsterdam. He has been featured in the New York Times, BBC and The Economist.
Larissa Lam is the director of the award-winning documentary, Far East Deep South. Over the past two decades, she has established herself as not only a creative force in music, film and TV but a voice that inspires and empowers others. She was part of the Smithsonian's History Film Forum Emerging Filmmakers Lab and has been featured on LA Times, PBS and NPR. She is also a speaker who has presented at TEDx, Leadercast, RootsTech and universities such as Yale, MIT and UCLA.
Baldwin Chiu aka Only Won is the producer of Far East Deep South. He and his family are the subjects of the film. His family's story has been featured on NBC News, the Boston Globe among many media outlets. He's a graduate of the ACT One Film Producing Program and produced the award-winning documentary short, Finding Cleveland. He has been a speaker at RootsTech, OCA National Convention among other conferences. Together with his wife, Larissa Lam, he hosts the podcast, Love, Discovery and Dim Sum, helping people discover more history and an Asian American perspective on race and culture.
Organizer of 5/25 Exploring Your Family History - Beyond Far East Deep South (FREE)