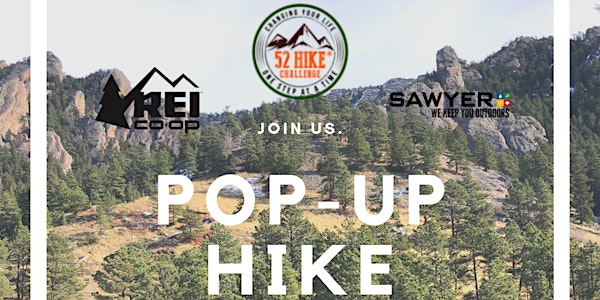 52 Hike Challenge Pop-Up Hike: Boulder, CO
Date and time
Saturday, June 22, 2019 · 8 - 11am MDT
Location
39°58'44.1"N 105°16'28.7"W
Description
Description
Join 52 Hike Challenge co-founder Karla Amador on a day hike in beautiful Boulder, CO, sponsored by REI and Sawyer!
ABOUT THE HIKE:
We will be hiking approximately 7 miles on the trail. This is a moderately rated hike. We will meet in the trailhead parking lot for intros and giveaways prior to the hike. Giveaways provided by our sponsors: Sawyer Products and REI.
Bring Layers, water, snacks, camera, and 10 essentials.
Questions are welcome and can be emailed to
52hikechallenge@gmail.com
Trail information:
https://www.alltrails.com/trail/us/colorado/boulder-mesa-trail?fbclid=IwAR2Ywx9K7X9ZYCpCtX6zbaacCdHRjhLa6j65GG2nDJn6N9HI0wx5gV9r6cM
GPS Coordinates for the parking lot: 39°58'44.1"N 105°16'28.7"W
Link to event waiver:
https://waiver.fr/p-nWfS7
**all details subject to change due to environmental conditions**
**if you should end up on the waitlist, watch your emails daily leading up to the day of the hike, as spots may open up for you to join us**
About the organizer
The 52 Hike Challenge is a global movement empowering individuals to take a personal journey to discover the physical, mental, spiritual and emotional benefits gained through hiking once a week for a year. Thousands of people all around the world are joining in community and taking the challenge to help change their lives in a positive way, one step at a time. For more information visit www.52HikeChallenge.com