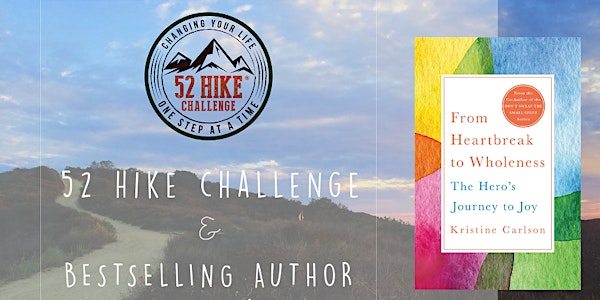 52 Hike Challenge Hike with Bestselling Author Kristine Carlson
Location
Laguna Coast Wilderness Park
505 Dartmoor Street
Laguna Beach, CA 92651
Description
Join us for a 4-mile hike on June 30th at Laguna Coast Wilderness Park in Laguna Beach. We are blessed to have New York Times bestselling author Kristine Carlson join us, as we celebrate the launch of her new book, "From Heartbreak to Wholeness."
The 52 Hike Challenge got started with a story of heartbreak, this hike especially means a lot to Karla, Co-founder of 52HC, as she found herself transformed by hiking 52+ times in 2014.
In 2006, after building the bestselling franchise Don't Sweat the Small Stuff with her husband Richard, author Kristine Carlson faced a shattering loss—the sudden death of her beloved spouse. She came to understand intimately how our losses are our defining moments. How we go through them shapes us. From Heartbreak to Wholeness reveals a universal process of healing that goes far beyond ordinary prescriptions for getting through hard times. Kristine's path offers a life-altering map for navigating the hero's journey from loss to joy—the journey that is meant for nothing less than to awaken you to a deep love affair with life. Page by page, Kristine will take you by the hand and walk you through the doorway of awakening that loss brings. On the other side of that threshold, the fulfillment of your deepest purpose and most vibrant life awaits you.
This is your chance to meet Kristine, ask questions, and get your book signed too! Kristine will also lead us in a beautiful meditation.
About the hike: Laguna Coast Wilderness Park lies within some of the last remaining coastal canyons in Southern California. Forty miles of trails lead the visitor through oak and sycamore woodlands and up onto ridges with expansive scenic vistas. Rocky bluffs tower above the canyon trails.
Bring: Layers, sunglasses, hat, sunscreen, 2 liters of water, snacks, camera and a positive attitude :)
The hike is good for beginners, but because of the meditation aspect, we're going to ask that this be an adult only event (no dogs allowed - sorry woofy). Get more details about the park here:http://ocparks.com/parks/lagunac/
We will have you Park at 505 Dartmoor Street Laguna Beach, CA 92651, this is a residential neighborhood, so please carpool if possible as parking will be limited. Meeting time is 8 a.m. at the gate entrance. Also, please double check your directions as GPS will try to get you to take the toll roads.

Everyone participating must sign & turn in our liability waiver - which can be e-signed here: https://waiver.fr/p-nWfS7
Pre-order "From Heartbreak to Wholeness" here and make sure to bring it with you so Kristine can sign it for you: http://fromheartbreaktowholeness.com/