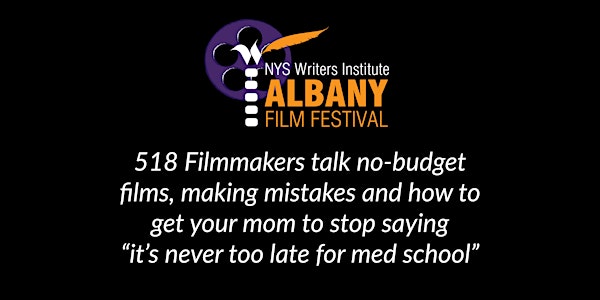 518 Filmmakers talk no-budget films, making mistakes and much more!
518 Filmmakers talk no-budget films, making mistakes and how to get your mom to stop saying "it's never too late for med school"
About this event
*Workshop will be conducted on Zoom. Link to the Zoom meeting will be shared with registered participants before the workshop or click "View the Event" in your order confirmation.
Micah Khan is a filmmaker based in Schenectady who's won Robert Rodriguez's People's Network Showcase Contest. Recently directed the short film, "Meetcute on Danceworld," which David Benioff, Showrunner of Game of Thrones said of it "Never seen anything quite like it before. I was smiling the whole way through. It's fresh, original and it kicks ass" and was featured on MovieMaker Magazine. Micah is currently working on making a feature length cosmic horror film and collaborating with MovieMaker on a video series on the craft of movies, he's most recently interviewed Spike Lee and Paolo Carnera.
Aden Suchak is an educator, writer, and director from Albany, New York. His work focuses heavily on family history, masculinity, and identity. He is the Director of Education at Youth FX, a national film education organization based in Albany. His latest film, Driver won the Emerging Filmmaker grant sponsored by director Colin Trevorrow at Scout Film Festival in 2020. Aden is currently working on a feature film script that he hopes to produce in the near future.
This virtual workshop is a featured event of the Albany Film Festival.
Special thanks to our Albany Film Festival sponsors: Premier Sponsors: Chet & Karen Opalka, The Towne Law Firm, P.C., UAlbany Speaker Series
Presenting Sponsors: June M. DeSorbo; Film Albany, a division of Discover Albany, Times Union, The Touhey Family Foundation
Supporting Sponsors: Ellen Jabbur, New World Bistro Bar, O'Connell & Aronowitz / StudentDefenders.com, The Swyer Family Foundation, University Auxiliary Services
Friends: Add a Zero Productions, CDTA, Skip Casano & Bella Pipas, Brown & Weinraub, PLLC, Pernille Ægidius Dake, Foy Fund, Paul & Mary Grondahl, David & Lauren Hayes, Honest Weight Food Co-op, William & Mary Jean Krackeler, Cecilia Lauenstein & Ronald Nadeau, Betsy Lopez, H. Carl McCall and Dr. Joyce F. Brown, Roemer Wallens Gold & Mineaux LLP, Servico Inc./ Scott Schuster, Herb and Cynthia Shultz, UAlbany William L. Reese Emeritus Center, Hon. Leonard A. Weiss