April 22-24, 2022 the men of Epsilon Epsilon Chapter at KSU will be celebrating their 50th anniversary reunion. No tickets sold at the door!
About this event
The men of Phi Beta Sigma Fraternity, Inc., Epsilon Epsilon Chapter, commonly known as the "MAU MAU" will be celebrating 50 years on Kent State University's (KSU) college campus. The chapter was founded on November 12, 1971, by three brothers and the first line consisted of 13 men and their line name was MAU MAU, which is where the nick name MAU MAU came from. These men of Sigma both collegiate and alumni approach each activity with the fraternity's motto in mind, "Culture for Service and Service for Humanity. Additionally, on campus and around the world the brothers of Sigma are known to exemplify Brotherhood, Scholarship and Service.
It should also be noted that Phi Beta Sigma fraternity, Inc. and Zeta Phi Beta Sorority, Inc are the only fraternity and sorority that are constitutionally bound brother and sister organizations. Sharing the same organizational colors of blue and white. The Zeta's are also celebrating 50 years on KSU's campus having been founded in 1971.
Please plan to join both the brothers of Phi Beta Sigma Fraternity, Inc. and the sisters of Zeta Phi Beta Sorority, Inc. as they celebrate 50 years on the college campus of Kent State University in Kent, Ohio the weekend of April 22-24, 2022.
This will be a memorable Blue and White weekend of fellowship, reuniting with old friends, good food, dancing and fun!!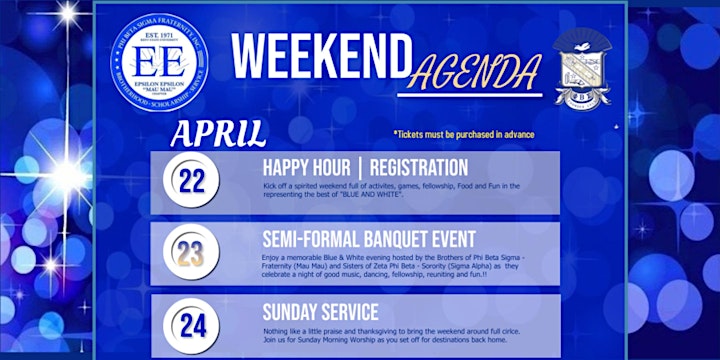 Organizer of 50th Reunion Celebration for KSU's Epsilon Epsilon - MAU MAU Chapter