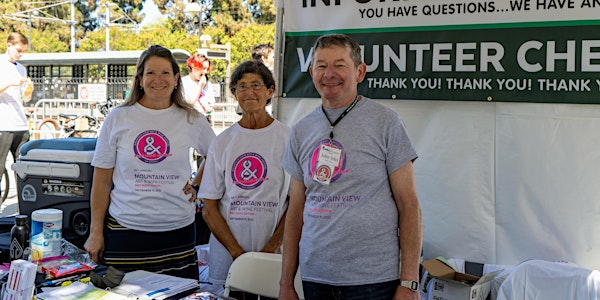 50th Annual Mountain View Art & Wine VOLUNTEER Sign-Up
A Festival Like No Other! Monster crowds, phenomenal food, & incredible art! Soak in the Cool Castro Street Experience!
When and where
Location
Mountain View Chamber of Commerce 580 Castro Street Mountain View, CA 94041
About this event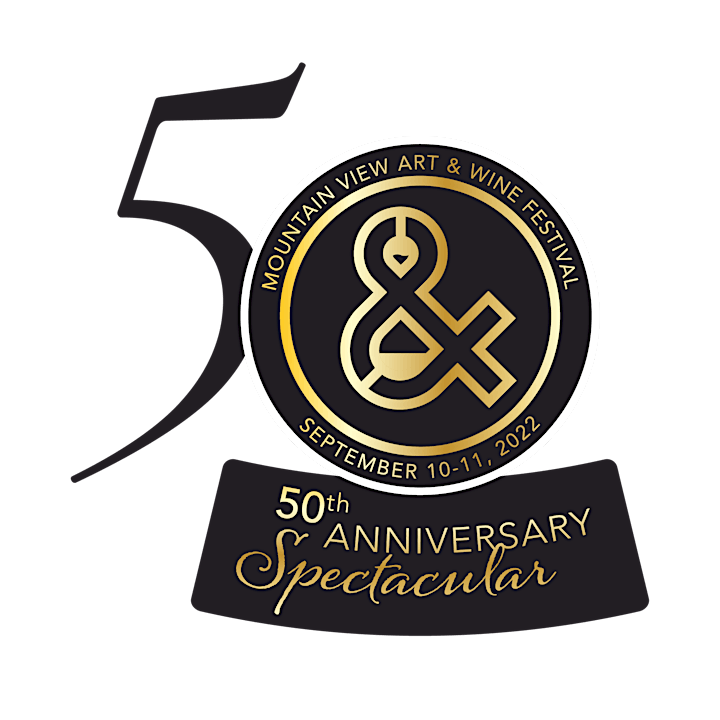 Come join us and be a part of the 50th Annual Chamber of Commerce's Mountain View Art & Wine Festival! We are striving to make this another incredible year. But to do that, we need your help! We are looking for fun enthusiastic volunteers of ages 14 and up to work a 4 1/2 hour shift on Saturday and/or Sunday, September 10th & 11th, 2022.
There are four shifts that have openings:
Saturday 9/10: 10:30am- 3pm and Saturday 9/10: 2:30pm-7:15pm
Sunday 9/11: 9:30am-2:00pm and Sunday 9/11: 1:30-6:15pm.
Besides a beautiful and fun-filled day, each volunteer will receive a FREE 50th Annual Art & Wine Festival T-shirt!
Any group of between 3-4 people will be able to staff a booth. Single volunteers are also welcome! State law requires that anyone pouring alcohol must be at least 21 years old. All volunteers under 21 may sell tickets and glasses for wine and beer or work our LMV Booths.
We will also have opportunities for volunteers to staff our 50th Anniversary Swag Store, our Kids area and multiple interactive art areas.
Please bring state issued ID as it will be required on the day of the event. To ensure the festival is legally compliant, we must visually check the ID of each volunteer before they report to an alcohol booth. Thank you for understanding.
Stay up-to-date on the Mountain View Art and Wine Festival and join us on Facebook at http://www.facebook.com/MountainViewArtWineFestival
Instagram: @mountainviewartandwine
Thank you for your help and support at this year's Art and Wine Festival!
Confirmation materials will be sent out by mid-August.
Frequently asked questions:
1.Why must I bring a photo ID upon check-in?
- Due to strict insurance and legal laws, nobody under the age of 21 will be allowed to serve alcohol at the booths. To ensure the festival is legally compliant, we must visually check the ID of each individual volunteer before they report to the alcohol booth.
2. When will I receive my 50th Annual Art & Wine T-Shirt?
- You will receive your volunteer t-shirt the day of the festival at the Volunteer Check-in booth located at California and Castro Street.
3. When will I receive my Volunteer Confirmation Packet?
- You will be receiving the Confirmation Packet between the 19th and 23rd of August.
4. What if I want to be in a booth with my friends and/or family members?
- We love group volunteers! The best way to register a group is to register for multiple tickets with one order and give each individual's information. There is an option when you click registration to register as a group or individual!
5. What if I want to be a food vendor?
- Food Vendor Applications can be found at https://mountainview.miramarevents.com/food-drink.html
6. What if I am an Artist and want to sell my products?
- Arts & Crafts, Pre-Packaged Gourmet Food is managed by California https://mountainview.miramarevents.com/arts-and-crafts.html
Any further questions or concerns, please email jesse@chambermv.org