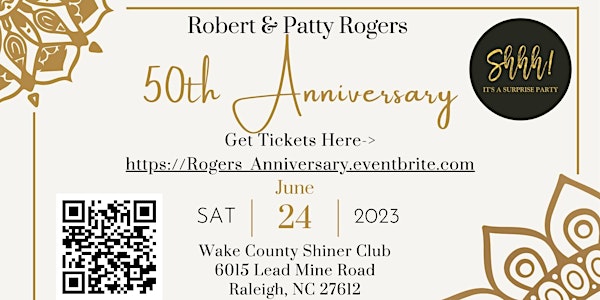 50th Anniversary Celebration for Robert and Patty
Join us on June 24 at 4PM as we celebrate the 50th Anniversary of Robert & Patty Rogers. Tickets are $25 each. Remember..It's a surprise.
By Tom and Laura's Children
Date and time
Saturday, June 24 · 4 - 9pm EDT
Location
6015 Lead Mine Rd 6015 Lead Mine Road Raleigh, NC 27612
Agenda
4:00 PM - 4:45 PM
Reception / Cocktail Hour
---
As guests arrive, they will check-in and enjoy light appetizers.
5:00 PM
Celebration of Honorees / Presentation Begins
7:10 PM
Family and Friends Photos with Honorees
7:30 PM
Partytime with DJ CLASSIX
About this event
Robert and Patty were married in 1973. Together they lived unapologetically, stepping through life's journey as one. Today, they are happy, filled with peace and harmony, romance and passion, joy and laughter. Join us as we celebrate 50 years of love.
This surprise celebration begins with a reception/cocktail hour at 4PM at the Wake County Shiner, 6015 Lead Mine Road. As guests arrive, they will check-in and enjoy light appetizers. Guests are asked to wear ALL WHITE business casual attire in honor of this milestone. Upon arrival of our honorees, guests will be escorted to their seats in the main dining room. We will conduct a presentation to celebrate 50 years of love, followed by dinner. Following dinner, we will open the dance floor to dance the night away as DJ CLASSIX plays our favorite songs.
In lieu of presenting physical gifts, we invite you to make a donation of $25 or greater using Cash App $GoldenGalaWeekend or Paypal @tvr0502
We also encourage you to record a video shoutout congratulating Robert and Patty on their 50th Anniversary. Record a 30 second video using your phone or computer and upload it to the following link: https://timrogers.smugmug.com/upload/bQdcHH/Robert
A room block is available at Doubletree by Hilton, 4100 Glenwood Ave, Raleigh, NC 27612. Use the link to make your reservation or use code Rogers Anniversary->https://www.hilton.com/en/book/reservation/deeplink/?ctyhocn=RDUVLDT&groupCode=CDTRAC&arrivaldate=2023-06-23&departuredate=2023-06-25&cid=OM,WW,HILTONLINK,EN,DirectLink&fromId=HILTONLINKDIRECT
Please reserve your ticket for the event no later than May 15th.
For this cause shall a man leave his father and mother, and shall be joined unto his wife, and they two shall be one flesh. -Ephesians 5:31