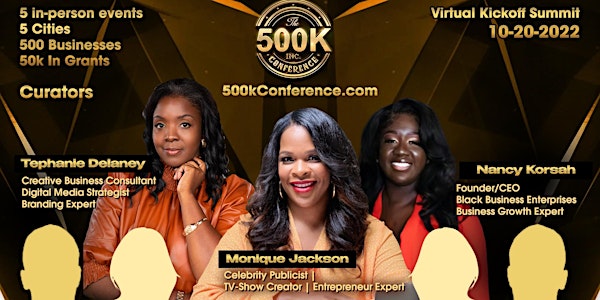 500k Conference Virtual Kickoff
7-figure business curators, Tephanie Delaney, Monique Jackson & Nancy Korsah, presents THE 500K CONFERENCE VIRTUAL KICKOFF on 10/20/22!
About this event
The leading conference for visionaries, change-makers, leaders, coaches and consultants!
Collectively, we've helped THOUSANDS of businesses, celebs, leaders, athletes, coaches, and brands scale far beyond seven-figures! But we want to have more impact and help more everyday businesses!
In 2023, we're going on a tour! We are on a mission to visit 5-Cities, hosting 5 IN-PERSON EVENTS, helping to scale 500 BUSINESSES and giveaway 50K IN GRANTS!
On 10-20-2022, you'll find out the exciting details of this tour, which cities you can join us in, what celebrities and multi-million dollar earners that'll be joining us on tour and more! The VIRTUAL KICKOFF SUMMIT is a party with a purpose! AND It's FREE!
You'll also learn of some grant programs designed to help you grow, a few tips on marketing and branding, how to get the media to notice you, etc. We'll be giving away a few grants, some business templates, E-workbooks and revealing some of our celebrities that'll be joining us on the tour! This is all happening at the FREE Virtual Kickoff!
THE 500K VIRTUAL KICKOFF WILL BE A DAY OF CULTIVATING YOUR NET-WORTH & EXPANDING YOUR NETWORK!
"BECAUSE EVERY MILLIONAIRE MADE 500K FIRST"