Actions and Detail Panel
$5,000 ALLN-1™ Fitness Consistency Challenge
Mon, Feb 27, 2017, 6:00 AM – Fri, May 26, 2017, 7:00 AM PST
Event Information
Location
TrainChange Fitness Virtual Studio & Your Home
704 228th Ave. NE. #585
Sammamish, WASHINGTON 98074
Description

Complete Contest Rules Available at:
ALLN-1

Video Details Here:
$5,0000 ALLN-1 Fitness Consistency Challenge


FREQUENTLY ASKED QUESTIONS

Is It Guaranteed to Work For Me?
While the ALLN-1 can be used by anyone, it's not for everyone.
For example, if you don't find it difficult to make it into the gym at least 5 times a week, and you know exactly which exercises and cardio workouts you need to properly train your body, the ALLN-1 is not for you. Because you've got the consistency and knowledge pieces mastered already. It is, however, for people that want to make positive and healthy changes for themselves, but have found it difficult to be consistent with their routine because life always seems to get in the way. For people that struggle with this, the ALLN-1 is such a logical and sensible solution you'll immediately realize this after your first workout.


What are the Workouts Like?

The workouts will consist of 40-50 minutes of HIIT. If you haven't seen it yet, here's a sample of my ALLN-1 routine for upper body. This is only 12 minutes and 30 seconds long, but a complete fitness routine would be done 3 consecutive times (keeping in mind that the length of your workout is always tailored to your current fitness level).

See Sample Workout Here:
12 Minute Sample HIIT Routine



What's the Cost?
The concept of the ALLN-1 and our Virtual Personal Training was also intended to encourage people to make an effort to get in shape, by: helping you save money on the cost of fitness.
I've used my industry experience to make the ALLN-1 as reasonably priced as possible, while ensuring it's made from the highest quality products to ensure a lifetime of use. Conversely, a gym membership averages about $58 a month, and out of that amount, $39 goes to waste per month due to under-utilization. In other words, most people pay upwards of $696 per year for a gym membership they won't even use. Additionally, if you want to ensure that you're training properly to get maximum results from your effort, the average cost to hire a fitness trainer is around $50 an hour. Imagine this instead. When you purchase the ALLN-1 through our $5,000 Fitness Consistency Challenge Training Package you'll stay motivated to complete the challenge by having everything you need to remain consistent on your routine, right in your home. And compared to a 1 year gym membership, the cost of purchasing an ALLN-1 through our current contest special price, is $2.32 per day; less than the price most people pay for a cup of coffee each day. And don't forget our ALLN-1 contest package includes 48 training sessions to ensure you're doing the exercises correctly, so that you can achieve maximum results, safely. Whereas if you hired a trainer for 48 sessions, forget about it...that would cost you another $2,400 alone! Lastly, don't forget that once the contest is over, you'll not only be transformed into a new, highly motivated fitness machine, you'll get to keep the ALLN-1 so that you can maintain your progress. And yeah, let's not forget the "little incentive" of being able to win $5,000 for just showing up and working out. Everything you need to get started is right here, for just $849.00.
How Do I Start?
Over the years, prior to starting each training session with fitness clients I always start off with a personal mantra of, "Now that you are here, with me, there are no more excuses for not reaffirming your commitment of wanting to become the best you can be. I won't quit on you, if you won't quit on yourself. So. Let's get started, now!"
Like I said at the beginning, I've taken the best of everything and put into this program to make it as simple and affordable as possible, to anyone that really wants to get in shape—and stay in shape. The rest, however, is up to you. Your first step, toward your fitness success…is joining the challenge. And that starts by just clicking the registration link I've also provided.
What's Included?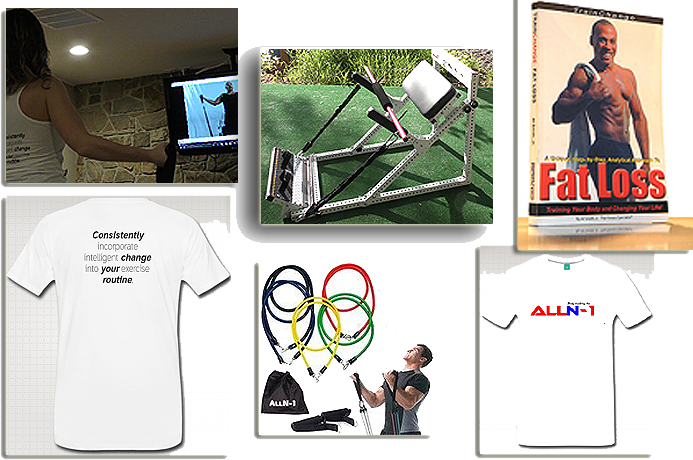 When you join the challenge and make your purchase before November 28, 2016 you can purchase the ALLN-1 Fitness Consistency Challenge Training Package which includes:
A limited Signature Edition ALLN-1 exercise bench

48 Group Training Classes ($1000 Value)

1 One-on-One 30 Minute Fitness Consultation with Al Smith ($100 Value)
Complete Set of Resistance Bands, Accessories, Barbell and Travel Bag ($100 Value)
Official Hardcopy TrainChange: Fat Loss Book ($25 Value)
Exclusive: ALLN-1 T-Shirt from your 2017 Competition!
(A Savings of Over $1,100)
Total Regular Price: $1,984
NOTE: Shipping must be charged seperately. Typically no more than 100.00 for anywhere in the United Stated.
Date and Time
Location
TrainChange Fitness Virtual Studio & Your Home
704 228th Ave. NE. #585
Sammamish, WASHINGTON 98074